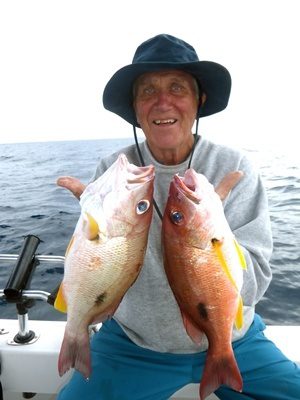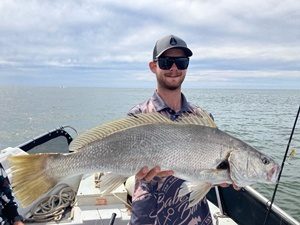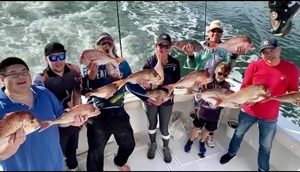 Hi Everyone, hope you have all had a good week, the weather was great for the Anzac Day Long weekend with some nice conditions for everyone on the Tweed and Gold Coast to enjoy some quality time on the water. Unfortunately, this Long weekend is not looking so good with the wind picking up and rain moving in to make conditions pretty average for going fishing. Let's have a look at what's been happening.
With the water and air temp cooling down and plenty of bait fish and small prawns around Flathead have started to show up in better numbers throughout the Gold and Tweed coast waterways the past couple of weeks. Try looking around the tops of sandbanks on the high tide and target the edges of the weed beds with soft plastics or hard body lures, also casting lightly weighted yabbies should work as well. As the tide drops work the edges of the sandbanks and then the deeper water and you should find Flathead laying in wait for bait moving off the sandbank. Another great spot to look for action is any small creek entrances leading into a main waterway or gutters and drains leading off a sandbank. These are perfect ambush areas for Flathead to lay in wait to catch an easy feed swimming past. Soft vibes and metal blades will work a treat in deeper water and drifting baits are all great options to entice a bite. Try your luck in the Tweed River, Currumbin Creek, Tallebudgera Creek, Nerang River, Wave Break Island, Brown Island, Coomera River, Pimpama River, Jacobs Well and the Logan River for a feed of Flathead.
Once conditions settle heading offshore will be well worth a look with some great catches reported last weekend. I headed out for a look with Wayne Young on Saturday, and we managed to scratch up a good feed of Snapper, Moses Perch, Tusk Fish, Maori Cod and Trag Jew fishing in 45m of water off the Gold Coast. There was plenty of hard fighting Bonito around which make great bait and are also surprisingly good eating fresh. Float lining WA Pilchards, Squid, Bonito Fillet and live Yakkas did the trick for us, finding ground with life to fish is the key to success. I'd rather sound around for half an hour and find life to fish on than just put a mark in the gps and try your luck just because the area has produced in the past. The 36 fathom line has had a bit more current this week, the 50 fathom line has been the better option with some great quality Pear Perch, Snapper, Amber Jack, Samson, Yellow Tail King Fish and Tuskies being landed.
As we transition into May the night-time temp has started to drop, this should start to stir up some better quality Jewfish around the Jumpinpin area. It will be worth a look during the daytime and night-time in the Jumpinpin Bar mouth around a tide change, Kalinga Bank, Canaipa Passage and Marks Rocks in the Logan River. Live Pike, Herring and Mullet are a great option. Also a nice fillet of Tailor or Mullet should do the job. Best time to target a Jewfish is aprox 1 hour before and 1 hour after a tide change as they fire up as the current drops off. The Southport Seaway has been fishing well for Jew for the past couple of months, as the water cools, we should see some bigger fish starting to feed on the mullet schools in this area.
Brad from Brad Smith Fishing Charters reports the mornings started off with a slightly chilly light south westerly wind blowing but as the sun came up the wind dropped off and left us to fish in the warm sunshine. The best results this week came from fishing the deep holes on the run-out tides with the Samaki vibelicous lures. We caught an unbelievable amount of particularly good quality Flatties around the 50cm mark as well as the odd bigger fish. There was also the odd, nice Giant Trevally lurking in the same holes and of course the ever-reliable Bream.
Clint from Brad Smith Fishing Charters reports a good fishing week at the Gold Coast with some nice Jewies, Flathead, Tuskfish, Whiting, Flounder and others caught on charters. We found the Jewies by drifting through bait schools located in the Seaway and Nerang river with the help of my ever-reliable Humminbird fish finder. There are plenty of sharks around though ready to tax your catch. There were heaps of bait balls and prawns along the entire Western channel between Grand hotel and Sundale bridge, with Flathead, Sand Whiting, Winter Whiting, Flounder, and Tailor feeding there. Some solid Tuskfish turned up around Runaway Bay in the dirtier water on the run out tide. The water is fast clearing with the bigger tides leading up to full moon, hopefully the arrow squid start turning up over the next week.
Gavin from Sea Probe Fishing Charters reports plenty of fish Still biting, Snapper, Amberjack, Samson fish and Pearlies all along the 50 fathom line, try using live bait, jigs, pilchards, squid and mullet for bait. On 36s still Snapper, Parrot and Trag and try on the 18 and 24 fathoms for the Sapper, Jew. Spanish Mackerel also on the 18s and 24s, try down rigging with live bait this a a great option to try your luck.
For everyone that fished in the Pirtek Fishing Challenge I hope you had a great time, the results will be available on the website Saturday 1/5/2021. Good Luck https://pirtekfishingchallenge.com.au
If you have any great catches or photos you would like to share, please email us and let us know how you went. brett@coomerahouseboats.com.au or brett@fishotackle.com.au
Stay up to date with all fishing regulations in Queensland https://www.daf.qld.gov.au/business-priorities/fisheries
Fisho Tackle and Coomera Houseboat Holidays now have Hire Tinnies follow the link to view http://www.coomerahouseboats.com.au/our-fleet-type/hire-tinnies/
Seabreeze is a great website to access a local forecast http://www.seabreeze.com.au/graphs/
Good luck with the Fishing.
Brett