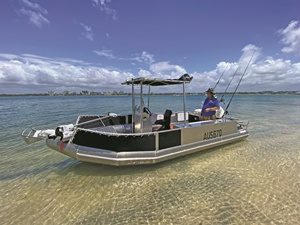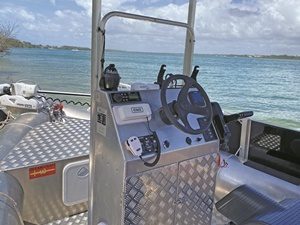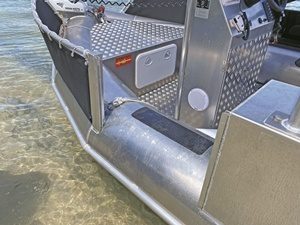 FINDING the one boat that does it all may feel unachievable. However, the decked-out 6000 Extreme Reef Fisher by Ocean Craft manages to tick most of the boxes, making it a very versatile boat. Unique in design, Ocean Craft boats are constructed to handle almost any condition, inshore and offshore.
The large buoyancy chambers – a feature of the boats – and the Posi Lift hull ensure they ride well, deflect the spray and keep you safe. Plus, these boats can be customised, so you can tailor them to your needs.  I recently tested a 6000 Extreme Reef Fisher, which was set up for a mix of inshore and offshore fishing and spear fishing or diving.
One noticeable option on the boat was the electric motor fitted at the bow. Due to the hull design, the boat can float in shallow water and, with the addition of an electric motor and casting platform, the functionality of this boat is greatly increased. These days, electric motors are being used instead of anchoring offshore or to control your drift.
However, as this particular vessel also needed to be anchored, the owner opted to fit an electric Savwich under the front casting platform. Though rated to take a maximum of 170hp, this boat was fitted with a 140hp 4-stroke Suzuki, which provided ample power and punch. The white Suzuki also had solid figures in terms of fuel usage, with the vessel getting 2.2km/L at 3700rpm.
When the throttle was opened a bit more to 5500rpm it was still getting 1.7km/L. In terms of deck or fishing space, in sort there's a lot. The large rear deck has ample space to comfortably fish four people, though six would also fit because there's an impressive amount of space on this 6m vessel.
A front casting platform allows for a mix of lure fishing or a good vantage point for fighting other fish. Combined with 10 rod holders, live bait tank, bait board and a tied down Esky, you have a well set up fishing rig. In terms of storage, there are several large hatches and pockets that would hold tackle bags, or you could customsie further and set them up to take individual tackle trays.
Additional storage under the front casting deck and in a cabinet within the helm area has a clean design that will hold large electronics. There is also a captain's seat, which in this vessel was hydraulic. Extra seating is possible on the front tubes, but if you were planning on taking the family out regularly, a rear bench seat would be a good option.
Overall, Ocean Craft boats are built for a purpose, and that is as a solid workhorse. In this instance for fishing and diving, with a dive door added to make getting to the water with your dive gear on easier. A rear ladder aids in getting back into the boat. Performance-wise, the hull design and efficient Suzuki means you have a well-performing boat that can handle the chop.
The test boat easily jumped onto the plane and could also hold at low revs. On the test day we played a little in the Caloundra Bar, which I would have classed as average due to the wind and waves. Despite not having the finish of few other custom alloy boats, the Ocean Craft range is worth checking out for their ruggedness and performance in a host of conditions.
For more information on this particular model or other in the Ocean Craft range, visit oceancraft.com.au or call Mike on 0416 293 686.