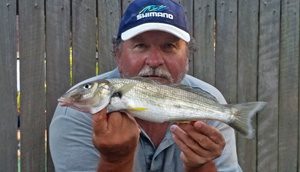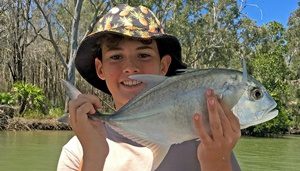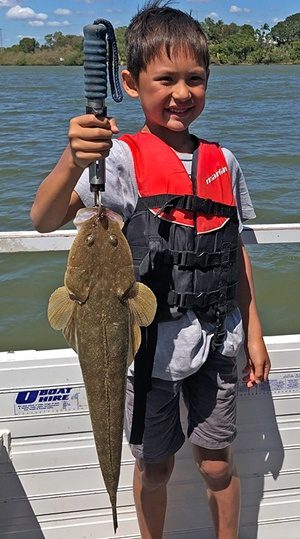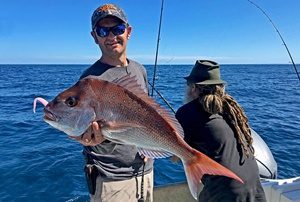 A few charters did well to punch through the swell on the bar and head out to wider marks to score a good mixed bag. Double Island is always a favourite when the sea's allow and the catch consisted of snapper, cobia, mahi mahi, tuskies, sweetlip, AJ's and jewfish. As mentioned in previous reports you can access DI by launching at Tin Can Bay. It's a long trip to the bar but it's a safe one and the fishing can be great as soon as you find deep water. When fishing here be sure to have your maps up to date on your GPS as Wolf Rock is a strict no fishing area. If you need help with GPS units come and see us for up to date maps and sounder help.
Off the beaches the swell has been hitting the coast which for some is a great time to try for a jewie. If the bigger surf is something you don't usually fish then why not try the river mouth. The channels and various gutters will be holding fish and any small baitfish getting washed into these areas will soon become prey. Try not to fish heavier than 10lb main line so bait presentation is best. Look to use a couple of small snelled octopus hooks and use a whole baby blue pilchard or hardy head. This is a great way to find a big flathead just waiting for the perfect moment to strike!
If you haven't noticed the mangrove jacks and flathead have been high on many anglers catch lists these last few weeks. The Noosa River is home to some solid fish reaching 60cm for jacks and over 90cm for flathead when the stars align. They will take a variety of lures and baits and are a viable target even if you don't have a boat. For land based anglers try the downed trees around the dog beach and the rocks of the sandbags. These spots fish well once you get the right tides and let your lures or baits get carried along in the current while working them. Be sure to use quality braids to feel even the smallest of bites. We have many new braids in store so be sure to ask us which one suits your style, target species and location.
Other species starting to feed are whiting. These make a great target for owners of 2kg gear and big fish in the high 30cm mark will certainly account for themselves in shallow waters. Whiting love surface lures skipped across the surface and the Bassday Sugapen is a favourite. Use super light mono leaders to get the best from this and similar lures. Try the sand flats of the frying pan and Weyba on a run out tide. You will probably pick up flathead if targeting whiting and they will even hit surface lures. You would do well to grab some Rovex fluorocarbon if you need to increase the bite resistance as small spools are available which coasts you less. Ask us how to tie a braid to leader knot if you need help.
Away from the river the freshwater continues to warm up with healthy bass caught around the edges. Now is the time to hit the water first light as we head toward a new moon phase. You can even use weedless soft plastics cast onto lilies and hopped off for the bite. Away from the edges there are schools of bass to be found. These fish are picking plastics off the bottom in the 2-3 inch sizes. Take a look at the new Powerbait power grub in bleak colour. Use this with 1/4oz jighead or more and slow wind it back to you. For added bite grab a tube of the new Gulp gel. This is a new scent that is already proving great on many fish. Don't forget to keep an eye on your SIPS permit expiry dates and remember you can get one quickly online.
Now for all the  latest information log onto www.fishingnoosa.com.au for up to date bar and fishing reports, don't forget to drop into Davo's Tackle World, Davo's Boating and Outdoors in Noosa and  Davo's Northshore Bait & Tackle in Marcoola for all the right equipment, bait and advice to get you catching. Be sure to follow us on Facebook and remember Tight Lines and Bent Spines!