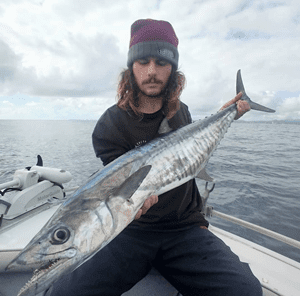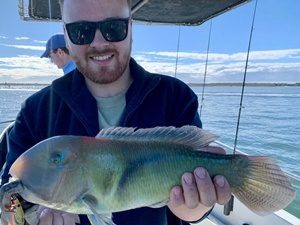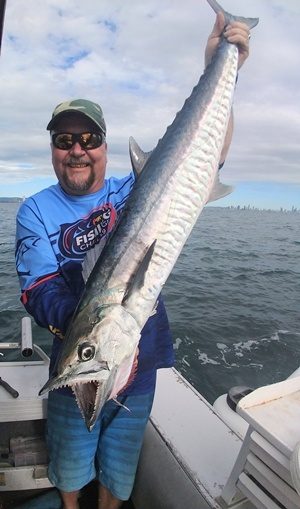 Hi Everyone, hope you have all had a good week, it has been much nicer on the Tweed and Gold Coast than last week seeing a return to Sunny skies and the wind easing giving anglers a change to head out in search of a feed of fish and crabs. Looks like the weather has settled with lighter North East winds and a drop in swell which is good news as we head into the weekend. Let's check out some fishing options to explore.
The drop in wind and swell has given Fishos an opportunity to sneak offshore and try their luck for a Spanish Mackerel during the week with local anglers like Paul and Hunter Wilshire (see photos in report) coming up trumps managing to troll up a couple of great size Spanish Mackerel. Some great methods to try are trolling hard body diving lures around 15 to 18cm long is popular along with trolling well rigged dead baits or slow trolling live baits will temp a bite if the fish are around. Searching for bait fish is the key to finding predators, keep an eye on the sounder and hopefully you fill find an area holding bait that is worth putting in some time. Some good spots to try are the Bait Grounds off the Seaway, Mermaid Reef, Palm Beach Reef, the Gravel Patch and the local 18 – 24 fathoms reefs off Surfers Paradise will be worth a look on the weekend.
The Gold Coast Seaway has been fishing well during the week with some nice size Jew Fish, solid Mangrove Jack and also good numbers of Flathead being caught on live baits drifted from the North Wall to the Pipe Line area. Herring, Pike, Mullet and Yakkas all make great bait. Jew Fish and Mangrove Jack will hit hard and put up a great fight, making sure you have the right gear to target the fish is important or you will end up getting busted up pretty easily. A light offshore outfit would be a good starting point, a rod around 8 to 10kg spooled with 20 to 30lb braid should be able to put the brakes on most of the fish you are likely to encounter. Try to target a tide change, best to plan your trip to fish and hour before or a hour after the tide for best results.
Mud Crabs have been a good target species with a bit of fresh water in the system from the recent rain and storms. Try setting your pots around the river mouths where they meet the main channel, depending on the catch rate try targeting a few different depts of water deeper water until you manage to score a few good sized Muddies. A few spots to try your luck are the mouth of the North and South are of the Coomera River, Pimpama River, the Aldershots, Logan River, Nerang River, Russel Island, Canaipa Passage, Jacobs Well, Tiger Mullet Channel and Cabbage Tree Point. A bait bag is a good idea making it a bit harder for the small Crabs, fish and eels to steal the bait giving more soak time to entice the larger male crabs into your pots. Mullet, fish frames and raw chicken all make good bait.
Brad from Brad Smith Fishing Charters reports he has been catching school size Flathead around the Chinderah area on Samaki Vibelicious vibes Pearl Shrimp colour, and a few Mangrove Jacks trolling Atomic hardbody lures.
Clint from Brad Smith Fishing Charters reports some Flathead, Whiting, and Bream on the edges of the main channel of the Gold Coast Broadwater on Ecogear blades
Gavin from Sea Probe Fishing Charters reports still plenty of Marlin out wide on lures and live bait also plenty of Dolphin fish around the fads ,in close 24s,18s ,mermaid palm beach and gravel patch Spottie and Spanish Mackerel have been taking pillies ,live baits and hard body lures
If you have any great catches or photos you would like to share, please email us and let us know how you went. brett@coomerahouseboats.com.au or brett@fishotackle.com.au
Stay up to date with all fishing regulations in Queensland https://www.daf.qld.gov.au/business-priorities/fisheries
Fisho Tackle and Coomera Houseboat Holidays now have Hire Tinnies follow the link to view http://www.coomerahouseboats.com.au/our-fleet-type/hire-tinnies/
Seabreeze is a great website to access a local forecast http://www.seabreeze.com.au/graphs/
If you have any great catches to report or fishing photos please email them to  brett@fishotackle.com.au
Good luck with the Fishing.
Brett