Finally the weather winter is known for showed up this weekend. With calmer seas, westerly winds and low 20 degree daytime temps this is fishing at its best!
Offshore conditions allowed anglers to head both far and wide and with the tuna and mackerel still hanging around it was on for most. The tides were less strong during the day with the new moon on Thursday.
Offshore anglers headed to Sunshine Reef, North Reef and up toward Teewah to chase the longies. The main species from North included bigger snapper than previous weeks. These fish are taking dropped bait on Black Magic Paternoster rigs and soft plastics like the bigger Nemesis from Berkley on 6/0 hooks. When working soft plastics try starting with 25-30lb fluorocarbon leader to give the lure the best action. Check out the Shimano Ocea for a slighter softer less springy material. Other fish from out wider included tuskies, pearlies and sweetlip. Mid-water there are cobia and these fish often get hunted by sharks, especially when high on the surface. Be sure to get these fish in fast or it could just be a head.
Sunshine has good sweetlip, tuna and the odd coral trout. These fish can be found around pinnacles and ledges but running heavy leaders like Black Magic fluorocarbon in 60lb is a must to cope with the reef. In close always have a gang hooked floater out as bigger snapper and midwater cobia and Spanish will take these. Remember to always have a small 20 gram slug ready to cast as the tuna have come back in and there is nothing better than being prepared. Try longer 20lb leaders if the fish are line shy and remember always go upwind and drift back toward them.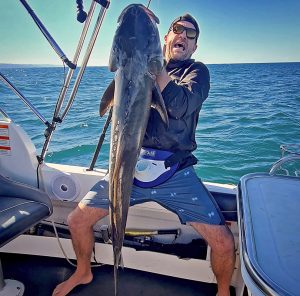 Surf fishing should also fire up around the moon with the drop in temps many jewie anglers are on the prowl. Tailor fishing has yet to fully kick off but they are showing up sporadically. Super clean pilchards on Tru-turn gangs is the go and if your baits get a little soft then break out the bait buddy.
The river has seen some changes with tailor coming into the estuary in low light periods and with the bigger tides next week should see bait getting pushed into the river. There is a lot of bait offshore and the spring tides will see many fish crossing the bar in search of a feed. Now is the time to throw small poppers and stickbaits especially around Woods Bay, Munna Point and Noosa Sound. Come in and check out our range of estuary specific tackle and lures. The flathead, bream and whiting are on the move with medium sized flatties holding around the mouth and current lines. The Frying Pan, now broken through will see trevally alongside the whiting and bream which normally hold in good numbers here. During the tide change it can be a great idea to fish the run off flats areas as flatties will lay in wait.
Lastly the freshwater is a bit quieter but with a rise in daytime and evening temps we should see the fish feeding a bit harder. After the moon often fishing will go through a lull so expect next week to fire up a bit more. As always, run sounders and use side scan mode on bigger waterways like Borumba Dam. Jigs and spinnerbaits trolled slowly like the Hot Bite Spectre assist work very well on deeply schooled fish. As always ensure your SIPS permit is up to date and remove any weed on trailers when leaving Lake Macdonald.
Now for all the  latest information log onto www.fishingnoosa.com.au for up to date bar and fishing reports, don't forget to drop into Tackle World Noosa, Noosa Boating and Outdoors and Northshore Bait & Tackle in Marcoola for all the right equipment, bait and advice to get you catching. Be sure to follow us on Facebook and remember, tight lines and bent spines!