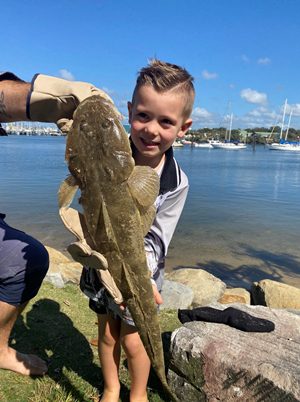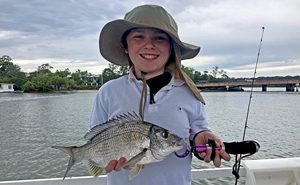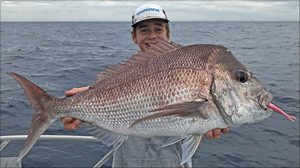 With the winds becoming variable from a few knots to 20+ the offshore scene has been quieter this week. Some smaller boats managed to head out and make the most of conditions and came home with smaller snapper, sweetlip and a coral trout or two from Sunshine Reef. The charter trips ran to DI and managed bigger snapper, cobia, sweetlip, AJ and some jew from North reef. The recent rains usually stirs up sweetlip and will also push prawns out of the river. That's makes now a great time to break out heavier estuary spin outfits and throw prawns like e Atomic Prong in 4 inch sizes on 3/8th jigheads. These little plastics swim when slow wound and this will drive the fish nuts. Keep leader down to 20lb and enjoy the power these fish dish out on 6-8kg rods.
Surf fishing has been harder with the winds and swell but the big rigs and big baits came out to play on the lead up to the new moon. Fishing at night to get the jewfish bite is something any serious surf angler should experience as these fish run hard and have the biggest headshakes in the business. If you are looking for a great surf spin reel then look no further than the Penn Spinfisher long cast. This is the perfect big bait reel designed to launch baits and lures out to 100 meters or more.
The rivers are starting to flush out and carry some sediment and food down to the mouths. Upriver in the everglades and Lake Cootharabah the waters are dark and tannin rich. This will see the fish adjusting to the new conditions and it may be harder to find them so fish around the turn in the tides as this is generally a trigger for fish to feed. The deeper holes that are littered throughout the upper Noosa River are a great starting point if not crossing Cootharabah.
Lower down everyone's favourite fish, the flathead are starting to become bigger and school up while they make their way downstream. October is also known as Croctober and for good reason. Using big plastics usually reserved for barra will call up the big girls, but remember these fish must be released. When you target the big fish always have a landing net ready as they will rasp through leaders in no time and will make multiple big runs, especially when you get them close to the boat or shallow water.
We have seen an increase in golden trevally in the lower part of the river which makes sense given they are traditionally bottom feeders. Try using small jigs, 3 inch soft plastics and small soft vibes during a run out tide. Look around the fallen trees of the dog beach, the current line and even around woods bay. While the creeks are pushing out freshwater be sure to set a few crab pots. Make sure they are clearly marked and do not leave them in the middle of the river for safety reasons.
The freshwater is seeing a change with Borumba now up to 21C in places. The rains have not clouded the water much and the saratoga are starting to pair up with some aggressive behaviour between fish noted. This makes them harder to catch while their attentions turn to pairing up making bass and yellow belly a great target. The bass appear to be holding further up in the arms and not so much out in the open. They are also enjoying the warmer waters around the edges so where the sunlight hits first light is a great area to try. Small suspending jerkbaits and minnow style soft plastics like Keitech easy shiners are perfect for this style of fishing. They will also weedless rig on Mustad Megabite hooks for safe casting into cover.
Now for all the  latest information log onto www.fishingnoosa.com.au for up to date bar and fishing reports, don't forget to drop into Davo's Tackle World, Davo's Boating and Outdoors in Noosa and  Davo's Northshore Bait & Tackle in Marcoola for all the right equipment, bait and advice to get you catching. Be sure to follow us on Facebook and remember, tight lines and bent spines!