Hi Everyone, hope you have all had a good week, although it has cooled down a lot it is nice to finally see the wind ease and the swell drop this week on the Gold and Tweed Coast giving everyone much nicer weather to finally enjoy a fishing trip to kick off winter season. At the time of writing my report the weekend looks like we will see a bit more wind on Saturday with a Southerly tipped to kick in before easing leaving Sunday the pick of the days to get out for a fish. Let's have a look at what's been on the chew this week.
Jewfish will be a prime inshore target species during winter on the Tweed and Gold Coast, now that the weather has started to cool down and the nights are very cold you will find that Jewfish will start to get active with the bigger tides at night the best time to target a big, prized fish. With plenty of mullet schools starting to show up the schools of Jewfish will be hot on their heels feeding up big. Targeting a big Jewfish inshore is a bit of an art and nothing like catching them offshore on the reefs where they will tend to just crunch your smaller baits and hook up easily. Inshore big Jewfish are much more wary and very particular how they will take a bait like a large whole Mullet, patience is the key to success and many anglers will put in plenty of cold nights until they are lucky enough to come up trumps. Live bait is the best option, try to catch your live Mullet in the area you are fishing if the bait is hard to find usually the Jewfish will also be, like any form of fishing find the bait and you will find the fish. A cast net is the best way to collect live Mullet, keep them live by changing the water regularly or using a live bait tank. I will generally fish these live Mullet baits un weighted on a set of 2 x 9/0 snelled Gamakatsu hooks rigged on a 60lb leader and 15kg main line, I cast out and leave the reel in free spool and weight for a run, the key is to be patient and let the fish run for quit a bit before trying to set the hook as they will tend to play with the bait and drop it as soon as they feel weight in the shallower inshore waters. The best spots to try will be the Tweed Bar Rock Walls and river mouth, Jumpinpin Bar, Gold Coast Seaway and Wavebreak Island. Put in the hard yards and hopefully you will land that 20kg Jewfish.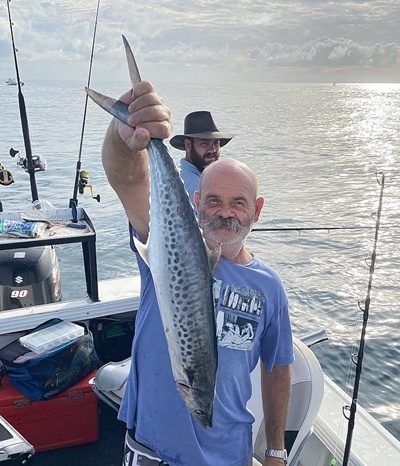 The cool winter nights are here which is great news for the Bream fishos keen to chase a feed. Those cold nights are usually the best for finding better quality Bream in numbers.  Some good spots to start looking will be the Tweed River, Currumbin Creek, Tallebudgera Creek, Whalleys Gutter, Tiger Mullet Channel, Perrys Hole, Short Island, Cobby Passage, Kalinga Bank, Wave Break Island and The Gold Coast Seaway. When fishing land based just look to fish near structure like Jetties, rock walls, snags and bridges. Burley is important when chasing Bream, a lot of fishos will have a secret brew they use, I recommend stimulate or Wilson burley pellets.  Just keep a regular trail going, do not feed them too much just enough to keep the fish interested. Some the best baits will be Mullet Fillet, Mullet Gut, Bonito Fillet, White Pilchards, Squid, Prawns and Yabbies.
Squid numbers will start to increase during Winter, they are fun to catch and even better to eat.  The Gold and Tweed Coast waters will hold a mixture of Arrow Head and Tiger Squid being the larger of the two species.  Try using a Squid Jig between 2 to 3 inches long until you find the size that works the best.  If you are land-based try looking for jetties and boat ramps that are well lit up, the lights will attract bait fish which will also attract the predatory Squid.  Paradise Point, Grand Hotel, and Southport Bridge are just a couple of spots to try your luck.
Brad from Brad Smith Fishing Charters reports we mainly focused on jigging the deepest holes in the Tweed River, and the variety of species was bizarre and so was the number of fish we caught. Using the same two lures the whole week being Ecogear zx40s and Samaki vibelicous we caught Flatties and Bream which are to be expected, and also some good quality Jewies, Giant Trevally and even a couple of Australian Bass. It goes to show that by having the right lures and the right technique and very importantly having an abundance of bait in these deep pockets of water all these species are happy to come together to feed. Other highlights for the week were the double hook ups with one client fighting a Bass and the other with a Flattie, and the rush of fighting a Jewie and a Giant Trevally at the same time that were both spooling off line and running in opposite directions. We somehow managed to land both fish which was amazing and let's hope this crazy action continues this week.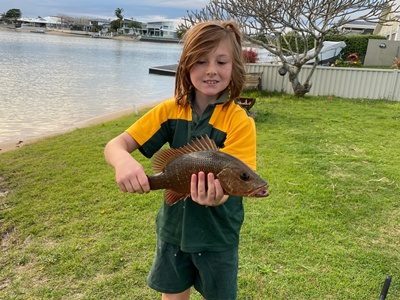 Clint from Brad Smith Fishing Charters reports he had some very good fishing leading up to the full moon, then the fish were a little off on the moon with the bigger fish more intent on breeding than feeding. The Squid were more shy, in less numbers and smaller than they were last week. With their big eyes they were hunting all night under the brightness of the full moon, then less hungry during the day. A variety of zx's and Squid jigs help catch a bag of Squid in the Gold Coast Broadwater. Every day is different, and it pays to keep mixing it up. Try having three different shades at least of jigs, from darker solid colours to natural and transparent. My favourite jigs are Ecogear Dartmax 3.0 which sink a bit quicker than most jigs, this is great for the Broadwater.
Gavin from Sea Probe Fishing Charters reports weather permitting the fishing on the 50 fathoms and 36 fathoms have been very good with a mixed bag of reef fish including Snapper, Pearl Perch, Parrot Fish, Pig Fish, Moses Perch and also Trag Jew all caught on Mullet, Pillies and Squid. Also in close on the 24s and 18s have been cobia starting to show up in decent numbers.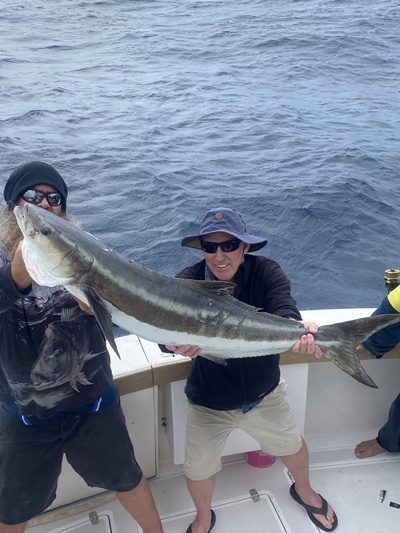 If you have any great catches or photos you would like to share, please email us and let us know how you went. brett@coomerahouseboats.com.au or brett@fishotackle.com.au
Stay up to date with all fishing regulations in Queensland https://www.daf.qld.gov.au/business-priorities/fisheries
Fisho Tackle and Coomera Houseboat Holidays now have Hire Tinnies follow the link to view http://www.coomerahouseboats.com.au/our-fleet-type/hire-tinnies/
Seabreeze is a great website to access a local forecast http://www.seabreeze.com.au/graphs/
Good luck with the Fishing.
Brett