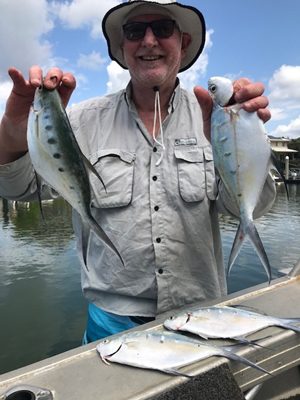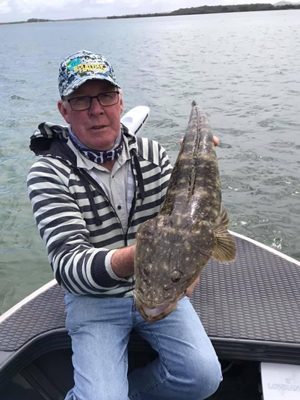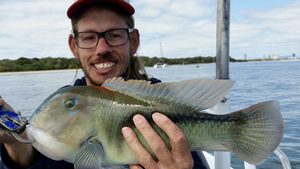 Hi Everyone, hope you have all had a good week, we have had a few showers hanging around the Tweed and Gold Coast so far for school holidays but that hasn't stopped everyone from getting out and having fun and catching a feed. let's see what's been biting this week.
Weather permitting, we have seen some great catches coming form the offshore grounds this week. Local Fisho Wayne Young (see photo in report) did well landing new PB horse of Cobie going 140cm fishing on the 24 fathoms grounds off the Gold Coast Seaway. He did a great job landing this big Cobia using 20lb tackle, it put up a great fight that went for 45min until he finally wore it out. Wayne said fresh Bonito Fillet did the job. Cobia can be attracted in by a consistent burly trail as they love to scavenge around, they will eat pretty much anything you put in front of them.
Reports of good catches of Snapper is great news with plenty of anglers bagging out on the 50 and 36 fathom reefs, float lining has seen some big fish trophy up to 92cm showing up. Current has been an issue at times, choosing the right sized sinker is the key to success when chasing big Snapper.
Whiting are a good target as we head into the warmer months, they can be found schooling in numbers during the day and night. We have quite a few land based options on the Tweed and Gold Coast as well as spots to try in the boat. Best baits are Worms and Yabbies, I recommend using a long trace of 6lb fluorocarbon leader matched with a size 6 bait holder hook for worms or size 4 hook if you're using yabbies. Choosing the right sinker is important, if your sinker is too light you tend to just get annoyed by Bream.  I recommend using a 4 or 5 ball sinker to keep you bait on the bottom where the Whiting feed. Tidal flow is very important when targeting Whiting, "no run no fun" is very true when targeting Whiting.  Some good land based spots are Paradise Point foreshore, Runaway Bay, Labrador, Marine Stadium, Nerang River and Jacobs Well.  In the boat try Coomera River, Logan River, Pimpama River, Wave Break Island, Tweed River, Currumbin, Tallebudgera Creek or Nerang River.
Clint from Brad Smith Fishing Charters reports there ares still some school mackerel at Southport this week, they are usually active in the mornings near the main channel markers. The Schoolies respond well to float lines rigged with White Pilchards on small gang hooks, or fast cranked Samaki 20 gram slugs. When the snot weed's not too bad the area around Crab Island has been producing Tuskfish, Flounder, Flathead, Tarwhine, Squid, Sand Whiting, and Winter Whiting. Samaki Vibelicious 70mm soft vibes, Ecogear ZX43 blades, live yabbies, and beach worms have worked best. The estuary water will continue to warm up this week for those early season Mangrove Jack fans, and those keen to chase a feed of big Sand Whiting which are turning up in numbers downstream.
Hope you all have a good week and stay healthy and safe. If you have any great catches or photos you would like to share, please email us and let us know how you went.
Stay up to date with all fishing regulations in Queensland https://www.daf.qld.gov.au/business-priorities/fisheries
Fisho Tackle and Coomera Houseboat Holidays now have Hire Tinnies follow the link to view http://www.coomerahouseboats.com.au/our-fleet-type/hire-tinnies/
Seabreeze is a great website to access a local forecast http://www.seabreeze.com.au/graphs/
If you have any great catches to report or fishing photos please email them to  brett@fishotackle.com.au
Good luck with the Fishing.
Brett