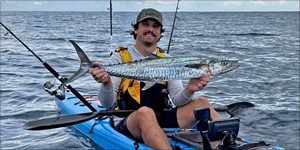 Finally we have seen some of the wettest and roughest conditions in what feels like years to hit the coast. This has been on the wish list of many anglers for years as the river has long been filling with sand. After the rains we should start to see some great fishing next week as the fish adjust to the new salinity levels. Offshore will see the local reefs fire up as the big Spring tides should see bait pushed out into the bay making Halls Reef a great area for sweetlip, snapper and Spanish if not too dirty. The Noosa river should also see the jacks start to fire up as the bait becomes more concentrated so do your best to get out there!
Offshore we have seen some nice fish including cobia, jewfish and mahi coming from North reef. Mahi will take a wide range of bait and lures and remember if you see anything floating, have a cast at it. Mahi mahi will sit under the smallest of items and an unweighted cut pilchard could be all you need. For trolling break out the skirted lures and jet heads. Check out the various options from Buku as there have been a lot of marlin around due to a temperature break. Anglers have been getting these on trolled garfish, slimy mackerel, small tuna and lures. For an entry level trolling reel the TLD25 is hard to beat. Come and ask us for the best rod and mono to get the job done. Should you catch one, these fish must be kept in the water if they are to survive. They must be swum for a long period before release to reduce lactic acid levels in the blood.
Surf fishing has been quieter due to the winds and weed. This swell and spring tides should hopefully see a good flush making next week a better time to get back into it. The last rains saw some big dart in excess of 50cm landed. These fish fell for beach worm and pipi baits with 6-8kg setups doing the best. Lighter lines will always do best in the surf as they have less resistance so fish as light as you can especially if there is any sweep.
The river has been fishing well with jacks, flatties, whiting and trevally on the chew. The main focus remains in the lower part of the river from the marina downward to the mouth. Drift fishing while working lures along the drop offs is a great way to locate flathead and trevally. The new Nomad Vertrex lures in the smaller 75mm swim model are perfect for this style of fishing. A great thing about this type of lure is you don't need to be a seasoned lure angler to bring them to life and start catching fish. Focus around Weyba Bridge and the dog beach sand bags. Jacks are getting caught in multiple locations with the river mouth rocks, the various jetties and Donella Bridge a few places to try. The Chasebaits prawn continues to catch good fish just ask how we make them weedless as jacks like rough terrain and these can become snagged. If you can try flicking smaller 3 inch plastics around these areas as wel as the frying pan and the corner of the caravan park. This main intersection often sees good flathead and trevally feeding here. The TT Demonz and Keitech shad impact make a great flick bait that mimics a baitfish.
Freshwater will be quieter as the dams fill with cool rain. The dirty water often sees the bass move into deeper water in search of warmer clearer waters. Fish closer to the bottom and look for schooled up fish. Try the Hot Bite jigs and spinnerbaits in the deeper waters. Look for spikes in water temperature as you move around the dam and be sure to have a good sound around these areas.
Now for all the  latest information log onto www.fishingnoosa.com.au for up to date bar and fishing reports, don't forget to drop into Davo's Tackle World, Davo's Boating and Outdoors in Noosa and  Davo's Northshore Bait & Tackle in Marcoola for all the right equipment, bait and advice to get you catching. Be sure to follow us on Facebook and remember, Tight Lines and Bent Spines!