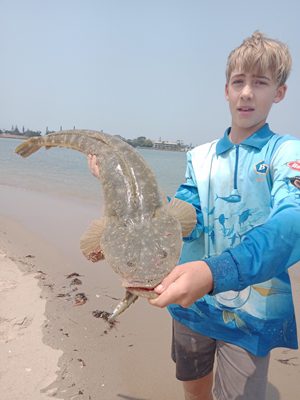 THE weather is starting to heat up and spring has certainly sprung in and around Northern Rivers NSW. The beauty of fishing during this time is there are so many awesome options to choose from.
In freshwater, bass are firing up and it won't be long before they're happily attacking surface lures. The same goes for flathead and whiting in saltwater. While bream, tailor and mulloway are still hanging around in significant enough numbers to make chasing them worthwhile. Don't forget the fun offshore, where snapper and mulloway are hanging in close, and mahi mahi, kingfish, amberjack and pearl perch are waiting out wider for anglers. It's an amazing time of year and the bonus is the weather, which is in that 'Goldilocks' category – not too hot, not too cold – just right!
Offshore
The close reefs have been a little on the quiet side recently, but I am expecting them to be more productive from now until the heat of summer kicks in. Frozen pilchards and live baits with little or no weight have been the ticket to success in close, particularly up at Black Head and Lennox Point. A few nice snapper on bright-coloured soft plastics have also come from this area, but make sure you keep the weights to around 1/4oz, as red rock cod will find them quick smart if you're too heavy on the lead.
Out wider, we have been seeing a mixed bag of quality flathead, tuskfish, pigfish and snapper – all on the 32-fathom line. In most cases bait such as mullet, squid and yellowtail have been productive, but a few better-quality fish have fallen victim to several slow pitch jigs around the 60-120g range. With weather warming up and a small burst of current flowing south, we have seen our first mahi mahi hanging around the wave recorder buoy.
As summer ramps up, we should see better numbers of these brightly coloured acrobats, but for now it will be worth packing a few skirted lures and dragging them around on the 32 and 42-fathom lines. Large models will usually show up early in the season, so now may be your time to bag a big mahi and trolling is a great way to do it. Back on the beaches, we have unfortunately seen Australian salmon hanging around.
Before you howl me down for being negative about this species, let me say this… Yes, they are good sport… yes, they give a good fight… but, they do have the potential to decimate our bait schools if they show up in large enough numbers. When this happens, we see a significant decline in our catches of bream, flathead and tailor due to the heavily reduced volume of food.
So, while a few salmon are fun, keep your fingers and toes crossed that we don't see too many of them. South Ballina has been producing some quality tailor and bream in recent weeks. The usual bait such as pilchards, mullet and bonito have all been working well. The better fish have certainly been showing up late afternoon and into the evening with an incoming tide.
Unfortunately, we have had problems fishing the beach on a number of nights due to a strong rip to the north, which has made it nearly impossible to fish without using the largest of sinkers. The river is certainly showing signs of summer, with a few mangrove jack having already been caught this season on live baits along the rock walls. We have also seen the first signs of whiting in better numbers, and while they haven't been terribly aggressive with surface lures as yet, you should be able to tempt a couple on a run-in tide with either a beach worm or a live yabby.
Flathead have been making their way toward the mouth of the river for their breeding run, with some of the better eating-sized fish from 40-60 cm being landed recently. Larger females will also start to show up over the next few weeks in similar areas, so it may be time to catch live bait or dust off those over-sized soft plastics and swimbaits in preparation. Mulloway and luderick have started to slow down with the arrival of warmer weather, but there are still quite a few fish to be caught if you're willing to persist and put time in.
As usual, luderick have been biting a little better on the incoming tide, but I would recommend having some berley handy – this may make the difference when they're playing hard to tempt. Though showing up on the slack tide at night, we have seen mulloway numbers drop off around town. Despite this, good quality school-sized fish have been taken around Pimlico Island and Wardell Bridge, so it may pay to check out the deep holes further upriver over the next month.
Well, that's all from me.
Until next time – tight lines!