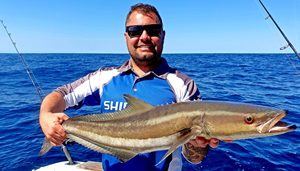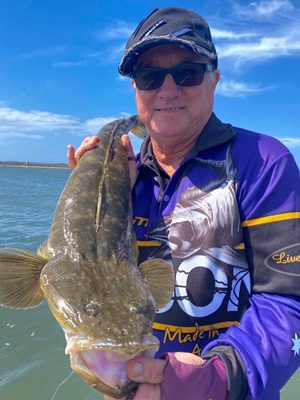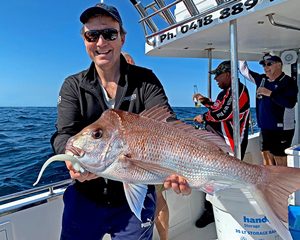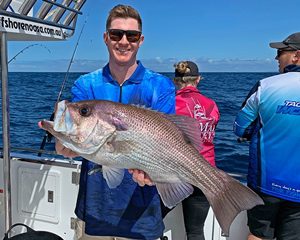 Cool mornings, light winds and perfect daytime temps is why we live on the coast! With the winds tending to be light and variable the offshore crew certainly made the most of conditions and landed some great fish. This month sees the start of the Davos snapper comp. It runs for the entire month of September, is free to enter and there is a great prize pool on offer too! Come and ask for more on your next visit.
From out wide in the deeper waters of Double Island the species list consisted of solid snapper to longtail! This is the time of year where we are seeing a rise in water temps and along with that the pelagics are hanging around. Mixed in with these are solid winter species and mixed reefies. When you fish here expect to find a bit of everything and take plenty of sinkers and rigs. Take a look at Chicko's reef rig and the new Elkat Striker gangs with a flasher on the hooks. These are perfect for big snapper or midwater cobia. Lastly when floating baits with brad be sure to run a long mono leader around 6 meters to help lay the line out and present better in the water.
Closer to land, Sunshine reef has been producing some cracking coral trout. These fish have been a little quiet but have made their presence known. To land such a quality fish you need live yakka's and strong octopus hooks. Be sure you run 50lb or more leaders on a short stout rod like the new Shimano Anthem which has already knocked over some big reef fish locally. Other species are of course are smaller snapper but you will need to drop lines down to 15lb to 20lb max as the waters are super clear from all the westerly winds. If you are looking for a great plastic try the larger 4 inch Atomic prong. Snapper love plastics with movement and these have all you could possibly want.
Surf fishing is producing mixed results all along the coast. From after dark jewies in the big gutters to dart and whiting during the daytime. Be sure to check out gutters during the daytime so you can fish in low light hours. This week sees a lead up to the full moon on Wednesday which is usually a great trigger for fish to feed hard in the low light/evening time. Concentrate efforts around the rocks of Sunshine beach, Noosa National Park and the middle rock groyne if after bigger fish. Try to fish around tide changes as the currents begin to build for best results.
The Noosa River is becoming nice and clear from the lack of rain and the bigger currents will see good numbers of flathead and trevally in the lower estuary.  During first light the trevally will be picking off baitfish coming into the river with the tide. Try around Woods Bay, Munna Bridge, Northshore Frying Pan and Munna Point. Flathead will also be found around these areas. If looking for jacks you could try the rocks of the river mouth and the new colour Lucky Craft pointers are more than equipped for the task. These come rigged with Decoy YS81 heavy duty treble hooks that are built tough for big fish. Further upriver you can expect to find a continued run of soapy sized jewfish which love a range of lures. Small soft vibes and hard lures like the Jackall TN60 send out lots of vibration which attracts these fish. Other species around the flats and drop off's are whiting, golden trevally and flatties waiting to smash passing fish.
Freshwater is starting to warm up and with the increasing daytime temps you can venture around the edges and free standing timber. Small hardbodies twitched out from the bank will work wonders and the Jackall 61 SP is a great lure for this time of year. The new Hot Bite raptors have just landed and will secure any schooled up fish that are sitting deep so keep sounders running. With lighter winds forecast next week, now is the time to enjoy these pristine waterways and catch a bass or two.
Now for all the  latest information log onto www.fishingnoosa.com.au for up to date bar and fishing reports, don't forget to drop into Davo's Tackle World, Davo's Boating and Outdoors in Noosa and  Davo's Northshore Bait & Tackle in Marcoola for all the right equipment, bait and advice to get you catching. Be sure to follow us on Facebook and remember Tight Lines and Bent Spines!