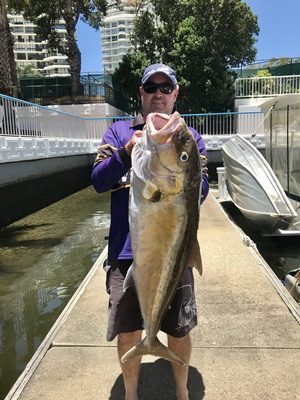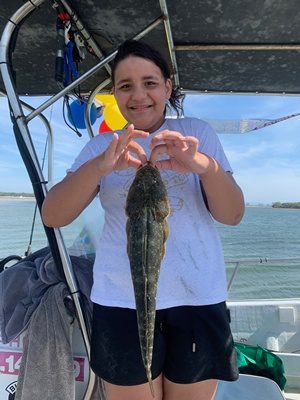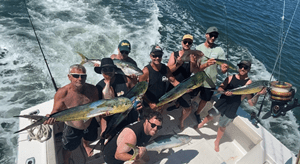 Hi Everyone, hope you have all had a good week, some fantastic weather again last weekend with light winds and small swell making conditions for heading offshore great last Saturday. We have had a bit of wind during the week and some extremely hot days which should help fire up the local Mangrove Jack populations into feeding on the Gold and Tweed Coasts. With Summer now here let's see what's been on the bite this week.
With another great weather forecast on the cards last Saturday I headed back out offshore with my mate Wayne Young to try our luck. This time we decided to head out winder and have a look for a feed on the 36-fathom line, plenty of other boats had a similar idea with the fads seeing lots of anglers trying their luck for a Dolphin fish. We were bottom fishing looking for a feed of reef fish, the current was up making conditions a bit challenging at times, we had plenty of good shows of fish on the sounder but getting your bait down in front of them was difficult. A combination of a large sinker and just ticking the boat over in reverse did the trick and we ended up landing a few small Snapper and Bonito. We persisted for a while with good shows on offer until I got lucky getting hit on the way down, my line screamed off and after a good 15 min fight on 30lb thread line set up I was extremely happy to see a 112cm, 18kg Samson Fish hit the deck (see photo in report) making all the effort very worthwhile. We also had a drop the 24-fathom line on the way home and managed some nice size Trag Jew, Snapper, Tailor and got busted up by a couple of monsters. Float lining WA Pilchards, Squid and butterflied Yakka's did the trick rigged on 3 x gang of 5/0 7766 Mustad Tarpon Hooks ganged with swivels between the hooks with 20 and 30lb trace.
Trolling Skirted Lures or Live baits this time of year anywhere from the Seaway to the 50 fathom line off the Tweed or Gold Coast is worth a go as we have had reports of good numbers of juvenile Black Marlin being landed from the Sunshine Coast down to Moreton Island the past week as they migrate south. Bait is the biggest indicator that predators will be close by feeding, just keep an eye on the sounder as well as in the sky for birds feeding on bait balls and scraps pushed to the surface.  Other pelagic species will be on offer as the water temp increases up like Dolphin Fish, Wahoo,Tuna and Mackerel.
Local Fishos Have reported a few Mangrove Jack being landed from the Nerang and Coomera Rivers. The Coomera River is holding good schools of Herring and Mullet at the moment which is good news for anglers chasing Jacks, Trevally and Cod.  The Nerang River has also been fishing well around the bridges from Sundale all the way down river. Try targeting jetties, pontoons, bridges and rock walls, these types of structures will be the best places to encounter a Jack or other species. Casting hard body lures or Zman 3' or 4' minnows are a popular choice, 30lb trace will be a good starting point to avoid getting busted off although you may have to upgrade to 40lb+ around heavy structure as you just never know what sized fish you may encounter. My preferred method is bait fishing, this can be very successful using  Live or well-presented dead baits. Herring, Mullet, Silver Biddies and Pike will work, if you can't access live bait mullet filet also works a treat.
Clint from Brad Smith Fishing Charters reports we have had some reasonable weather this week and we'll take it while it lasts! Next week looks likely to be extremely hot. My wading charters have been extremely popular lately. It's always nice to stand knee deep in cool and clear water catching a feed of delicious fish, no matter how hot it is outside. This week we once again bagged some big Whiting as well as Bream, Flathead, Flounder, and Tarwhine. All the sand banks from Labrador to Crab island produced the goods. It was just a matter of fishing on top of the banks at rising and high tide, and off the edges on the last half of the run out. Full moon usually means good whiting fishing at night. However, the evening tides do not have much coefficient to them. The best fishing times I feel are going to be during the mid-morning run out tides. This time of year, the stingrays will feed hard on the yabby banks and the big Whiting will follow them hoping to get an easy meal after the rays dig the sand up. There will also be some huge 80cm+ Flathead in the shallows preying on the big whiting.
Gavin from Sea Probe Fishing Charters reports fishing on the 50 fathom line has been hit and miss with Dolly's, Kingys ,Ajs and Samson fish, the current has been up and down the last week so it is making a bit difficult at times. On the 36s there has been Dolphin Fish Snapper, Trag Jew, Pearlies, Tuskies and Moses Perch on the chew again.
Hope you all have a good week and stay healthy and safe. If you have any great catches or photos you would like to share, please email us and let us know how you went.
Stay up to date with all fishing regulations in Queensland https://www.daf.qld.gov.au/business-priorities/fisheries
Fisho Tackle and Coomera Houseboat Holidays now have Hire Tinnies follow the link to view http://www.coomerahouseboats.com.au/our-fleet-type/hire-tinnies/
Seabreeze is a great website to access a local forecast http://www.seabreeze.com.au/graphs/
If you have any great catches to report or fishing photos please email them to  brett@fishotackle.com.au
Good luck with the Fishing.
Brett