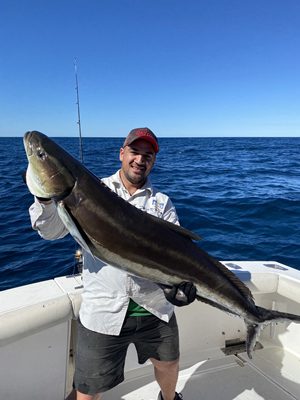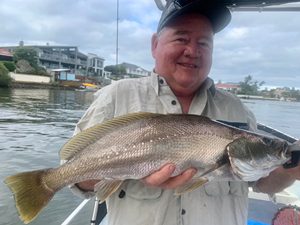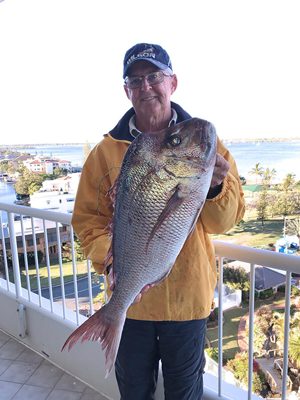 Hi everyone, hope you have all had a good week. It was great to see some fishable weather over the weekend and early in the week giving keen anglers a chance to head offshore and chase some snapper and pearl perch with the restrictions lifted last Sunday in Queensland waters. The strong westerlies are not much good for boating, but chasing tailor off the surf beaches would be a great plan. Let's see what's been happening on the Tweed and Gold Coast.
Sunday August 16 saw the ban on snapper and pearl perch lifted in Queensland waters, and this was great news for recreational anglers and charter operators who are now able to target these more common species on our local reefs. Local fisho Wayne Young had a great trip, landing a solid 75cm snapper (see photo in report) on Monday by float lining WA pilchards on the 18-fathom line east of the Seaway. An early start is recommended when chasing snapper, as the dawn is the prime bite time on the closer reefs. Wayne also ended up with some big moses perch and a quality maori cod, rounding off a successful trip after the month-long ban. Customers also scored a great mixed bag of pearl perch, trag jew, cobia, tuskfish and some top-quality jewfish. Sea Probe Fishing Charters landed a big cobia this week on charter (see photo in report). Best baits are WA pilchards, large squid, mullet fillet, bonito fillet and live yakkas. Don't forget to berley on the shallower reefs. From reports the current was up on the 50-fathom line, but the 36, 24 and 18-fathoms grounds were all quite fishable.
Tailor will be a good target species while the strong westerly winds are hanging around, and the surf should be pretty flat making fishing a lot easier. Some good catches have been coming from our local beaches for the past couple of weeks, with the evening bite producing some good-sized fish. Go for a drive during the daytime and try to spot a few gutters to target late in the afternoon and into the evening. If you are lucky enough to see birds working in these gutters, that means there is bait around, which should attract the predators. Grab some WA Pilchards are give it a go.
Whiting are worth targeting at the moment, with some quality fish coming from the Nerang, Coomera, Pimpama and Logan rivers in the past week. They are also a great option for the family to chase land-based. A few spots to try are Paradise Point, Runaway Bay, Marine Stadium, the Nerang River and Jacobs Well. To make it more fun you can take the kids to pump yabbies first, as they are great bait. Beach worms will also work well. When chasing whiting, try not to strike at the fish when they bite, just let them feed on the bait and they should just hook themselves.
Brad from Brad Smith Fishing Charters reported that things were a little bit quiet towards the end of the week, but they still hit a few pockets of fish holding in the mid to upper reaches of the Tweed River. They trolled a combination of Slam and Pro Lure d36 lures between the deep holes and picked up a few flatties and bream. Once they reached a deep hole, which are everywhere in the Tweed, they brought in the trolled lures and started some deep water jigging with a combination of Ecogear ZX40, VX45, and Samaki Vibelicous vibes, and caught flatties, bream and a few giant trevally.
Clint from Brad Smith Fishing Charters reports he has been fishing the Broadwater and lower reaches of the Nerang River this week. More flathead have been appearing, and the Ecogear ZX43 vibes coated in Sax Scent UV prawn are proving to be a big hit on them. They're an especially useful lure in deeper water, in faster current and wind. The northern Broadwater has had a lot of snot weed, but it is patchy, so just keep searching for cleaner water and baitfish, as it will be moving around a lot. The main species caught this week on lures and yabbies this week included dusky flathead, bartailed flathead, fringe-eye flathead, sand whiting, winter whiting, tarwhine, bream, tuskfish, queenfish, crabs, squid, mackerel, tailor, trevally and mulloway.
Hope you all have a good week and stay healthy and safe. If you have any great catches or photos you would like to share, please email us and let us know how you went.
Stay up to date with all fishing regulations in Queensland https://www.daf.qld.gov.au/business-priorities/fisheries
Fisho Tackle and Coomera Houseboat Holidays now have Hire Tinnies follow the link to view http://www.coomerahouseboats.com.au/our-fleet-type/hire-tinnies/
Seabreeze is a great website to access a local forecast http://www.seabreeze.com.au/graphs/
If you have any great catches to report or fishing photos please email them to  brett@fishotackle.com.au
Good luck with the Fishing.  Brett