Hi Everyone, hope you have all had a good week, it was great to see some much nicer weather return to the Gold and Tweed Coast with the swell dropping it gave fishos a last minute chance to head out offshore to chase a Snapper and Pearl Perch before the closure takes effect on 15/7/2021. It looks like we will see a bit of stronger Westerly wind to end the week with Sunday looking like the pick of the days to hit the water. Let's check out what has been biting on the Gold and Tweed Coast this week.
The large swell last weekend and early in the week stirred up the bait and feed for predators making the Gold Coast Seaway a great option for Fishos to target a wide range of species including some more trophy sized Snapper which have been landed over the past month. Keep in mind that Snapper are now off limits until 15/8/2021 in Queensland waters. Anglers have also been landing some quality Jew Fish, Trevally, Tailor, Bream and Flathead just to name a few. The best time to fish the Seaway is an hour before and an hour after a tide change giving you a good bite time when the tide eases making It easier to target schools of fish on the sounder. I recommend mixing it up a bit by trying a few different methods, live bait, dead bait, soft plastics, vibes and jigs will all work well at times.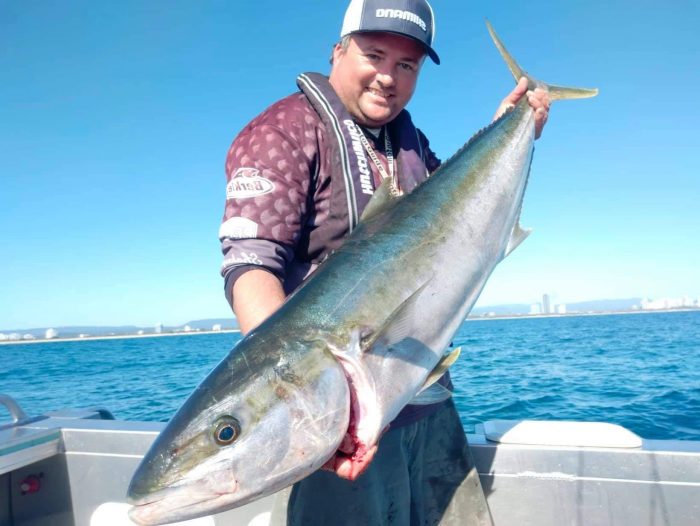 Reports of some good catches of Bream at Jumpinpin during the week is good news for fishos keen to bag a feed, best spots have been Pin Bar Mouth, Kalinga Bank, Crusoe Island, Tiger Mullet Channel, Whalley's Gutter, Dux Anchorage, Short Island Huts, Perrys Hole and  Little Rocky Point. The Broadwater has also fished well around the Gold Coast Seaway Walls, Wave Break Island, Rock Walls around canal entrances at Runaway Bay, Marine Parade Labrador and Lands End Biggera Waters.  Try and keep a consistent burley trail going, sometimes once you start catching fish you forget to burley and the fish will go off the bite. My favourite bait is Mullet Fillet also try, Mullet Gut, Prawns, White Pilchard, Hardy Heads and Yabbies. This time of year, large schools of White Pilchards and Hardy Heads can be found around the Broadwater and the Pin making these ideal baits.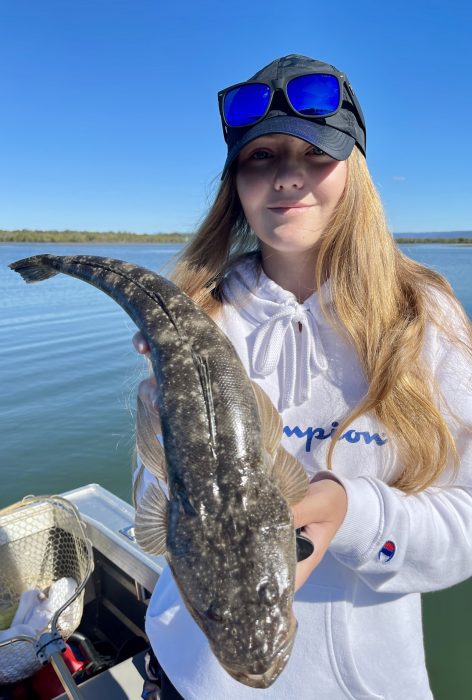 Tailor have been harassing bait schools again this week in the main channels running off the Gold Coast Seaway, Jumpinpin Bar, Crusoe Island, Whalleys Gutter, Tiger Mullet Channel, Jacobs Well and the Neverfails. There has also been quite a few Trevally with the Taoilor school making casting a bit of a lucky dip. Keep an eye on the sky for birds working bait and feeding fish, you can also try towing some shallow diving lures around until you locate a school of Tailor to cast at. Once located and feeding surface lures and metal slugs are the way to go.
The Snapper and Pearl Perch closure for Queensland waters is now current see link attached for more information https://www.daf.qld.gov.au/business-priorities/fisheries/recreational/recreational-fishing-rules/closed-seasons-waters/tidal-waters
Brad from Brad Smith Fishing Charters reports the fishing over the past few days has produced good numbers of fish and a great variety of species. Flathead were once again on fire with the boat averaging over 20 fish a day and even though we did not get any trophy sized fish the quality was averaging around the 50cm mark. Tailor were also in numbers and were easily located by keeping an eye out for the birds dropping and feeding on the bait schools. Some quality Bream were found by dropping Ecogear ZX 40 lures to the bottom under the bait schools where they were schooling and feeding on the crumbs of bait sinking to the bottom under the Tailor. The other species we caught by jigging zx40 and Samaki vibes in the deep holes were Jewies and some small GTs and some hard fighting Luderick which are not normal lure takers. We also caught and carefully released a few bass.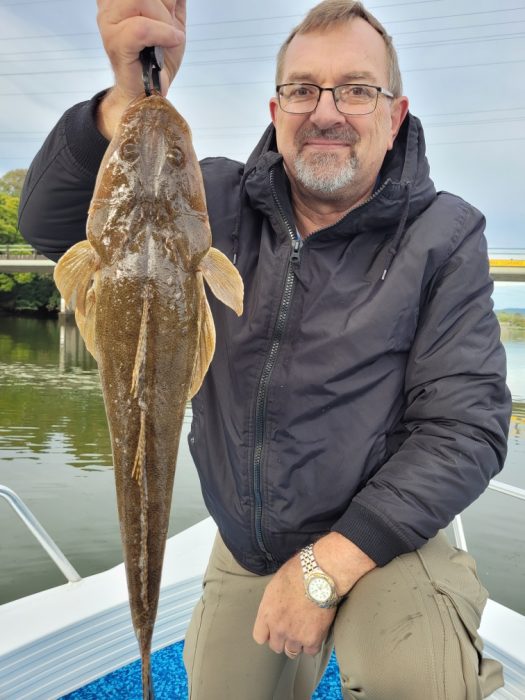 Clint from Brad Smith Fishing Charters reports the run-in tides are definitely providing the feeding periods at the moment, with the water turning a murky green and weedy on run out, and cold. Strange for this time of year but everything has been out of whack with fluctuating temperatures and rain. Still there has been some reasonable days and exciting catches. The aggressive Arrow Squid continue to be heaps of fun on my charters. I have been mixing up the jig colours a lot, depending on the time of day and tide. Whites and fluorescent colours seem to work well early, then natural, green and orange when the suns up higher. If cloud comes over then its necessary to change colours again to attract the squid to attack. The fishing and crabbing has been slow at times, but the speedy Mackerel made a welcome appearance. When these guys hit it is a big adrenalin rush, their first run making our light reels scream. As the water clears with bigger tides and the bait fish enter the Broadwater in bigger numbers so will the Mackerel schools increase.
If you have any great catches or photos you would like to share, please email us and let us know how you went. brett@coomerahouseboats.com.au or brett@fishotackle.com.au
Stay up to date with all fishing regulations in Queensland https://www.daf.qld.gov.au/business-priorities/fisheries
Fisho Tackle and Coomera Houseboat Holidays now have Hire Tinnies follow the link to view http://www.coomerahouseboats.com.au/our-fleet-type/hire-tinnies/
Seabreeze is a great website to access a local forecast http://www.seabreeze.com.au/graphs/
Good luck with the Fishing.
Brett