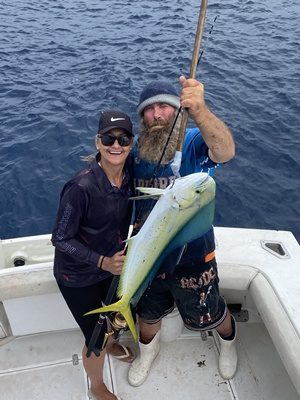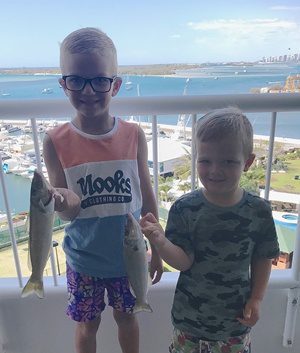 Hi Everyone, hope you have all had a good week, it was great to see a run of nice weather on the Tweed and Gold Coast for the Queen's Birthday Long weekend seeing plenty of happy people enjoying our fantastic waterways fishing and relaxing. let's check out what's been on the bite this week.
Over the long weekend and early in the week was the best time to head offshore before the big swell moved in making Bar Crossing conditions hazardous on the Tweed and Gold Coast. Local angler Ben White (see photo in report) reports good catches of Snapper up to 75cm and a nice feed of Trag Jew float ling on the close reefs off the Southport Seaway. You should also find a bit of a mixed bag of Tusk Fish, Maori Cod, Moses Perch and a few big Jew Fish kicking around. Looking the forecast at the time of writing my report the swell is tipped to ease off by Sunday and the start of next week is looking good for heading offshore to try your luck at landing a feed of reef fish.
It was great to see plenty of teams try their luck over the Long weekend competing in the Gold Coast Sports Fishing Clubs Ultimate Flatty Dash, this catch and release comp saw some monster Flathead up to 92cm landed on the Gold Coast. Jumpinpin fished well for the big girls in the deeper water around the Jumpinpin Bar entrance producing some good numbers of big fish. Big Soft Plastics rigged on heavy jig heads worked well and also large Soft Vibe lures produced the goods for lucky anglers. Targeting Flathead over the next couple months is a great option as this species will be schooling in large numbers during breeding season, if you can locate a big female fish there will usually be good numbers of male fish around the 45 to 55cm mark hanging around the larger fish. Just keep on working the general area and persistence should pay off. Keep in mind if you are handling these big fish for a photo when releasing it's a good idea to always support their body weight and never hang them by the head on lip grips as this can hurt the fish. Some other good spots to try are Kalinga Bank, Crusoe Island, Bedrooms, Tiger Mullet Channel, Canaipa Passage, Tipplers Passage, Crab Island and the Gold Coast Seaway. Big fish will also eat small lures or vibes which are much easier to cast and work for longer sessions, usually a lure around the 3 to 4 inch sized rigged on either a 1/4 ounce or 3/8 jig head is the perfect all-rounder.
Brad from Brad Smith Fishing Charters Reports I have been moving around a bit this week and doing some charters on the Gold Coast Broadwater as well as the Tweed River. On the Broadwater we have been mainly jigging some Samaki vibelicous lures around with the result being a mixed bag of Flathead, Bream, Tarwhine, Whiting, Squid, Tuskfish and the odd small Snapper. Fishing the middle reaches of the tweed river combining some trolling and jigging produced a lot of Bream with some good-sized ones in the mix. We also caught some Flatties, Whiting and some Big Eye and Giant Trevally. Remember that the border bubble has been expanded which is great news for all Queenslanders wanting to fish the picturesque Tweed River.
Clint from Brad Smith Fishing Charters reports Samaki Vibelicious 70mm soft vibes have been the standout lures this week, accounting for Flathead, Jew Fish, Giant Trevally, Tuskfish, Squid, Flounder, Tarwhine and more. In the clearer water during the spring tides the best colours are ghost bait, whitebait, midori mullet, lime crush, and chartreuse uv head. The best way to fish them is by drifting at 0.6-1 knot speed, and tea bagging on the bottom with a very slight pause. Smear on some Sax scent every 15 minutes. We did a few charters at night getting some Sand Whiting at the council chambers bank on yabbies and beach worms. Yabbies are also catching Tuskfish, Flathead, Winter Whiting and Tarwhine along the Western side of Crab island. Flathead are schooling up at Currigee in 5-7 metre depth and responding well to Samaki vibes.
Gavin from Sea Probe Fishing Charters reports out on the shelf there is still Yellowfin Tuna and Blue Marlin being caught on 8 to 12 inch lures In 1500metres of water north east of the Seaway. On the 50 fathoms Snapper, Pearl Perch, Pig Fish and Tusk Fish have been biting on the bottom droppers. Fishing the 36 fathoms line has produced Dolphin fish, Trag and Snapper have been on the chew also with some nice Big Cod showing up.
Hope you all have a good week and stay healthy and safe. If you have any great catches or photos you would like to share, please email us and let us know how you went.
Stay up to date with all fishing regulations in Queensland https://www.daf.qld.gov.au/business-priorities/fisheries
Fisho Tackle and Coomera Houseboat Holidays now have Hire Tinnies follow the link to view http://www.coomerahouseboats.com.au/our-fleet-type/hire-tinnies/
Seabreeze is a great website to access a local forecast http://www.seabreeze.com.au/graphs/
If you have any great catches to report or fishing photos please email them to brett@fishotackle.com.au
Good luck with the Fishing.
Brett