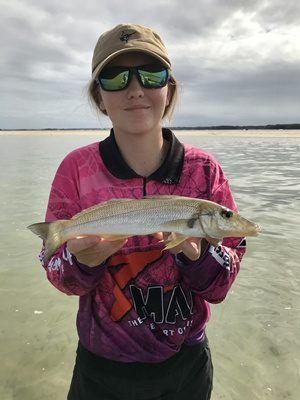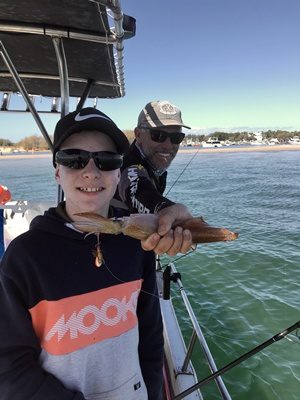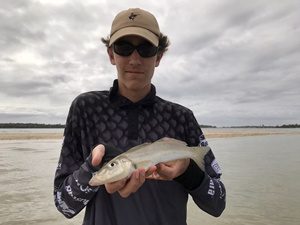 Hi Everyone, hope you have all had a good week, warm sunny days are starting to be the norm on the Tweed and Gold Coast as the Spring weather pattern kicks in. A good dose of rain would be great to stir up the rivers and give the snot weed a flush out as it is starting to be annoying, especially in the Broadwater. let's have a look at some fishing options this week.
Reports of some nice Snapper and Jewfish coming from the close reefs off the Seaway was good news, local anglers Ben and Paul reported they had a great trip at the start of the week landing trophy sized Snapper up to 88cm. Jew Fish will school up so if you find one you have a good change of landing multiple fish if they are is feeding mode.  Float lining is my preferred method of presenting baits and will often produce a bite on the drop which an exciting way to fish. Soft plastics have also come up trumps with Paul's larger Snapper falling victim so a well worked plastic it found irresistible. Saturday looks like the best day to head offshore at the time of writing my report with lighter winds and a decrease in swell looking inviting for anglers to get out and have a crack.
Whiting have been around in fairly good numbers and size throughout the Gold and Tweed Coasts rivers, estuaries and waterways as we transition into warmer spring weather. October has seen some good schools of fish moving around for anglers to target a tasty feed. Land based fishos have some great options on the Tweed River, Currumbin Creek, Tallebudgera Creek, Gold Coast Broadwater esplanades, Nerang River, Jacobs Well and Logan River all being great spots to catch a Whiting from the shore. Worms or Yabbies are the 2 best baits, run in or run out tide should not matter too much if the fish are around, they will just be feeding in different depths of water. The most important thing is tidal flow, if the run is too slow the fish will not be biting well, just the right flow and they will usually go into feeding mode. The surf beaches swell permitting are a great option to target some top quality clean surf Whiting, target beach gutters just like Tailor fishing are you should be in targeting the right area to catch a feed of Whiting, Beach Worms will be the best bait in the surf. Fishing light is the key, try using mono as the main line 6 -9lb is heaps, 6-8lb trace and make your trace as long as possible for best results.
Brad from Brad Smith Fishing Charters Reports it has been a great week on the Tweed as I have mentioned in recent reports that the surface fishing season would take off with the water warming up and yes it has. Fishing with mmd splash prawns around the shallows in the lower reaches of the Tweed River has produced some great quality Whiting, a few Bream and the odd Flathead. Double hook ups on surface has been common and to see and try this technique is fantastic and has both this old guide and my clients frothing. I could not help but rip a lure out myself for one cast and banged a 41cm Whiting yee ha. To mix it up we have done some drifts with with Ecogear zx 40s and Samaki soft vibes and have caught some Bream, Flatties, Whiting and GT's.
Clint from Brad Smith Fishing Charters reports the snot weed returned after a day of Northerly wind and is now starting to clear again. It is a natural occurrence every year at this time and will be gone in the next few weeks. It's best to find areas clear of snot weed and we have been catching Flounder, Squid, Tarwhine, Bream, Flathead in recent days in the Gold Coast Broadwater. There are Flathead and Trevally in Nerang river, as well as Sand Whiting at night at the council chambers. This summer I will be spending time surface luring for Whiting at the Gold Coast Broadwater. It is great fun to see them charging at the lure then hooking up. Weekdays and early mornings are the key to success here. The water is super clear on the run-in tides until we get big rain. Look for any areas of slightly discoloured water to find the bait and fish.
Gavin from Sea Probe Fishing Charters reports out on the shelf there is Blue Marlin, Yellow Fin Tuna and some Big Mahi Mahi. Back in closer to the 50s Amberjack, Kingfish and Snapper are still biting but just be mindful the current is running hard up to 2.5 knots at times making conditions difficult. On the 36 fathoms Dolly's around the fads and still some Trag, Snapper, Tusk Fish and Pearl Perch
Hope you all have a good week and stay healthy and safe. If you have any great catches or photos you would like to share, please email us and let us know how you went.
For autumn Broadwater fishing tips, click here!
Stay up to date with all fishing regulations in Queensland https://www.daf.qld.gov.au/business-priorities/fisheries
Fisho Tackle and Coomera Houseboat Holidays now have Hire Tinnies follow the link to view http://www.coomerahouseboats.com.au/our-fleet-type/hire-tinnies/
Seabreeze is a great website to access a local forecast http://www.seabreeze.com.au/graphs/
If you have any great catches to report or fishing photos please email them to  brett@fishotackle.com.au
Good luck with the Fishing.
Brett