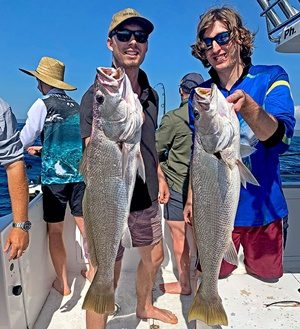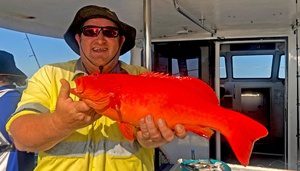 What a week we have had on the coast. With the first heavy rainfalls of the season the land and rivers have had a much needed flush out. As the rivers turn to a dark brown this push of freshwater should see the bait which was scattered far and wide now become more concentrated in the lower estuary. Offshore the run off should see the local reefs of Jew Shoal and Halls Reef fire up as prawns and bait fish make the crossing over the bar on the full moon spring tides.
Many boats headed out Saturday morning before the northerly winds picked up and the closer reefs of Sunshine and Halls were the most popular. Small snapper, pearlies, tuskies and sweetlip were the fish of choice. There are also smaller mackerel around with most being school mackerel. If after mackerel be sure to have a 3/0-5/0 pilchard floater on long mono leaders out the back. With leader keep it around 30-40lb in a floater as the presentation is far better. Look at Black Magic tough trace and make sure you pre stretch your leaders to remove any memory.
Other boats did venture out wider mid week and caught bigger snapper and some stand out tuskies. The usual method in deeper water is to drop paternoster rigs. These two hook rigs come pre tied and the Mustad big red rig rigs are perfect for this style of fishing with 3 rigs per pack. Other species include tuna, cobia and smaller jewfish. In the deeper waters around the banks Yellowtail kingfish were reported as too were unstoppable amberjack which took fish on the way up!
One thing that has greatly improved is the surf fishing. Standout dart around 50-60cm have been caught on beach worm and pipi baits. Don't forget we stock live beach worms year round. There are also some good sized whiting and bream in the mix and nothing beats using light 3-4kg to tackle these light target fish. For the ultimate light tackle surf rod check out the Abu Garcia Rayrex Secret Squirrell.
The Noosa River is fishing well especially in the lower parts. Following the rains the bait fish have been pushed down making it easier to target predatory fish like mangrove jacks and big flatties. Land based fishing will see fish holding around the river mouth rocks, Weyba bridge, Woods bay rocks and the bridge around the Noosa Sound are a few great starting points. For those with boats try the drift along the north shore toward the mouth and check out the frying pan.
The spring tides peak this week coming and you can expect to see water pushing over sand banks usually left dry. Try using shallow diving jerkbaits and unweighted whole pilchard and hardy head baits on long mono leaders. If you can make it look natural it will get picked up so fish light around 12lb and keep hooks to suit the bait. Ask us how we snell hooks for the ultimate whole fish rig. Mud crabs should be on the move with the next few months the better time. Remember current rule changes allow for 7 male crabs only. If you need pots be sure to check out the current pot with the lot specials in store.
Freshwater had a great run with some fat bass coming from lake Mac and Borumba dam. The influx of freshwater has seen the bass hitting the flats on shallow points looking for a feed. Break out your shallow diving lures and weedless soft plastics. Spinnerbaits are also claiming some great fish so check out the various styles from Hotbite in store as well as the Atomic jerkbaits that suit this style of fishing. The surface bite may slow down with the influx of freshwater so wait until we get a hotter day and try the weed edges and standing timber. Until then be safe on the water and be sure to check your SIPS permits are in date. Remember that wild barramundi are now off limits and can't be caught or targeted until 1st Feb 2021.
Now for all the  latest information log onto www.fishingnoosa.com.au for up to date bar and fishing reports, don't forget to drop into Davo's Tackle World, Davo's Boating and Outdoors in Noosa and  Davo's Northshore Bait & Tackle in Marcoola for all the right equipment, bait and advice to get you catching. Be sure to follow us on Facebook and remember, tight lines and bent spines!