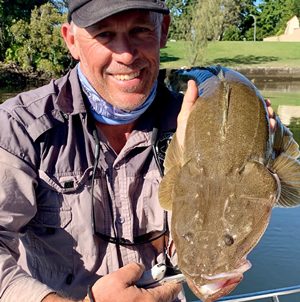 HI Everyone, hope you have all had a good week, a bit of a roller coaster with the wind direction and strength on the Gold and Tweeds Coast making choosing a weather window a bit difficult. Sunday looks like the pick of the days over the weekend for getting out on the water and chasing a feed. Let's have a look at some fishing options for the long weekend.
The dreaded snot weed is still hanging around in most areas around the Broadwater and Jumpinpin making fishing difficult and frustrating at times. I was hoping the last downpour would have helped to flush out the system, we really need another good dumping of rain to break it up. The run-out tide is usually the worst affected tide time to fish, unfortunately that's the prime time to target Flathead.
Schools of Tailor responded well to the cool nights this week with plenty of lucky fishos getting stuck into some good quality Greenbacks. Beach gutters along South Stradbroke Island produced good numbers of nice fish, also Narrow Neck North to Pumping Jetty resembled scenes of the good old days with plenty of anglers lined up trying their luck. Also try Palm Beach, Burleigh Heads and from Fingal north to the Tweed Bar. Throwing metal slugs, surface walkers and poppers is a fun and very visually rewarding way to target Tailor with some awesome bite action to fire you up. Whole WA Pilchards were the best bait followed by Mullet, Bonito or Tailor Fillet on ganged hooks. I prefer to use a long mono trace rather than a wire trace, the mono presents the bait more naturally which intern can often produce the bite rather than the wire trace being quite stiff and sometimes a little thing like this can make all the difference if the fish are fussy. You may get the odd bite off, but I reckon it is worth the gamble.
Bream are still biting well again this week making them a good target species for the long weekend, if the N/NW winds are up you can find plenty of spots to hide a get stuck into a good feed. A couple of spots around the Pin that should be out of the breeze and be holding Bream are Tiger Mullet Channel, Kalinga Bank, Whalleys Gutter and Cobby Passage. The main Broadwater can be quite open to that direction of wind, you will be better off trying your luck up the Coomera River, Pimpama River, Nerang River or further South the Tweed River also has some great options for locals to try. Frozen bait like Prawns, White pilchards, Mullet Gut and Squid will do the job but fresh Mullet Fillet or live Yabbies will be irresistible to a hungry Bream.
I have included the link to Fisheries Queensland with information on the Snapper and Pearl Perch closure which commenced on the 15th of July and finishes 16th of August 2020. Make sure you know your responsibilities https://www.daf.qld.gov.au/business-priorities/fisheries/sustainable/sustainable-fisheries-strategy/fisheries-reforms
Brad from Brad Smith Fishing Charters reports that after the rain the middle reach of the Tweed River is fishing well for big numbers of various size Flathead, as well as Tailor and Bream. Trolled minnows are doing the damage over the flats, while working the deeper areas with Samaki soft vibes, Ecogear VX45, and Ecogear ZX40's is resulting in double hook ups during the peak bite times.
Clint from Brad Smith Fishing Charters reports a great variety of fish in the Broadwater and we even spotted Turtles, Dugongs and Dolphins. What a wonderful place the Gold Coast Broadwater is. The fishing action in the Broadwater did slow up as the week went on, as fishing always does in general. I have no doubt it will be back firing in coming days. It was good to see some bigger Flathead coming on the bite, and the Trevally have been around all winter. Species we boated this week on Ecogear ZX40 and 43's included School Mackerel, Dusky Flathead, Bartail Flathead, Giant Trevally, Tealeaf Trevally, Whiting, Tarwhine, Bream, Yakka, Squid, Tuskfish and Fantail Leatherjacket. Best areas to fish were Ephraim reef, Southport main channel, Wavebreak south channel, and the keyhole. The snot weed is still a pain during run out tide but is gradually clearing. If it gets too bad to fish you can always head to the Southern end of the Broadwater between the Spit and Sundale bridge. It doesn't come through there and there are plenty of fishing options using vibes lures or live yabbies.
Hope you all have a good week and stay healthy and safe. If you have any great catches or photos you would like to share, please email us and let us know how you went.
Stay up to date with all fishing regulations in Queensland https://www.daf.qld.gov.au/business-priorities/fisheries
Fisho Tackle and Coomera Houseboat Holidays now have Hire Tinnies follow the link to view http://www.coomerahouseboats.com.au/our-fleet-type/hire-tinnies/
Seabreeze is a great website to access a local forecast http://www.seabreeze.com.au/graphs/
If you have any great catches to report or fishing photos please email them to  brett@fishotackle.com.au
Good luck with the Fishing.
Brett