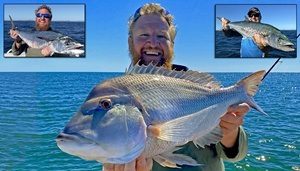 It would seem that the weather gods have really got the sunny coast in their sights this week. With heavy rain fall, big seas and localised flooding it is more a case of do some much needed repairs and prep for when the sun shines. Those with crab pots are loading up and getting ready so its not a case of stay indoors.
Offshore has pretty much been hold. A few boats made it out early in the week before the winds and swell arrived. With the windier conditions most anglers played it safe and stayed in close. After the last lot of heavy rains, as predicted the longtail tuna arrived in large numbers. These fish were found everywhere from Double Island to Mooloolaba and beyond to Morton. In the mix a few spotty and school mackerel were also found with some reaching around 90cm's.
These fish mostly sit below the tuna schools and have not been smashing bait fish off the top. Casting chrome lures into the chaos and letting them sink before retrieval ensures you are getting down to these fish. Spanish mackerel are still patrolling the bait schools and out in deeper water following the rains. Deep dropping the biggest chrome lures through the schools and cranking them back in at high speed usually triggers a bite. Take a look at the Penn Battle Hi speed series of spin reels as they recover line very quickly and could get you just enough speed to trigger an aggressive bite.
The surf will see lots of new gutters and sand getting cleared out so for the serious anglers the drop in water temps and run off may stir up a few big jewfish. Most of the river mouths along the coast will feature deep holes and drop offs where jewies will lay in wait and when the tide turns they often feed before the currents become too strong. Last time big rains fell some reports of big dart around the 50cm range were reported from down the coast around Marcoola. These fish were taken on lighter 8kg outfits and fresh bait rigs of mullet and beach worm.
The Noosa River is now a dark colour of chocolate which will stay with us for many weeks now. As mentioned the mud crabs will certainly be on the move so come in and grab a crabbing kit, some pots and bait and we'll show you where to go to get a few muddies. Please remember the new bag limit is 7 and as always only the male crabs can be kept once legal size is reached.  Other species are flathead and bream around the rocks of the mouth. Flatties will certainly be where the bait is and the lower estuary is where its going to be at while the fresh comes downriver. If you are catching catfish this is a sure sign you are in the fresh so head downriver. With the expected rainfall try to fish around the turn of the tides as this is often a trigger for fish to feed. If you don't get a bite try moving on. Noosa certainly has a huge array of locations that can be fished on different wind directions so make the most of them.
Freshwater is hard going at the moment. The surface bite is slower as is the bottom bite. As we push toward a new moon next week this should change, but the big rains often shut the fish down a bit. As mentioned in last week's report keeping lures and baits small could trigger a bite as a sulking fish is more likely to take a small prey item than a big one. The MMD soft prawn heavy is a great sized lure sure to trigger a bass of yellow belly bite.
Now for all the  latest information log onto www.fishingnoosa.com.au for up to date bar and fishing reports, don't forget to drop into Tackle World Noosa, Noosa Boating and Outdoors and Northshore Bait & Tackle in Marcoola for all the right equipment, bait and advice to get you catching. Be sure to follow us on Facebook and remember Tight Lines and Bent Spines!