Well, it finally looks like the weather is about to play ball. We have some great conditions, with light swell and light wind – great for the anglers looking for mackerel. The full moon spring tides have brought in the baitfish and the pelagics are not far behind with longtail tuna and bonito invading Laguna Bay already.
Most anglers have been using gang-hooked pilchard drifting in the current while on anchor for mackerel. Other fish taking floated pilchard include cobia around the 4-6kg and snapper. You can also expect to land tuna and maybe a mahi mahi.
All of these fish are excellent fighters and will certainly test your knots and angling abilities. Be sure you have an ice slurry ready and use a brain spike to quickly kill your catch ensuring the best quality eating fish. We have a great range of iki jime spikes and other devices for looking after your catch should you wish to keep it.
If heading out from Noosa and looking for mackerel keep an eye out for the dirty water line and troll big dead bait such as frigate tuna in and out of the clean meets dirty water. This is often where mackerel and other pelagics will be feeding. Reef fish will start to fire up as we push towards the good weather next week, so be sure you have your bottom bashing rigs ready to go as the bite can be fierce after a full moon.
Further north, Double Island Point has been producing the bread and butter reefies plus standouts such as quality snapper in numbers, red emperor, mahi mahi and more than a few snodger amberjack.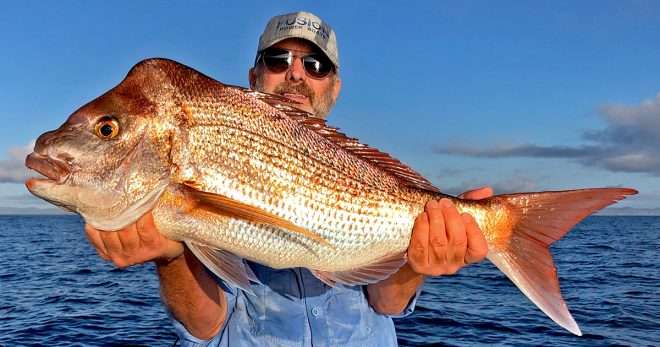 Off the beaches local anglers are reporting smaller whiting taking beachworm. There have been good numbers of worms showing up along the Sunshine Beach stretch. Small trevally, flathead and even the odd tailor at night have been caught around the river mouth with the change in tide.
Whiting have also featured inside the river with fish starting to get larger. The previous rains have carried a lot of food into the lower part of the estuary and out into the bar. This makes the dog beach and along Gympie Terrace some of the best areas to fish for them as well as other species. If using lures and on a budget be sure to check out the new range of fish craft lures. These come in all different styles from popper to walkers and are a great entry to lure fishing.
Mangrove jack are also getting caught around the change in the larger spring tides. These fish will wait for the last of the tide to stop flowing and will often smash any passing bait fish when the waters are still. Once the water begins to flow again, they retreat to their snags and wait until the next tide. This makes live bait the best option, so be sure you gather a few herring and keep them alive and kicking in a bait bucket. We have a big range of live bait gathering gear from cast nets to air pumps.
The dams and rivers are starting to clear up a little more with anglers taking good numbers of bass and even yellowbelly from both Lake MacDonald and Borumba. These fish love slow trolled spinner baits and deep diving lures as well as jigs such as the Hot Bite spoons and Specter Assist lures. Surface fishing is what summer is all about so be sure to check out wide array of lures and correct leader to get the best from your lure. As things begin to warm up and the cicadas are in full song, why not try throwing a Tiemco soft-shell cicada. These look very realistic and get walloped by the biggest of bass!
Now for all the latest information log onto www.fishingnoosa.com.au for up-to-date bar and fishing reports, don't forget to drop into Tackle World Noosa, Noosa Boating and Outdoors and Northshore Bait & Tackle in Marcoola for all the right equipment, bait and advice to get you catching. Be sure to follow us on Facebook and remember tight lines and bent spines!