Hi Everyone, hope you have all had a good week, we have seen a bit of a mixed bag of weather to kick off school holidays on the Gold and Tweed Coasts with stronger Southerly winds and scud showers dominating most of the week leaving anglers with fewer options to find a fish. Unfortunately, the forecast is not looking the best with a wet and windy weekend on the way let's have a look at what's been happening around our waterways.
With the first week of school holidays coming to an end I hope you managed to get the kids out of the house for a fish. Bread and butter species are a great target for kids of all ages to try their luck, conditions have been a bit average at times but luckily, we have plenty of options to hide out of the wind and fish. The main species to target are Bream, Whiting and Flathead which are all an option fishing land based or by a boat if you are lucky to own one or have a mate willing to take you out. All the above species are around in good numbers through the Gold and Tweed Coast waterways, a light estuary or kiddies combo is all you need to have a go. A running sinker rig works fine, use a trace around 40cm long of 8lb to 10lb leader, size 3 or 4 ball sinker and match this with size 2 to 4 bait holder hook and you have a very versatile rig to catch most species. Your local jetty will be a good spot to start trying as they are a great structure that attracts bait and intern predators like Bream, Flathead and even Trevally. Try not to cast out to far away as the fish will be usually right and your feet. Sandy beaches with a few weed beds adjacent are another good option to try as they will hold good numbers of Whiting, Flathead and Bream. The Tweed River, Currumbin Creek, Tallebudgera Creek, Nerang River, Broadwater Esplanades, Paradise Point, Coomera River, Jacobs Well and Cabbage Tree Point are some spots to try your luck. Yabbies make great fresh bait and are fantastic fun for the kids to pump, also try using Worms, Prawns, Squid and White Pilchards.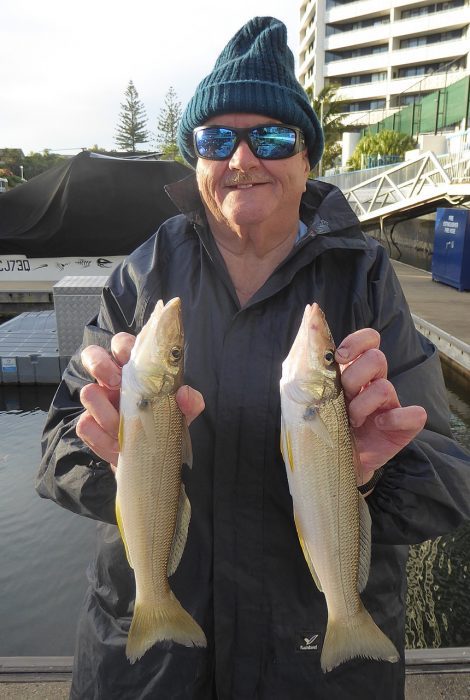 Jumpinpin has been fishing well lately with a good mixture species showing up like Bream, Squire, Flathead, Tailor, Trevally and Jew Fish being landed by local Fishos. Jumpinpin Bar mouth has been a good spot to try your luck on the run-in tide for Tailor, Squire, Trevally and big Jewfish chasing the bait schools in the deeper water. Also try searching around Crusoe Island, Kalinga Bank and Short Island will all be worth a look. Some good-sized Squire have also been landed hanging around the Bream schools at the moment, a good burly trail is a must when targeting Bream and will help to attract fish and keep them feeding for longer periods extending the normal bite time. A few spots to try are Kalinga Bank, Short Island, Crusoe Island, Whalleys Gutter, Tiger Mullet Channel, Little Rocky Point and the Power Lines.
Keep in mind the Snapper and Pearl Perch closure for Queensland waters is fast approaching see link attached for more information https://www.daf.qld.gov.au/business-priorities/fisheries/recreational/recreational-fishing-rules/closed-seasons-waters/tidal-waters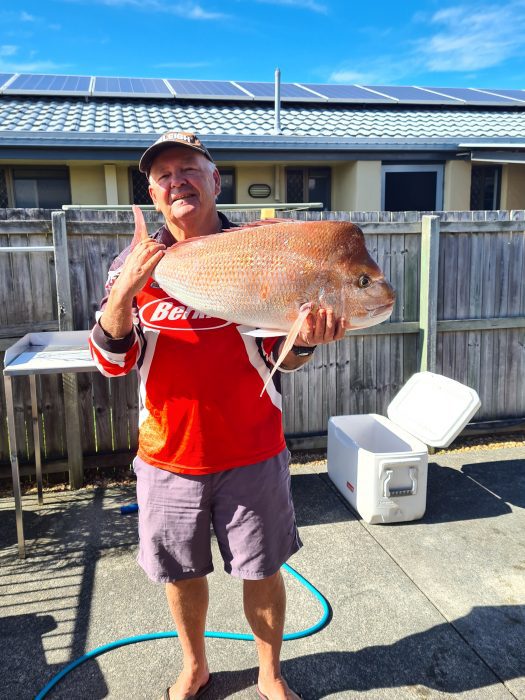 Brad from Brad Smith Fishing Charters reports it has been another busy week on the water with some massive catches of fish each day. Once again, the Tailor were in plague proportions and these fish are very good quality with most being over the 40cm mark and even the odd 50cm model. Trolling slam 47 lures worked a treat with multiple double hooks ups all week and casting MMD splash prawns across the surface worked as well. These fish are explosive to watch when they crash a surface lure. To mix things up we also utilized the run-out tides and caught a heap of Flatties drifting with some Ecogear zx40 and Samaki vibelicous lures.
Clint from Brad Smith Fishing Charters reports it seems to start earlier every year, but the snot weed is already appearing around crab island. Fish the run in tide North of the seaway, and run out tide South of the seaway.
Decent size Dusky Flathead were also a welcome catch in the Gold Coast Broadwater, as were the increasing numbers and size of Flounder. Like the Flathead they are easily caught on Ecogear ZX's and live yabbies. The School Mackerel started to arrive this week too. They are amazing fun to catch on light tackle too, with whitebait and small metal lures the best offerings. They have a 50cm minimum size limit. The next few months are my favourite time of year in the Broadwater if you have the right conditions, with a day starting off with Mackerel mayhem of sometimes over 50 hooked in the first two hours, then moving onto catching decent size Flathead, Arrow Squid, Tuskfish, Flounder, Squire, Tailor, Winter Whiting, big Bream, Blue Swimmer crabs, and many more. There is also some big Flathead, and School Jewfish to be caught in the Nerang River on lures, and Whiting on bait. So much fun to be had in paradise!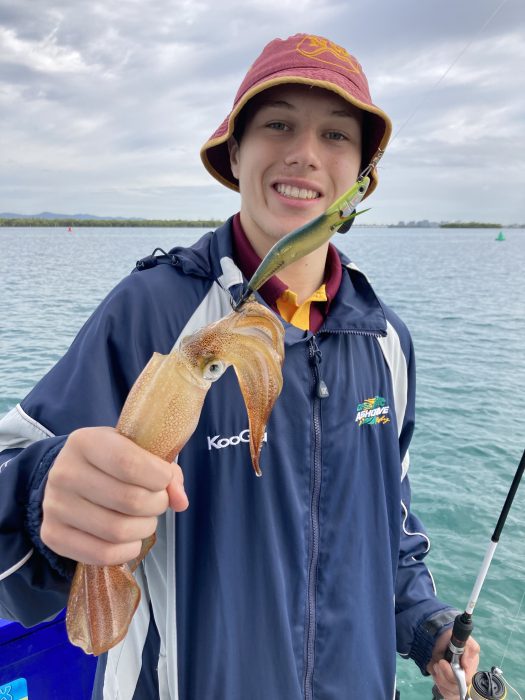 If you have any great catches or photos you would like to share, please email us and let us know how you went. brett@coomerahouseboats.com.au or brett@fishotackle.com.au
Stay up to date with all fishing regulations in Queensland https://www.daf.qld.gov.au/business-priorities/fisheries
Fisho Tackle and Coomera Houseboat Holidays now have Hire Tinnies follow the link to view http://www.coomerahouseboats.com.au/our-fleet-type/hire-tinnies/
Seabreeze is a great website to access a local forecast http://www.seabreeze.com.au/graphs/
Good luck with the Fishing.
Brett