Hi Everyone, hope you have all had a good week, it was a bit of a mixed bag when it came to weather on the Gold and Tweed Coasts with some extra cool starts and the wind swinging around in multiple directions making fishing conditions a bit testing at times for those that got out for a fish. At this stage it looks like the weather will warm up over the weekend when we see a more unseasonal NW wind kick in. Let's have a look at what's been happening around the waterways this week.
The cool strong westerly winds did the trick on the Tailor last weekend flattening out the beach breaks giving fishos great conditions with very little swell seeing some awesome fishing action with plenty of great quality Tailor being landed. South Stradbroke Island was a prime location with multiple schools of Tailor roaming the beach gutters in search of baitfish to feed on. Finding a good spot to fish is the first step to success, locating a good gutter to try your luck is especially important when targeting Tailor from the beach. A good gutter is pretty easy to spot, you will notice a sandbank at the back of the gutter, deep water between the sandbank and the shoreline and an inlet at one end where the water enters and outlet at the opposite end where the water flows back out to sea. It is still a great idea to keep an eye on the sky up and down the beach for birds diving on active schools of fish feeding. Multiple methods of fishing will all work well on certain days, trying  a few different types until you find what gets the best results is always recommended. Casting baits like WA Plichards, Mullet Fillet and Bonito Fillet rigged on gang hooks is very affective and probably the most popular method amongst a majority of beach fishos. Casting lures such as traditional Metal Slugs, Stick Baits both sinking and floating and also surface poppers is becoming very popular and can sometimes turn the fish on the bite if they are not interested in the more common baits used. Keep an eye on the forecast and when you see a Westerly on the way and the swell drop get rugged up and give it a go.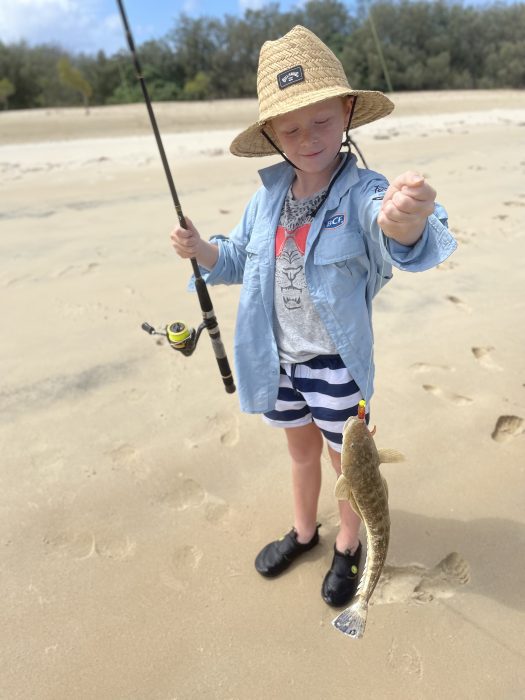 On the offshore scene since the Snapper and Pearl Perch closure has taken effect, we have been seeing some great catches of big Jewfish coming off the close reefs off the Gold Coast which is great news for local angler's keen to get out and target a feed. Live baits, WA Pilchards, Mullet Fillet and Bonito fillet have all done the job if you can find a good show on the sounder to target. When fishing the 18, 24 and 36 fathom reefs you will have a good chance of landing multiple species to put a mixed bag together for a feed. Jew Fish have been around in good numbers, fishos have also been landing Spangled Emperor, Moses Perch, Trag Jew, Maori Cod, Cobia, Yellow Tail King Fish, Amberjack and Samson to name a few.
Brad from Brad Smith Fishing Charters reports Tailor for the first time in over a month were almost non-existent but good numbers of Flatties made up for that. The Flathead were taking our vibes jigging in the deep holes and were also abundant drifting as well as trolling in the shallows and channels. The run-out tides produced the best bite times but in general Flathead always seem to favour the draining tides. We also caught several small to medium sized Bream with the odd big one also smashing the lures.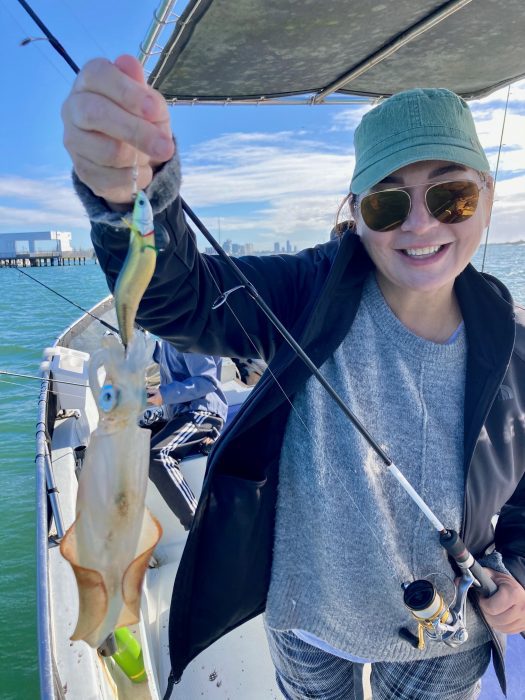 Clint from Brad Smith Fishing Charters reports some mixed weather this week as has been the norm for the whole winter so far. The morning before the wind comes up has been the best time to catch Flathead and big Arrow Squid. This coming week is the lead up to full moon next Saturday, which means there will be good fishing to be had. The mornings tide sizes are ideal for the Broadwater, the afternoon ones are bigger which suit the rivers. Flathead, Tailor, Mackerel, Arrow Squid, Flounder and Bream activity should all pick up suddenly then drop off on and a few days after full moon. Flathead are preferring the run-out tides to hunt at the moment. The ideal time to catch Squid is last three hours of run in, first two hours of run out. Best squid jigs will be Ecogear Dartmax, Daiwa Emeraldas nude, and RUI's, all in 2.5 and 3.0 sizes. Best blades will be Ecogear ZX40 colour 440, Pro Lure V42 in whitebait, and Samaki Vibelicious forktail 70mm in whitebait and ginger squid colours.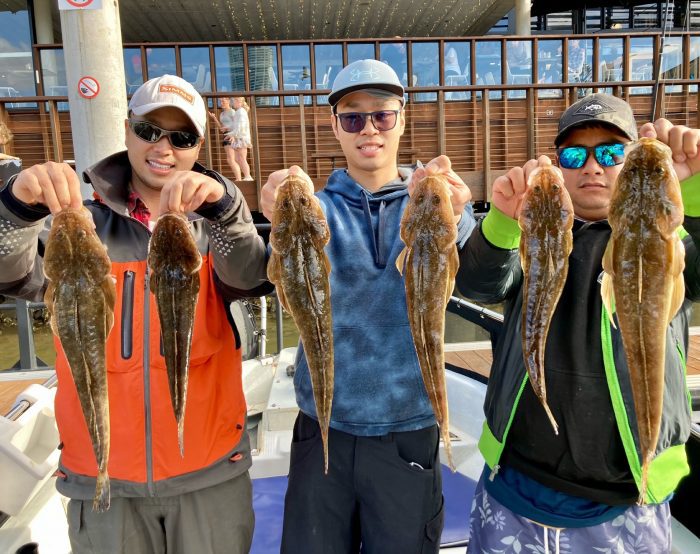 Gavin from Sea Probe Fishing Charters reports On the 50s Kingfish and Amberjack getting caught on jigs and live baits even pilchards , bottom bashers on the 36s have been working well on Tuskies, Trag Jew, Moses Perch and also Silver Jew.
The Snapper and Pearl Perch closure for Queensland waters is now current see link attached for more information https://www.daf.qld.gov.au/business-priorities/fisheries/recreational/recreational-fishing-rules/closed-seasons-waters/tidal-waters
If you have any great catches or photos you would like to share, please email us and let us know how you went. brett@coomerahouseboats.com.au or brett@fishotackle.com.au
Stay up to date with all fishing regulations in Queensland https://www.daf.qld.gov.au/business-priorities/fisheries
Fisho Tackle and Coomera Houseboat Holidays now have Hire Tinnies follow the link to view http://www.coomerahouseboats.com.au/our-fleet-type/hire-tinnies/
Seabreeze is a great website to access a local forecast http://www.seabreeze.com.au/graphs/
Good luck with the Fishing.
Brett