Hi Everyone, hope you have all had a good week, the wind ended up being a bit stronger than forecast last weekend with lots of anglers heading offshore chasing a feed of reef fish off the Tweed and Gold Coast putting up with fairly average conditions. The weekend ahead will see nicer weather on Saturday before the wind and swell kicks in on Sunday making sheltered waters the best option. Let's have a look at a few options to target.
Last weekend I headed out offshore on Saturday with Wayne Young and my daughter Bec, the local 18 fathom reef off the Gold Coast Seaway looked like a parking lot with heaps of boats there before first light chasing a feed of Snapper and reef fish. We decided to head out to 45m mark to avoid the crowds, there was not a lot to look at on the sounder, but we found a small show to drop on. We ended up with a few nice Moses and Tusk Fish on sunrise. After the bite slowed down, we headed back into the 18-fathom area where a few of the boats had thinned out, we found a good show of bait and fish and anchored up and started a burly trial. The Snapper we found were small, but we ended up doing well with Bec landing a big Spangled Emperor around the 5kg mark which went hard pulling heaps of string, Wayne scored a great sized Jewfish around 13kg and his new PB Moses one of the biggest I have seen off the Gold Coast. We ended up scoring a great feed at the end of the day, the best advice I can give is keep an eye on the sounder be patient and wait until you can find something worth fishing on rather than settle for a basic show.  The 18 and 24 fathom reefs will fish well during winter with plenty of species on offer like Snapper, Spangled Emperor, Jewfish, Moses, Tusk Fish, Trag Jew, Cobia and Maori Cod to name a few. The 36 and 50 fathom reefs will also fish well as long as the current is not up too much, you will find the above species along with some big Samson, Amberjack and Yellow Tail Kingfish. Float lining is my favourite method to target quality fish allowing you to present your baits much more naturally giving you the best chance at the bigger quality fish which can often be wary. Some good baits are WA pilchards, large Squid, Mullet Fillet, Bonito fillet and live Yakka's all work well.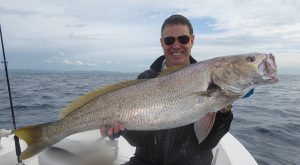 Winter is a prime time for Bream fishos to get out and chase a feed, keen anglers that are ready to brave the cold nights out on the water should be rewarded with great catches of Bream.  Some good spots to start looking will be Tweed River, Currumbin Creek, Tallebudgera Creek, Nerang River, Wave Break Island, Gold Coast Seaway, Tiger Mullet Channel, Perrys Hole, Short Island, Cobby Passage, Kalinga Bank, Cabbage Tree Point, Jacobs Well and the Logan River. A burley trail is a good idea when targeting Bream, it will keep them interested and, in the area that you are fishing. I recommend using Mullet Fillet, Mullet Gut, Bonito Fillet, White Pilchards, Prawns, Squid and Yabbies.
Brad from Brad Smith Fishing Charters reports once again it was a bumper week on the Flatties with some Bream and the odd juvenile Jewie making up the rest of the catch.  Early in the week we mainly jigged the deep holes but for the last three days we turned our attention to fishing the very shallow areas of the river. The reason for the change in tactics was due to the very cold weather that came in that crashed the water temperature to 16 degrees. When this happens, I fish the shallower water as the sun warms the water up quicker and this is where the Flathead were in good numbers. Trolling and casting Pontoon 21 crackjacks provided the best results over the shallows.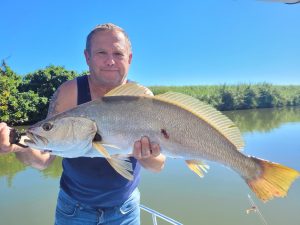 Clint from Brad Smith Fishing Charters reports Arrow Squid are getting bigger, with some nice Tiger Squid around too. The green/gold and white/ silver Ecogear Dartmax jigs are working best, and the RUI jigs in natural green, and white colours. Get out there and get a feed of Squid, they are delicious! I cooked some on the bbq grill the other day. Two minutes each side, amazing. Best areas this week were Southport, Wavebreak island, and Runaway Bay. There is also Tuskfish, Flathead, Flounder, Winter Whiting, Bream and Tailor, on the bite in the Broadwater. There are some big Snapper and Jewies feeding in the seaway at the moment.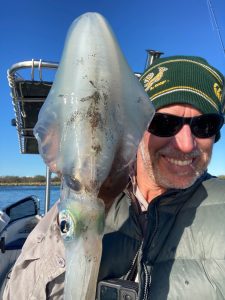 If you have any great catches or photos you would like to share, please email us and let us know how you went. brett@coomerahouseboats.com.au or brett@fishotackle.com.au
Stay up to date with all fishing regulations in Queensland https://www.daf.qld.gov.au/business-priorities/fisheries
Fisho Tackle and Coomera Houseboat Holidays now have Hire Tinnies follow the link to view http://www.coomerahouseboats.com.au/our-fleet-type/hire-tinnies/
Seabreeze is a great website to access a local forecast http://www.seabreeze.com.au/graphs/
Good luck with the Fishing.
Brett