Hi Everyone, hope you have all had a good week, it has been a pretty windy so far on the Gold and Tweed Coast making finding a good weather window difficult for local fishos. At the time of writing my report it looks like we will see the weather heat up for the weekend as we have some strong NW winds on the forecast to make conditions pretty tough going for those keen to hit the water. Let's check what's been on the bite this week.
Reports of Flathead being caught in better numbers this week is good news with some decent sized fish starting to show up. Baitfish schools are a good sign around Jumpinpin and the Broadwater at the moment giving the Flathead plenty of feeding options and areas to hold as we get closer to breeding season. Fingers crossed we get a bit of a flush out for the system as the dreaded snot weed has been pain when targeting Flathead on lures. Try drifting with baits to cover ground and find Flathead if you not used to fishing with lures. Yabbies, White Pilchards, Blue Bait and strips of Mullet Fillet will all do the job. Flathead have a very abrasive mouth and will tend to wear through trace line pretty quickly, so I recommend at least 12lb trace when using bait in case they swallow the hook. For the lure fisho's if you can manage to dodge the snot week trolling hard body lures along the Mangrove lined banks of Islands and edges of Sandbanks is a great method as Flathead will sit head into the current waiting for bait fish to swim past. I recommend not to troll lures against the tide as the fish will have to turn to attack your lure and can often result in them missing the lure and not hooking up. Try your luck around the Bedrooms, Tipplers Passage, Paradise Point, Crab Island, Aldershots, Never Fails Islands, Kalinga Bank, Tiger Mullet Channel, Whalleys Gutter, Cabbage Tree Point, Currumbin Creek, Kalinga Bank, Coomera River Mouth, Brown Island, Logan River and the Tweed River.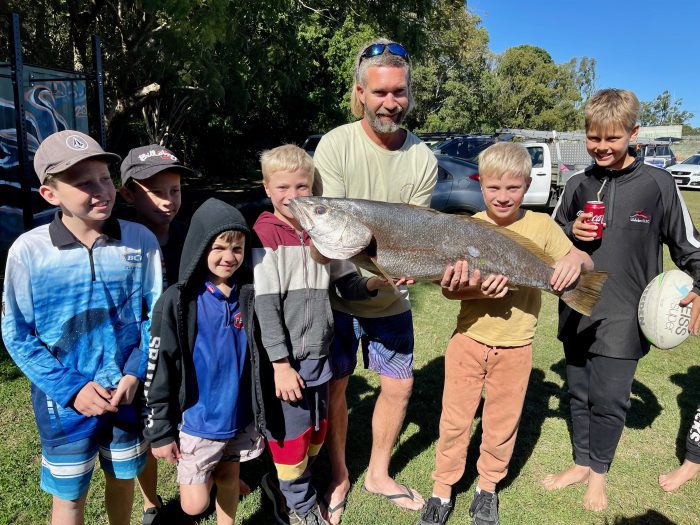 It has been good to see reports of anglers scoring a nice feed of quality Bream from the Broadwater and Jumpinpin this week. Numbers have been ok during the day but fishing at night is still the prime time for landing the larger quality fish. Spots that produced have been Short Island Huts, Kalinga Bank, Crusoe Island, Perrys Hole, Whalleys Gutter, The Never Fails, Tipplers Passage and Tiger Mullet Channel, Wave Break Island, Lands End, the Gold Coast Seaway and the Nerang River. Best baits are White Pilchards, Blue Bait, Prawns, Mullet Fillet, Mullet Gut and Yabbies.
Once the weather settles Tailor will be on most beach fishos radar again with some great catches being landed during the past couple of weeks on the Tweed and Gold Coast beaches. Tailor have been schooling in good numbers in the beach gutters from the Tweed north to the Gold Coast Seaway making them a great target species for a nice fresh feed of fish. For best eating quality I do recommend that you bleed the fish when caught. South Stradbroke Island has been a standout seeing some good quality Greenbacks landed of baits and lures.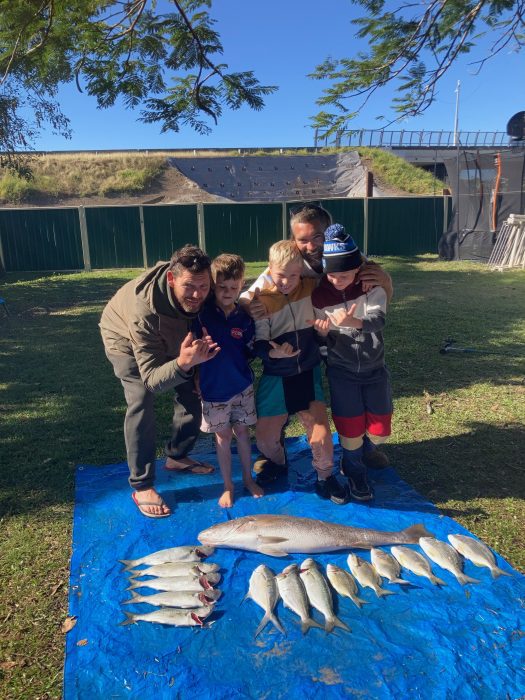 Brad from Brad Smith Fishing Charters reports the run of good Flathead has continued, as is typical this time of year at Tweed river. They are responding well to trolled minnow lures such as Pontoon 21 crackjacks through the shallows. After cold snaps they are sluggish in the morning then wake up as the day goes on. There has been some good sized out of season sand Whiting as well.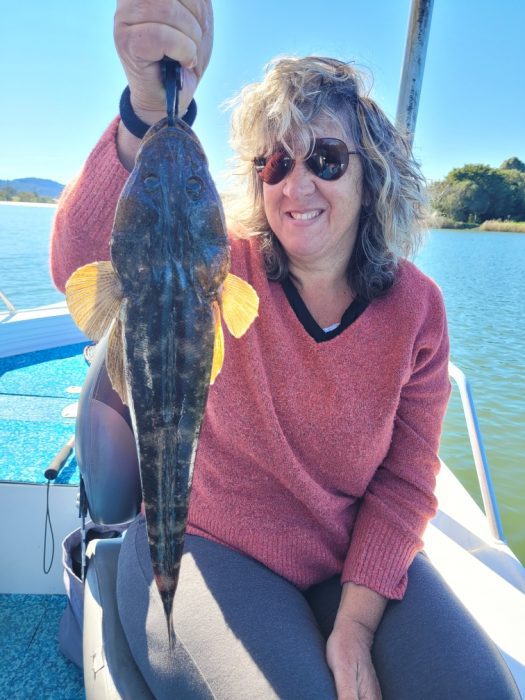 Clint from Brad Smith Fishing Charters reports on the days the weather behaved we caught lots of School Mackerel and Squid in the Broadwater, and also some Flathead, Flounder, Bream, Tailor, Trevally and Whiting. The Mackerel and Tailor will take white pillies, small pillies, fast cranked small metals and trolled deep diving lures. Look for bait balls on the sounder around the 6-7 metre depth and work the area when the tide is running. For Queensland school mackerel I like using 10lb Platypus Platinum main line, 12lb fluorocarbon leader with small, ganged hooks and a no. 3 ball sinker. They are incredibly fast and aggressive fish. Amazing fun on light tackle! Remember their minimum size is 50cm and possession limit of 10. Be very careful handling them too, they have super sharp teeth. The razor gang seem to have scared the arrow squid out of the deeper water and into shallower water.
The Snapper and Pearl Perch closure for Queensland waters is now current see link attached for more information https://www.daf.qld.gov.au/business-priorities/fisheries/recreational/recreational-fishing-rules/closed-seasons-waters/tidal-waters
If you have any great catches or photos you would like to share, please email us and let us know how you went. brett@coomerahouseboats.com.au or brett@fishotackle.com.au
Stay up to date with all fishing regulations in Queensland https://www.daf.qld.gov.au/business-priorities/fisheries
Fisho Tackle and Coomera Houseboat Holidays now have Hire Tinnies follow the link to view http://www.coomerahouseboats.com.au/our-fleet-type/hire-tinnies/
Seabreeze is a great website to access a local forecast http://www.seabreeze.com.au/graphs/
Good luck with the Fishing.
Brett