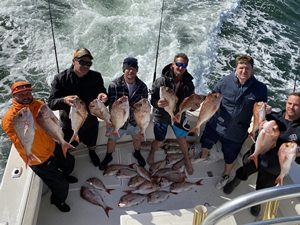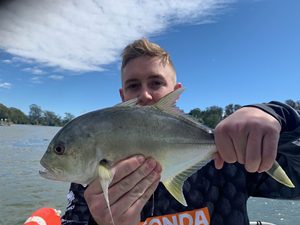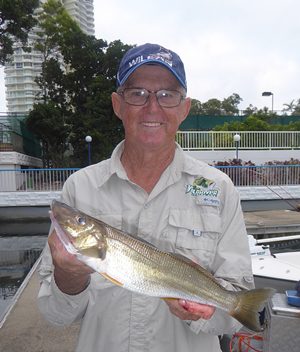 Hi Everyone, hope you have all had a good week, the howling Westerly winds last weekend certainly made fishing a challenge, it was nice to see the wind ease during the week seeing some fishable conditions to see out the last of winter. Springtime will see some good fishing options on the Gold and Tweed Coasts to explore.  Let's have a look at some options for this weekend and the coming week.
Customers have reported some good catches offshore on the Gold Coast this week with a mixed bag of Snapper, Moses Perch, Tusk Fish, Trag Jew, Jewfish and the odd Cobia. Tailor have been schooling up on the 24 fathom reef off the Seaway this week, Cobia have been targeting these schools. Legal sized live Tailor will make the perfect bait to temp a big Cobia, I recommend when targeting Cobia to run you lines at different depths by using a balloon to control the depth you fish at. To set your fishing line deep use a sinker and just let it down to the depth you prefer and then attach the balloon and let it drift back behind the boat, I also recommend to have an unweighted Tailor on the surface as well.
Flathead have been a bit more spread out this week with a few nice fish being caught around Jumpinpin the Broadwater and the local Rivers. Coomera Bait and Tackle customers have been doing well fishing both the North and South arms of the Coomera River Mouths. Some places to try around  Jumpinpin are Cabbage Tree Point, Jacobs Well, Eden Island, Canaipa Passage, Kalinga Bank, Tiger Mullet Channel and the Logan River Mouth. In the Broadwater try Tipplers Passage, Aldershots Eastern side, Sovereign Island, Currigee and Wave Break Island. The Nerang River is holding a few nice Flathead and the Pimpama River is also worth a look. Snot weed is still an issue this week, we will not get much respite from the weed until the next good rains. Working Soft Plastics, Soft Vibes, Metal Blades and trolling Hard Body Lures depending on the weed situation are the best methods to temp a Flathead to bite.
Brad from Brad Smith Fishing Charters reports it has been a bit of a tough week at the Tweed with strong west to north westerly winds and an exceptionally low barometer. But as always, we managed to get some fish by choosing the right lures and using good techniques. Flathead were once again the star players with some small Giant and Big Eye Trevally and the ever-present Bream also hitting the lures. With the tough conditions our best bite periods came by choosing the right locations around the tide changes with a combination of both trolling and jigging. The standout lures this week were the pro lure d36s and samiki vibelicous as well as the ever reliable Ecogear zx 40 and 43s.
Clint from Brad Smith Fishing Charters reports this week we had some fun filled days on the Gold Coast Broadwater catching Flathead, Tailor, Winter Whiting, Sand Whiting, Flounder, Squid, and various others. Other days the barometer crashed, and fishing was tougher. The snot weed has again made it difficult, but you often only have to move a few hundred metres to escape it.  There has been plague numbers of Tarwhine, and while they can be annoying, the other fish are usually close by feeding in the same areas. Know the latest bag and size limits and carry a fish and crab measurement ruler with you. Best lures this week have been Ecogear ZX43 in 402 & 404 in the morning, then 440 through the day. Yabbies are working extremely well. There are Tailor and School Mackerel around so carry a rod with metal lure tied on ready to cast and fast crank. One that works great locally is Samaki Torpedo V2 in chrome silver colour and 20 gram or 35 gram size.
Gavin form Sea Probe Fishing Charters reports on the 50s and 36s Snapper have Been firing on bottom bashers and float lining rigs using squid and pilchards for bait. Majority of the Snapper being around 2 to 5kg mark making them really good schooling size fish. We are also getting catching some quality Pearlys, Tuskies and Blue Spot Flathead with the odd Amberjack and Kingfish showing up.
Hope you all have a good week and stay healthy and safe. If you have any great catches or photos you would like to share, please email us and let us know how you went.
Stay up to date with all fishing regulations in Queensland https://www.daf.qld.gov.au/business-priorities/fisheries
Fisho Tackle and Coomera Houseboat Holidays now have Hire Tinnies follow the link to view http://www.coomerahouseboats.com.au/our-fleet-type/hire-tinnies/
Seabreeze is a great website to access a local forecast http://www.seabreeze.com.au/graphs/
If you have any great catches to report or fishing photos please email them to  brett@fishotackle.com.au
Good luck with the Fishing.
Brett