With Christmas around the corner, I thought it would be a great time to share my Christmas ham recipe. Is it really Christmas without a baked ham??
Ingredients
3-4kg piece of pickled pork
1 cup sweet chilli and plum sauce
2 tbsp fine salt
Method
Ask your butcher for a small leg of pickled pork between 3-4kg. With a sharp knife, cut the skin into a diamond pattern. Lightly rub with some salt. Put in a smoker and smoke at the lowest possible temperature for 4-5 hours. Any Australian hardwood sawdust will do but I prefer the flavour of hickory. This sawdust gives off a lighter smoke and the flavours are not as intense as that of a hardwood sawdust.
After 4-5 hours, turn the temperature up in the smoker to 180C. When close to the desired internal temperature, baste the skin with sweet chilli and plum sauce (Kakadu), repeat several times until the glaze is to your liking. The more times you baste, the sweeter the skin and meat will become.
Continue to cook until internal temperature of the ham reaches 77C.
 To seal in the juices, wrap your ham in foil and let it rest for an hour before serving. This will make your ham lovely and moist.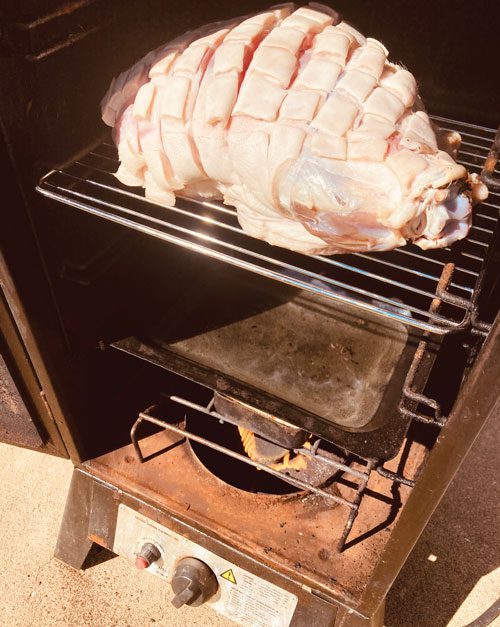 Tips
There are no limits as to what you use to baste the ham with. If you have a favourite sauce or jam you love, use it.
Prep time: 10 minutes
Cook time: 4-7 hours
Serves: many
Melissa Frohloff
Appetite 4 The Wild