Hi Everyone, hope you have all had a good week, it was nice to see the lockdown ease last Friday night giving everyone the opportunity to head out for a fish. Unfortunately, the weather has been a bit all over the place with wind, rain and a pumping swell offshore limiting fishing options. The dreaded snot weed has moved in pretty thick throughout the Broadwater and Jumpinpin this week, fingers crossed it thins out as it makes fishing very painful. Let's check out what has been biting on the Gold and Tweed Coast this week.
We have seen plenty of Tailor showing up this week around the Broadwater and Jumpinpin which is great news for Fishos. Keep an eye on the sky for birds picking up bait fish that the Tailor schools push towards the surface as they feed. You will also see splashes on the surface when the school is active, if the fish are deep on the bait, it is best to troll a diving lure that will get you down into the strike zone as amongst the action. Generally the rising tide is the best time to target Tailor as they tend to prefer better quality water, but in saying that you will also find them far up the rivers and estuary's hunting in dirty water at times. Surface fishing is great fun being able to watch them smash a popper or stick bait on the retrieve, I also enjoy casting metal slugs which work very affectively on surface fish or you can also let them sink in the Tailor move to deeper water making them a good all-purpose lure option. Some good spots to start looking for Tailor are the Gold Coast Seaway, the main channel north of the Seaway up to Sovereign Islands, Jumpinpin Bar entrance, Crusoe Island, Mouth of Whalleys Gutter, Kalinga Bank, Short Island, Tweed River and Tiger Mullet Channel. Tailor are a great feed eaten fresh, just make sure you bleed them for best eating quality.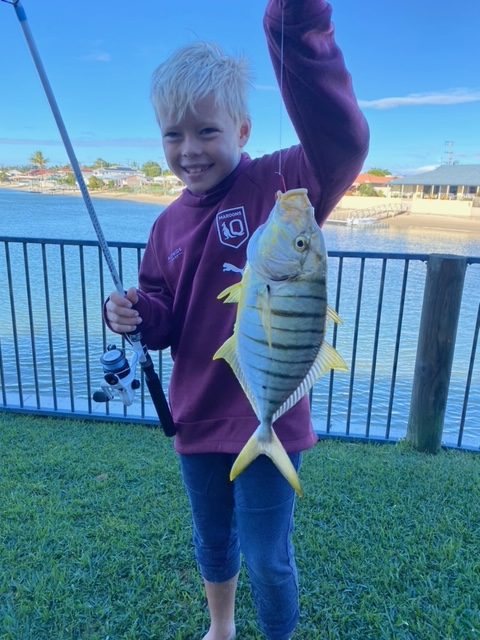 Whiting are a great option to target at the moment with some pretty nice quality fish coming from the local rivers, Broadwater and Jumpinpin. The Nerang River has fished well with local fishos scoring some top-quality feeds lately, other spots producing are Tallebudgera Creek, Coomera River, Pimpama River, Wave Break Island, Tiger Mullet Channel, Bedrooms and the Logan River all worth a look. A light estuary outfit will do the trick, 6 to 9lb main line, 6lb fluorocarbon leader and a size 3 to 5 ball sinker depending on current flow. The best baits are Blood Worms, Beach Worms or Yabbies.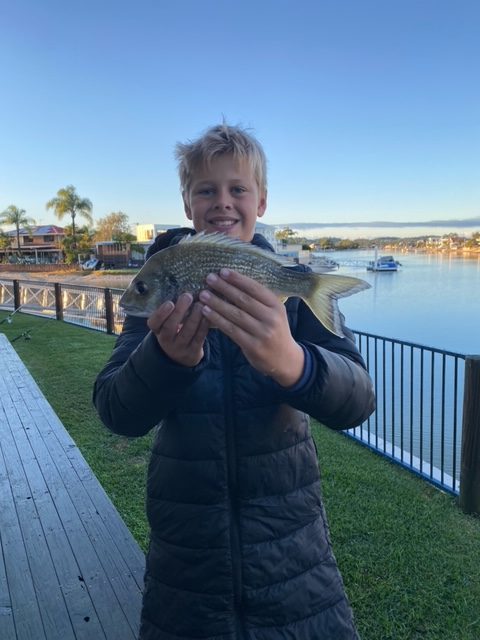 Keep in mind the Snapper and Pearl Perch closure for Queensland waters is fast approaching see link attached for more information https://www.daf.qld.gov.au/business-priorities/fisheries/recreational/recreational-fishing-rules/closed-seasons-waters/tidal-waters
Brad from Brad Smith Fishing Charters reports Tailor and plenty of them were once again attacking every lure we put in the water. These fish enter our rivers every winter but this year they are in plaque numbers which is fantastic. This is a direct result of the huge amount of rainfall we have had this season.  Speaking of rain I can here it hitting the roof now at the time of writing and going by the forecast it might stay with us for the next few days. Some nice quality Flathead also committed to our lures earlier this week as did a heap of small Bream.
Clint from Brad Smith Fishing Charters reports I had some good Flathead and Squid fishing earlier this week. I do hope we don't get too much rain on the coast, the water is just getting to the ideal clarity in the river and Broadwater. If it gets too dirty it'll delay the good Tailor and School Mackerel fishing. Run out tides might need flashy looking lures and squid jigs for the bites. A drop in temperature should stop the snot weed blooming though, which was starting to appear around crab island. In any case I'll be rearing to go early next chasing fun for my charter guests. New moon is Saturday week, so the lead up should be ideal for targeting big Tiger and Arrow Squid, Flathead, Flounder, big Bream, Winter Whiting, Sand Crabs, Squire, Mackerel and Tailor.
Gavin from Sea Probe Fishing Charters reports on the 50 fathom line there has been plenty of Yellow Tail Kingfish and Amberjack getting caught on jigs and live baits and even pilchards, also plenty of top quality Snapper getting caught on floating pilchards and bottom bashers.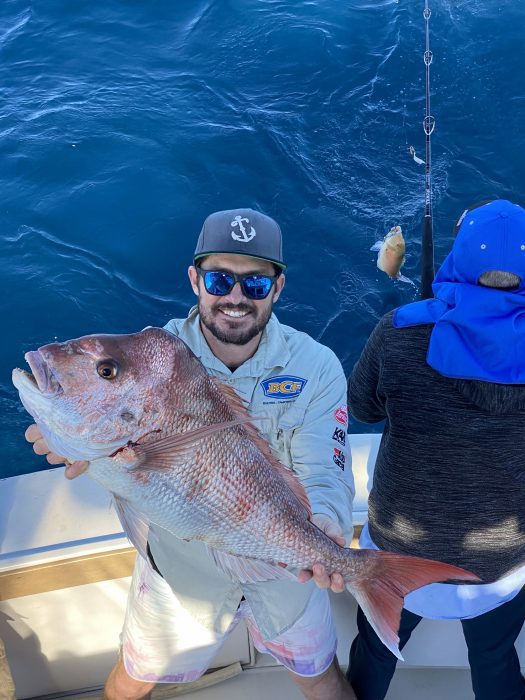 If you have any great catches or photos you would like to share, please email us and let us know how you went. brett@coomerahouseboats.com.au or brett@fishotackle.com.au
Stay up to date with all fishing regulations in Queensland https://www.daf.qld.gov.au/business-priorities/fisheries
Fisho Tackle and Coomera Houseboat Holidays now have Hire Tinnies follow the link to view http://www.coomerahouseboats.com.au/our-fleet-type/hire-tinnies/
Seabreeze is a great website to access a local forecast http://www.seabreeze.com.au/graphs/
Good luck with the Fishing.
Brett