G'DAY again everyone, I hope you've had a fun-packed February and I trust you attempted to keep as cool as possible in this steamy weather.
Here at Flexible 4WD Solutions, for some silly, silly reason we decided to plan a trip heading north during one of the hottest months of the year. With an opportunity to catch up with old friends in Rockhampton, we made the decision to drag ourselves and the dogs up to the beef capital of Australia.
Knowing we had 39-41C days ahead of us, we figured it was time to finally recondition the air-conditioning in the Patrol, and somehow I also convinced my partner Sammy to let me get an ECU remap done by Diesel Australia before our trip. Soon enough we were leaving Brisbane with cold aircon and a fresh 140whp and 400Nm coming out of the ZD30!
Those who live in Rockhampton and love to get out in their fourby would know Farnborough Beach well. For those who don't, Farnborough is a four-wheel-drive and dog-friendly relaxation paradise. Located only 40 minutes from the centre of Rockhampton, Farnborough is a quiet little area with a pristine beach, perfectly suited for those who haven't driven on the beach before.
In an attempt to convince our friends to bring their BT-50 on the much more challenging trip to Stockyard Point, we decided to head to Farnborough so they could get a taste of beach driving.  When we arrived, we took a quick look at the entrance and became extremely eager to jump onto the beach and get the dogs into the water. With a quick glance at the entrance and the sight of perfect, hard beach, we knew neither locking the hubs nor dropping tyre pressures would be needed for this trip – very nearly a rookie error!
With our quick glance we neglected to notice the short yet very steep drop just before the soft sand. Well as you can guess, we were caught out and had next to no momentum heading into the 10m patch of soft sand before landing on the hard stuff. Thankfully the Milk Carton was able to push through and our travel companions got a front row seat and a quick lesson of what not to do. We pushed on and found this beach was pure heaven, with perfect conditions on the sand, perfect conditions in the water and not a cloud in sight! You can bet your bottom dollar we locked the hubs to get back up the cut-in.
After the successful trip to Farnborough, we managed to convince our mates to bring their rig along on our trip to Stockyard Point, so that's where we headed the very next day. Stockyard Point is located within Byfield National Park, and landing our wheels on dirt took about an hour from the centre of Rockhampton, with the track to Stockyard Point taking another hour to traverse.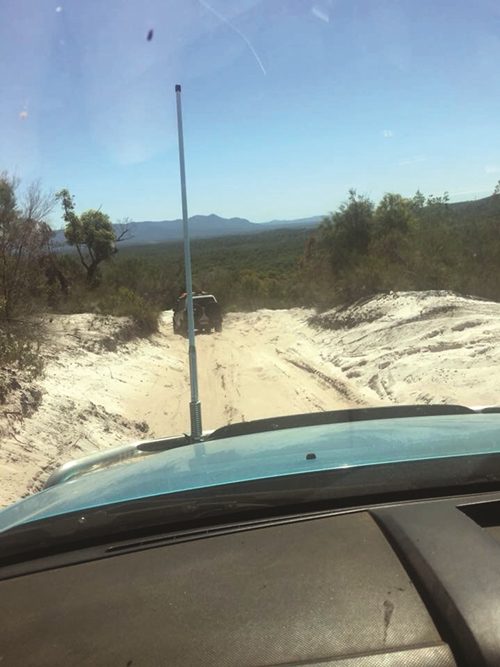 As we all know, domestic animals aren't permitted within our national parks, so with the day looking to reach an easy 39C, we set the dogs up in our friend's backyard with plenty of shade and water before heading off for the day.
The track to Stockyard Point is extremely easy for the first 20-odd minutes, with just a few shallow creeks to cross and a generally hard and sandy track. The fun begins once you reach a small opening with a sign telling you it's time to drop your tyre pressures and use channel 40 to call ahead before heading up the track. From this point the track starts to climb a long and steep dune called Big Sandy. Big Sandy is about a 300m stretch of soft sand, with deep ruts and plenty of twists and turns.
This challenge allowed the new ECU tune to show its true colours. The Milk Carton absolutely ate this track for breakfast. In third gear low range we simply cruised up the dune without any concerns of not making it to the top.  After finishing the last of the sand driving, we popped out into a small fishing community at Stockyard Point – location, location, location! Pushing through to the point, we were welcomed by one hell of a view. The trees opened up to reveal bright blue skies, views of crystal-clear water and stunning beach as far as the eye could see in both directions.
This was the perfect spot for photos and a small celebration of making it to our destination. But it didn't last long because the sun was beaming down and we could feel ourselves turning into Sunday roasts. Not long after jumping back in the cars, we were on our way to the beach we were just admiring. We set up for the afternoon on the side of a freshwater creek, less than 500m from the entrance to the beach. This little creek was the perfect spot to cool off and smash down some tasty lunch. It reminded us of Eli Creek on Fraser Island, with an opening perfect for lounging around on the beach and then weaving its way through the vegetation just behind the sand dunes.
After a gruelling trip back through the hot, soft sand it was time for us to air up and escape the heat. We pulled up at Water Park Creek rest area and shortly after jumping out of the car our thongs began to stick to the road. Looking down, we realised the road surface was so hot it was melting to not only our thongs but also our tyres. We moved to the shade and set up the compressor but that was short lived because the compressor overheated and shut off – this was probably the longest we've ever taken to pump up eight tyres!
While waiting for the compressor to cool, we gave the rigs a quick check and noticed our radiator expansion tank had cracked around the barb (a common issue in ZD30 cooling systems) and we were forcing coolant into the overflow bottle. Knowing we had a major problem, a massive trip back to Brisbane coming up and a 41C day to deal with in a reasonably remote area of the world, we were dreading our chances of a quick fix. However, by using some epoxy we were able to create a temporary fix, allowing us to source parts – which leads us to a massive shout out and thankyou to Queensland Patrols for hooking us up with the only expansion tank and hose in Rockhampton!
We arrived back at the house in Rockhampton just as our temporary fix let go and we spewed coolant all over the road. With a quick parts change and bleed of the cooling system we were back up and running and ready to head off the following day. The next morning, we set off for 1770 but not before one massive detour to ensure we took in as much scenery as possible. Leaving from Rockhampton, we travelled to Yeppoon, following the coast road through Emu Park and out to Keppel Sands before jumping back on the Bruce Highway and heading south. We spent the night in the swag sweating profusely – what a mistake organising a trip in the middle of summer!
Due to the heat, we decided to head straight home the next day. However, we can't wait to visit Byfield National Park again!
Follow Flexible 4WD Solutions on Facebook to check out all the photos and videos from our trip, and don't forget to contact us for all your accessory needs and the latest deals.
Keep cool and until next time, adios.