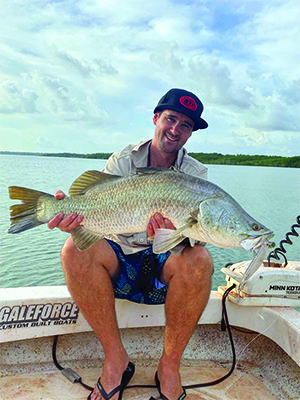 IT was a late wet season on western Cape York.
Due to the delay in rainfall, the waterways started to flood mid-February, with a hint at barra time on the western Cape. Hopefully the rain we are getting continues, giving our waterways a good flush and the local barramundi population the fresh they need to spawn.
With the barramundi season now open, we've heard great reports of barra being caught around the Weipa area, with run-off drains producing not only good numbers of barra but the odd threadfin salmon too.
Plenty of fish are schooling on points and around structure in deeper water. A few are on the flats during these bigger tides but they are hard to sight cast in places due to the dirty water. Barramundi can be one of the most frustrating yet rewarding fish to target. It seems just when you think you have these fish worked out, a successful technique you used in a previous outing fails to raise a fish.
This leaves you scratching your head and going back to the drawing board. I have targeted barra all over Queensland for the past 12 years. In that time I've learnt while you can base their movements and feeding habits on some fundamental attributes, it only takes one variation such as current flow, water temperature or barometric pressure and those habits totally change and everything you thought you knew about them gets thrown out the window.
At barra time, it's important not to get disheartened when you come home empty handed. Remember, the fishos you see on social media and in magazines who are consistently pictured holding large barramundi have put in heaps of hours on the water to nut them out, and even they have the odd bad day.
Even though barramundi can be tough to figure out, you can take a few things into consideration when planning your next trip. For example, different places are more likely to hold fish on different tides and on different stages of the tide. On a big tide, I'll move up onto the flats and target fish holding around the mangrove roots, lay-down timber and rocks. It's best to do so during the last of the run-in tide when the water is nice and clear.
A good pair of polarised sunglasses can help you spot cruising barra and it's just a matter of casting plastics or shallow-diving hard-bodies and working them through the general area. Make sure the lure is close enough so the fish notices it, but far enough away so as not to spook it. Nothing is more exciting at barra time than watching a good size barramundi in the shallows turn and eat your lure.
As for a tide with a big run out, a few hours before the bottom of the tide I like to focus on drains and the dirty water lines coming out of them. I work the bank 10m upstream from the drain, then move in front of the drain and focus my casts into and around the mouth and then further downstream along the bank, following the dirty water line.
I like to use shallow-diving Bomber-style lures, paddle tail plastics including the Berkley Hollow Belly and walk the dog surface lures such as the Cultiva Tango Dancer.
For the tides with little run, I like to fish areas where barra hold in deep water on structure like bridge pylons, wrecks, rock bars and riverbends. I first locate fish by sounding out these areas using side and down imaging. Once I locate a school of fish, I position my boat facing into the tide and cast large plastics and vibes past the school, trying to work them back through the area where the barra are holding.
Throughout the tide I like to reposition my boat and work the school on different angles.
It is also a good idea to again locate the fish with your sounder to make sure they haven't moved. Lures I like for this application are vibes, large paddle tail lures and big prawn imitations. At barra time, the rivers are up and the crossings go under. Barra love to hold in these areas and it's a great place to target them.
Simply fish the edges and back-eddies of the fast-moving water using hard-bodies and weighted plastics. It's a good idea to fish both up and downstream of the crossing because barra wait on both sides to ambush their prey. When barra are on the chew in these areas, they can be caught in great numbers, so be sure to practise responsible fishing.
Barramundi are an icon of northern Australia and after experiencing their fighting capabilities and knowing they are held in such high regard as a table fish, you can see why they are so sought after by northern anglers. At barra time, fish are in fact still spawning and can be found schooled in good numbers. Please remember, if you catch larger fish over 80cm, they are most likely female and still full of roe.
Resist the urge to drop these fish into your Esky and, instead, release them back into the water as soon as possible to ensure healthy fish stocks for years to come. If you would like to see more fishing action from Cape York, jump over and follow me on Instagram at jemo_in_the_cape. I hope to see you at barra time on the western Cape.