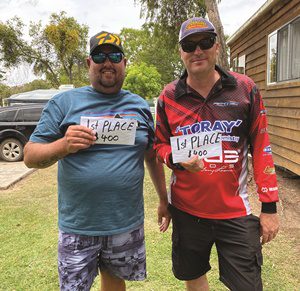 THE 2020 Barrabasstasstic Lake Awoonga barramundi tournament was held from January 9-12, with 40 participants across the junior and senior angler events landing 155 barra.
The major award for the seniors' event at the Lake Awoonga barramundi tournament was the Best Five Barramundi, taken out by Justin Nye and Roderick Walmsley in a tie. Both got their bag limits, with upgrades, for a total of 4500mm.
A 930mm barra caught by Justin Nye scored the 'Biggest Barramundi' award. Justin won on a countback because he was the first to catch the big fish.
The contest changed gears for the coveted 'Most Metres' award. The winner, catching the most barramundi to increase overall length, was Roderick Walmsley with 26 barra measuring 16,780mm. Such a solid effort, fishing hard and long to land every one.barramundi tournament
The juniors didn't disappoint when it was their turn to give it a crack. Local Jacob Watson took out 'Junior Most Metres' in this year's barramundi tournament, with five barra measuring 3350mm. Cooper Slade from Rockhampton came in second with six barra measuring 3180mm. A special mention to our third-placed junior David Nowland who landed his personal-best barra of 800mm, which was exceptional and he handled the big fish well.
Helen Maclean from Rockhampton took out the female angler category with three barra measuring a neat 2000mm, however Helen's highlight of the trip was her PB freshwater barra coming in at 930mm. She now has a great memory of landing this fierce fighting fish.barramundi tournament 
Despite all the big barra in Lake Awoonga, plenty of small pups are still out there and Graeme Hooton snagged the 'Smallest Barra' award with a 435mm fish. All the anglers fished to the conditions and in the slight wind they moved around to find fish and encourage a bite. Another year, another amazing barra event.
Thanks to the local tackle shops for their help this year, including Compleat Angler, Pat's Tackle World Gladstone and BCF Gladstone. Congrats to all the winners or this year's barramundi tournament, and we are ecstatic to announce we are planning a teams barra event at Lake Awoonga for the end of 2020!