BY the time this issue hits the stands it will be the start of winter – that means beach fishing time! While the beaches of northern NSW and southeast Queensland can fish reasonably well for one species or another all year-round, winter is when most anglers hit the sand. With the season generally peaking later as you move north to Fraser, you still have a bit of time to get everything ready so as to be well prepared and give yourself the best chance of success.
Beach species targets
The most popular target species for beach anglers in southeast Queensland is tailor. While the arrival of the first schools of migrating tailor vary from year to year, there were reports in early May of tailor in places such as northern NSW, south Stradbroke Island and Happy Valley at Fraser Island. Beach fishing Queensland
For those chasing bigger fish, mulloway will follow the mullet schools along the coast and generally in better numbers over winter. For light-line anglers, bream and tarwhine are similarly great targets along the beaches from May through to early August.Beach fishing Queensland
You can throw dart in during these times, if you don't mind these bait-stealing pests! While available along southeast Queensland beaches over summer, summer whiting can peak from April to June on several beaches, such as Fraser Island's main beach. However, in the calmer waters on the western side of Fraser or the southern ends of both Bribie and Fraser islands, this peak can be as late as August or September.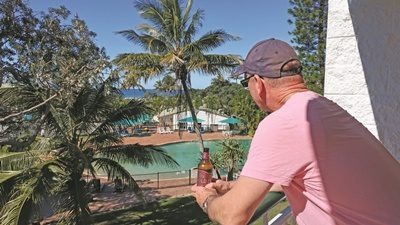 Preparing your kit
All in all, this means June is the perfect time to either hit the beach or take stock of your beach fishing gear and be well prepared for the season ahead. So, make time this month to pull your gear out and see what needs replacing, servicing or what new products might help make your trip more enjoyable or productive.Beach fishing Queensland
Make yourself a list of what you need and head to your local tackle shop. You will generally find experienced beach anglers there who can help you with what you need. Also make sure you book your accommodation, camping permits and such well in advance, and write up a list of what you need to take on your trip – including fishing, four-wheel-drive and camping gear if appropriate – and who brings what.Beach fishing Queensland
Having a plan
While it is great to plan an impromptu trip or two over the beach-fishing season, for bigger trips it is advisable to have a plan. This means you want to time your trip around the ideal tide and moon for the fish you're targeting. If you are four-wheel-driving, plan for the best tide to access the beach as well.Beach fishing Queensland
For more tips and advice, check out my Facebook, Instagram and YouTube pages – Ontour Fishing Australia.