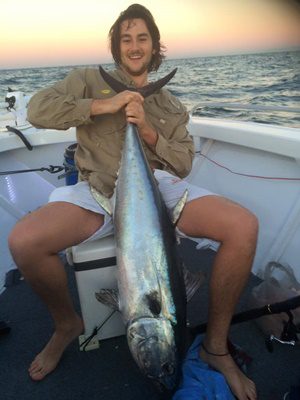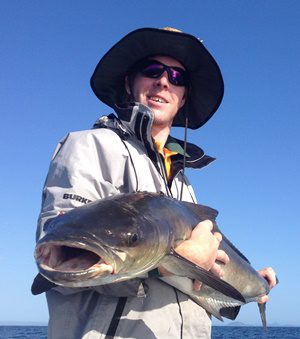 G'day all
I hope it has been a good week for you. At the time of writing there are 20-25 knot Southeasters predicted Friday through Sunday so the Brisbane creeks and rivers might be the only option for those wanting to get out for a fish this weekend. The fishing last week was a little slower than we would have liked. There were great conditions early which allowed plenty of boats to get out, but fishing was tough for the majority. A few Mackerel were still getting about in the Rouse and around the ledge out from the Sandhills but they were not thick. The bay island shallows are still producing mixed bags of small sweetlip, snapper and solid bream but you have to work hard for them. Best catches last week came from the coffee rock between Bulwer and Cape Moreton which produced a few small cobia, as well as decent cod and sweetlip.
There have still been a few solid longtails being taken in the northern bay. The one pictured was caught northwest of Tangalooma on a live yakka fished around a deep bait school. When targeting longtails on live baits in deeper water, it can be effective to fix a sinker just above the eye of your hook using a float stopper or loop knot. Weighting the nose of a live bait often encourages them to swim down, rather than on the surface and reduces the chance of the rig tangling as the bait descends.
Some of the better reports last week came from the land-based anglers targeting bream and flathead along Manly and Birkdale foreshores. Decent numbers of fish were taken during the top of the tide using mullet fillet and chicken breast. This weekend's late afternoon run in tide combined with the predicted onshore winds will be ideal for fishing foreshore areas. Try small surface lures like luckcraft NW pencils during the incoming tide, then switch to diving lures like atomic crank 38s or bassday sugar minnow 70s once the tide has peaked. If you plan on having a fish in these areas it can be beneficial to have a look at them on the low tide to locate any structure or deeper channels that fish are likely to congregate around.
If your looking to get out for a fish this weekend, it could be worth having a look in the upper reaches of some of the local creeks which will be less affected by the wind. After the bit of rain we've had there should be a few bass and tarpon getting around in the far upper reaches of Tingalpa and Eprapah. These areas are typically most productive in the late afternoon and are best fished by targeting shady overhangs and midriver snags. Accurate casting and a stealthy approach is often more important than lure selection however small plastics like squidgee bugs or Zman 2.5" slim swimz are rarely ignored by the fish. If you do decide to have a crack in these areas, keep an eye out for snakes as there are plenty getting about.
As always, I hope you all have a great weekend and get into some fish
Nick
Wellington Point Marine
3207 2235