BUNDABERG INSHORE
The inshore reefs have been full of big spanish mackerel and heaps of school mackerel. Trolling large bait – such as garfish, pike or ribbonfish – has been getting a lot of the bigger spanish to bite. Most school mackerel have been caught on metal Flasha Spoons sunk to the bottom and retrieved as fast as you can. The annual snapper closed season ended only last week and already we have seen some cracking snapper being caught. Most of these fish are caught on bright coloured 4-5" jerk shad soft plastics hopped aggressively through their school.
BUNDABERG OFFSHORE
With the good weather last weekend, we saw plenty of people head offshore chasing a few reef fish. We saw plenty of quality coral trout, red emperor, nannygai, cobia and sweetlip caught over the weekend and the beginning of this week. The best way to catch these bottom fish has been on large flesh bait. Mullet fillet and whole squid have worked best when rigged using either a two-hook snell rig or a set of 6/0 gang hooks. There have been small patches of yakka around, but they are scattered. If you can, try and jig some up because they are the ideal bait to either fillet or use as a livey.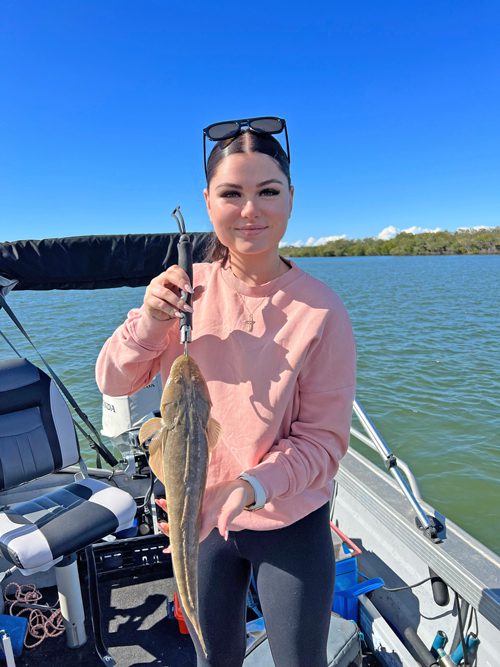 THE BURNETT RIVER
With the Burnett River cleaning up nicely, we have started to see blue salmon make an appearance. A few of the deep holes have held some quality salmon, with soft vibes hopped along the bottom working best. A good quality sounder will help you locate these fish because they move around a lot. Plenty of quality sized grunter have made their way further up the river, with places such as Kirby's Wall producing some great fish. Whole prawns have been the best bait for these fish – rigged on a running ball sinker rig. Lures have also been very effective – small soft vibes such as the Samaki Vibelicious have been best in the dirtier water.
THE ELLIOTT RIVER Bundaberg

The Elliott River is still fishing very well at the moment. Plenty of tailor are still around out the mouth of the river, with small metal slugs getting most of the bites. Aside from the mouth, fishing up the river has been working well this week and lots of flathead around the 50cm mark are being caught, which are the perfect eating size. Shimano Squidgy Dura-Tough range of soft plastics have been very effective, even when fished side by side with other lures. Brighter colours have worked best – just make sure your lure is hitting the bottom. Trolling small hard-body lures has also worked well this week, particularly when trying to find some new ground worth fishing.
BAFFLE CREEK
This week has seen plenty of solid grunter caught in the deeper holes and channels further up the river. As the water clarity gets better, these fish seem to be moving further upstream, so fishing on an incoming tide has been working best. If you can't find any deep holes, drifting sand bars or yabbies beds has been another great way to find a few grunter. Plenty of big flathead have also been found in shallow water, caught mostly on yabbies using a running ball sinker rig.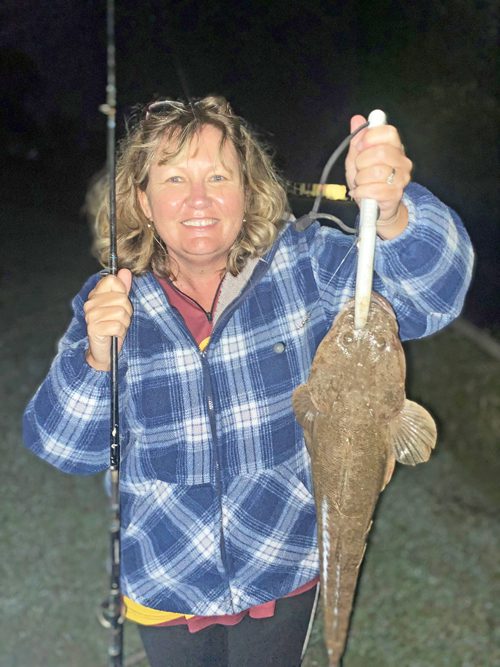 THE KOLAN RIVER Bundaberg

The water temperature in the Kolan River is starting to warm up, which is a great sign. A lot of small mangrove jack have been caught on live bait fished over rock walls or a rocky bottom. Using a lighter fluorocarbon leader than normal has resulted in more bites because they are still timid for now. The majority of fish caught have been the flathead and grunter, with both of these species being not too picky at the moment. Soft plastics or soft vibes around the 80-100mm range have worked best. If you are using bait, prawns and yabbies have worked best for the grunter. And flathead have not minded a prawn, pilchard or mullet fillet on the bottom.
CATCH OF THE WEEK
LAKE MONDURAN
This week has seen barramundi on the move a little more. Most of these fish have been very timid still, so being stealthy when motoring to your spot will help to not spook the fish. These fish have been looking for warmer water, with shallow wind-blown points holding most of the barra. Using a more finesse lure – such as soft plastics rigged on a slightly lighter jig head paired with a lighter leader – has managed to get barra to bite. A simple slow roll technique using a white soft plastic has worked best.
If you would like your catch photos published to be in the running for a $50 gift card every week, email your details and photos of local catches only to  accounts@tackleworldbundy.com.au