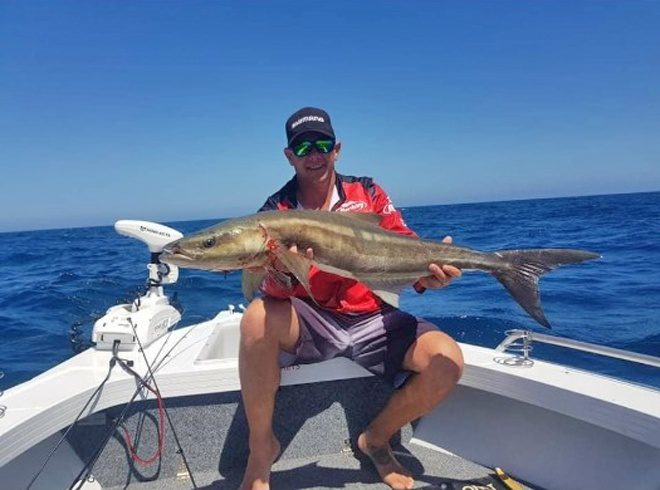 BUNDABERG INSHORE

This week looks like there will be a small window each morning to head out. The local reefs have been producing some nice fish. There has been some grassy sweet lip, cobia, trevally, school mackerel and schools of long tail tuna have started to turn up. The bait to use is a lightly weighted flesh bait or pilchard. The best bite time is on sunrise for the tuna and mackerel. Flasher lures or fast retrieved metal slugs are the go-to lure for the tuna and mackerel schools.
THE BURNETT RIVER
With the recent rain in the region there has been some good crabs caught. We have seen some nice whiting caught over the last week using fresh yabbies and sandworms. There have also been some good-sized mangrove jack caught along the rock bars in the river. With the bigger tides this weekend, it will be a good time to chase the mangrove jack and barramundi hard in the mangroves and over the tops of the rock bars.
THE KOLAN RIVER AND BAFFLE CREEEK

The sand flats have been producing big whiting and flathead by drifting over the flats using yabbies and sandworms. They have also been caught on surface lures. The MMD Splash Prawn has been the standout lure to use. The rock bars and rubble beds have been producing mangrove jack and the odd grunter is still getting around. The barramundi are starting to show up now with the weather warming up.
LAKE MONDURAN
The dam has been firing with the weather warming up. A lot of fish have been caught using the 140 Molix Shad and the Castaic 5" Jerky J slow rolled over the flats and down the weed edges. We have been finding they have been biting early morning and late afternoon into the night. Also, tide changes and moon phases are things to look out for that affects when they are out looking for a feed. With the fish getting bigger I have been running 50lb braid with a 70lb leader. That has been doing the job. There has been a lot of fish caught in Bird Bay and also in North and South Arm of the dam.
The Tackle World Bundaberg Lake Monduran Fishing Classic starts on Friday 15 October 2021 to Wednesday 15 December 2021.
Registrations are being taken at Tackle World Bundaberg and Lake Monduran Holiday Park. This is an online competition whereby all catches are recorded using a QR code.
Terms and conditions shall be provided upon registration. For further information, please contact Tackle World Bundaberg on 07 4153 4747 or email info@tackleworldbundy.com.au
Until next time
Tight lines
Nathan Sutton
Click here for more Tackle World Bundaberg fishing reports and tips!