BUNDABERG INSHORE
At this time of year, we get a lot of bait schools showing up along the coastline, and last week definitely had plenty of pelagic action that followed. Normally the bait are quite small, around the 5cm mark, so sometimes it takes a bit of work to trick the pelagic fish that are feeding on them. In order to get these fish to bite, you need to be using a lure that matches what they are feeding on, even if they are busting up all around your boat. The good thing about the pelagics turning up is, even if you don't have a boat, you can catch them from the rocks off Innes Park, Elliott Heads and Burnett Heads. If you want to match the hatch, the Arma Anchovy 18-25g metal slug and Flasha 20g spoon are two great options because they are identical to the bait these big pelagic fish are feeding on.
BUNDABERG OFFSHORE
A lot of the offshore reefs and wrecks have been producing quality fish this week, early morning and late afternoon are when these fish were feeding. With the lead up to a new moon on Monday 26, the reefs will be the place to be over the weekend, provided the weather plays ball. There were some great catches of big queenfish, trevally and cobia that were hanging around the wrecks over the past few weeks. Bottom fish such as coral trout, red emperor and big tuskfish were caught around natural structure towards Lady Elliot Island, with pilchard working best when rigged on the new Buku Snapbait Hybrid bait rigs.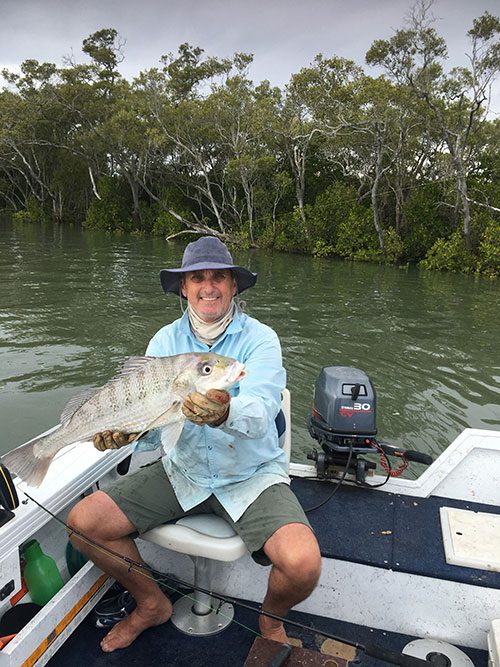 KOLAN RIVER
With the warmer weather, the Kolan River's summer species are continuing to chew. This week, more mangrove jack were caught upriver, with rock walls still being the places to be. Live poddy mullet or whole prawns have worked best for these fish. Towards the mouth has seen some great numbers of flathead caught on the flats, with soft plastics doing the damage. And some solid grunter are still around – soft vibes have worked well on these fish over the past few weeks, so definitely give them a go when chasing big grunter. Bundaberg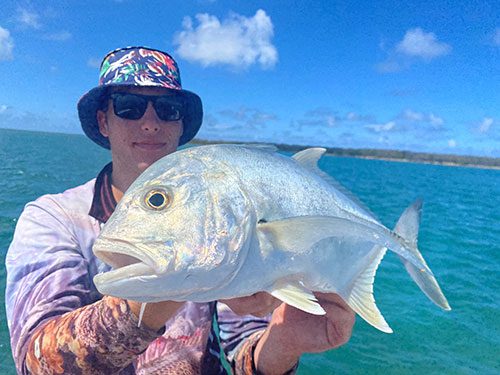 LAKE MONDURAN
As the past few weeks were consistently warmer, anglers had some cracking session on the dam. Big barramundi between 80-110cm were the most common catches, with these fish preferring small soft plastics in natural colours. The key this week was to find the fish, as some spots that had been producing a lot of fish were empty due to wind direction changes. This doesn't mean the barra have gone far. Often the fish have only moved within the bay to another point. This is very common when the bay they're in gets wind from a few directions. Lake Monduran's Family Fishing Classic is scheduled for Saturday and Sunday October 22-23. And as the weather warms further and the wind becomes consistent, barra are going to chew their heads off. Now is a great time to get out on the dam and catch a few fish before the crowds show up in preparation for the comp. Bundaberg
LAKE GREGORY
Lake Gregory is starting to turn it on, with the warmer weather heating the water up, bass are on the move. Most of the fish have now made their way into shallower sections of the dam that have plenty of structure. These fish are actively hunting and have been smacking soft plastics ripped through the weed imitating a fleeing bait fish. The Charlie Brewer Original Slider Grub was the soft plastic getting the job done best, when rigged with a conventional jig head. Light fluorocarbon leaders have helped get more bites and leaders around 8-10lb have worked best. Big saratoga have taken a break this week, with no catches being reported, but it's worth a shot to fish the heavy timber, in case it's your lucky day. Top water lures cast deep into the trees and weed, where other lures can't be used, is a great way to target these fish.
CATCH OF THE WEEK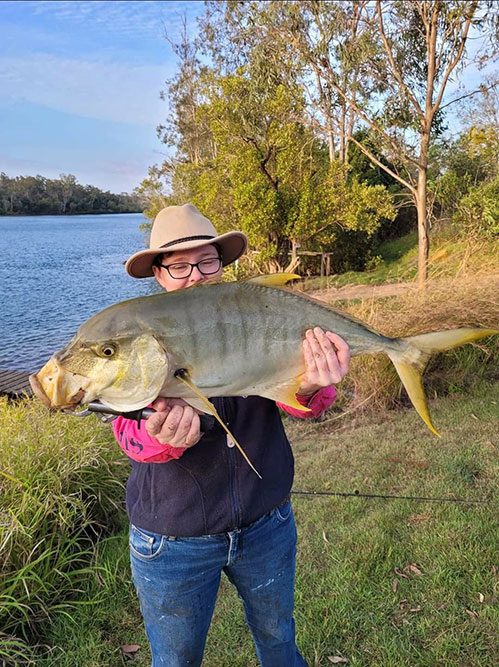 If you would like your catch photos published to be in the running for a $50 gift card every week, email your details and photos of local catches only to  accounts@tackleworldbundy.com.au