BUNDABERG INSHORE/OFFSHORE
Our local inshore reefs have been swarmed with bait over the past couple of weeks. Yakka was the most common baitfish and a lot of our pelagic fish were feeding hard while the bait was around. Watching for birds working is a dead giveaway of a bait ball being harassed by predators and is definitely worth a few casts. As well as the pelagic action happening all along our coastline, our bottom fish have been on the chew. Some solid snapper and grunter have been caught on our inshore reefs with early mornings having the best bite times. Using a light fluorocarbon leader has undeniably helped anglers get more bites. Further offshore has seen plenty of coral trout, sweetlip, tuskfish and red emperor caught. These fish have preferred large flesh bait when rigged on the new Buku bait rigs. Cobia are still here and are more commonly found around heavy structure such as artificial reefs, wrecks and deep ledges with big bommies. Large flesh bait work best for these fish such as whole squid, cuttlefish and fish fillets.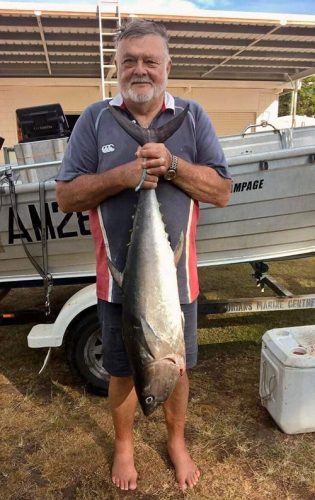 KOLAN RIVER
This river has started to see some great fishing over the past few weeks, with its summer species responding well to the warmer weather we have had. Mangrove jack and barramundi were caught along rock walls and deep banks, with the late afternoon run-out tide firing these fish up. If you are using bait, live poddy mullet, whole prawns and mullet fillet are all worth a try to see what the fish will bite. Towards the mouth, plenty of flathead were caught on lures, with smaller fish hanging around shallow flats and the larger fish along deep banks and drop-offs. Samaki Vibelicious soft vibes hopped along the bottom have been slaying flathead. Solid grunter are still being caught and are a common by-catch when chasing flathead. Fresh yabbies are a great bait for grunter, so pumping a few yabbies at low tide is worth the effort. Bundaberg
LOCAL BEACHES
With school holidays upon us, fishos who put in the extra effort to get to more remote locations experienced some cracking fishing. Rules Beach and Norval Park Beach are two spots that have been fishing well and are away from crowds. Fresh bait such as yabbies and beachworms were most effective. Using a running ball sinker rig is one of the easiest ways to present your bait in a very natural way. Some huge whiting were caught along our local beaches this week, with the warmer weather helping these fish bite. Finding gutters close to shore with a clear entry and exit are sure places fish will hold in. These entries and exits act as highways for the fish, as they enter the gutter through the deeper channel. If you can, throwing your bait into this channel will help put your bait right in front of their faces as they swim in or out of the gutter.Bundaberg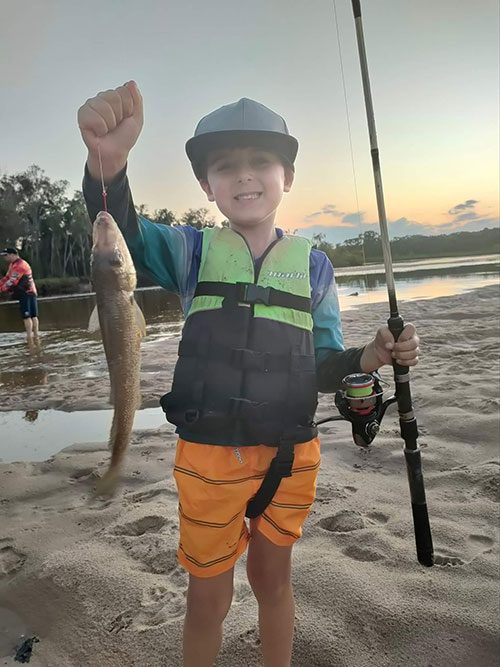 LAKE MONDURAN
This week certainly had Lake Monduran's water temperature on the rise, which resulted in more barra being caught. The past few weeks at Mondy saw conditions getting better and better each week, and everything looks absolutely perfect for the summer season ahead. Finding bays where there is warmer water has been crucial – a few degrees increase in water temp is all barra need to feel more comfortable and start feeding. Once again, the lures doing the damage on these fish have been soft plastics. Berkley Shimma Pro-Rigs have been tempting a few huge barra to bite over the past couple of weeks. Straight out of the packet, these lures swim perfectly and are built to handle extra-large barra. Pushing right into the back of bays is worth the effort and time it takes to get there, particularly while a lot of fish are currently sitting around shallow points and flats in search of that slightly warmer water. Having an electric motor is very handy because these barra are spooking easily, so stealth is also important. Pulling up a few hundred meters away from your spot and using your electric to take you in is a sure way to not spook any fish. With the Tackle World Bundaberg Lake Monduran Family Fishing Classic coming up on Saturday and Sunday October 22 and 23, it is great to see the dam firing up. If you are fishing this competition, you should be looking forward to the warmer weather because this will get the barra chewing even more.
Bundaberg
CATCH OF THE WEEK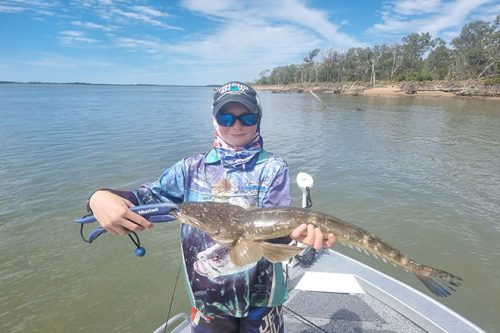 If you would like your catch photos published to be in the running for a $50 gift card every week, email your details and photos of local catches only to  accounts@tackleworldbundy.com.au
From the team at Tackle World Bundaberg
Live the Tackle World LIFE – Local Independent Fishing Experts