AROUND six years ago, the Rockhampton area was closed to commercial netting.
There was a lot of chat around if the right decision had been made.
Tempers were flaring, rational thinking occasionally went out the window and social media lit up with arguments for and against.

Capricorn barramundi
To this day, all you have got to do is mention the net free zone and once dormant voices will rise to tell their story again. Fast forward to the present day and I believe we have just witnessed one of the best big barramundi seasons since the netting closure. It was never going to be a five-minute fix, and my opinion is that it took years to get to this point and it still has a long way to go.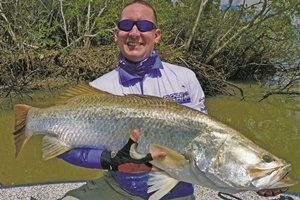 Give it another six years and the sizes we are going to see then. I believe we are desperately in need of a flood at the right time of year. If we can get a good flood consistently in November-December for the next five years, this place will go absolutely mental. Back in 2008 through to 2011, we received two major floods during these months, which were timed perfectly. Capricorn barramundi
The following years were off the charts with cricket score catches of barramundi. With the removal of the nets, we haven't seen those events again. Who knows what will happen if all the conditions line up, but one thing's for sure, I am looking forward to being around to see it and also sampling the fishing.
Since the opening of the saltwater barra season back in February, there has been a steady flow of big barramundi gracing social media pages. You've got to ask the question, if these are the fish we're seeing then what are the sizes and numbers of big barra we're not seeing? It's no one's fault, there are just plenty of good anglers who prefer to fly under the radar.Capricorn barramundi
Even more encouraging was that everyday bait anglers were getting in on the action.  You don't need all the high-tech gear to nail a big model – it helps for consistency but is not completely necessary. And what if you don't own a boat or have much of an idea about barra fishing in general? Well, the simple answer is, you hire a guide. There are a few great options. Number one choice for most is Guided Fishing DownUnder.
TO READ THE FULL ARTICLE, CLICK HERE!