G'day crew, I hope you're all well and have been out wetting a line because there were some cracker back-to-back days over the past few weeks, that's for sure! Sorry for missing last month, with the Easter long weekend and so many holiday makers around Tin Can Bay recently, time has certainly been a precious commodity.
So this article will be a bit of a mash of April, May and June and of what was caught over that time.
Prior to the autumn weather kicking in at about mid-May and driving the water temperature down, the creeks were still producing plenty of mangrove jack and a few barramundi.
Also mixed in were the obligatory cod and bream catches, and a few welcome javelin fish.
As the water temp started to drop to the low 20s, smaller live bait seemed to be the go for most anglers out there chasing a feed of jacks.
With the temps down, barra suffered from lockjaw in the local creeks, with fishos reportedly flogging the water to foam trying to get a bite out of them.
We had a bit of success on jacks with early morning and late afternoon surface bites.
And downsizing our plastics and crankbaits to 80 and 60mm, seemed to still get the nibbles, but the past couple of weeks were a slog!
It's so good to see that squid have arrived in the bay this year – last year was a complete right off after the second flood at the start of 2022.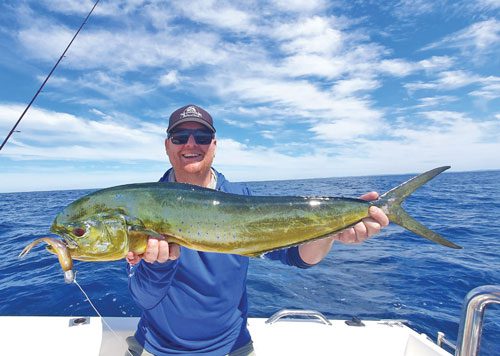 All that fresh and the run-off from forestry plantations sure did shut the squid fishery down.
But our system, as for most in southeast Queensland, has bounced back better and stronger with the good flushing out.
The insane jack and barra fishing in the Great Sandy Strait this summer was evidence of that.
So far, we haven't seen too many large tiger squid, but they can't be too far away.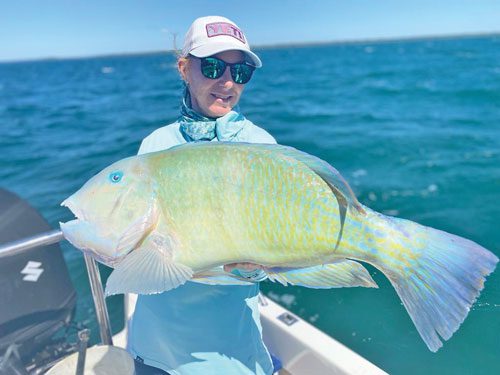 Pencil squid and cuttlefish have been out in force and it's been easy pickings to get 10, 20 or 30 good-sized squid for the table or to use as bait.
Without a doubt, the most popular squid jig we sell is the Yamashita Egi Sutte R – the 2.2 and 2.5 sizes being the most popular.
As for colours, pink and orange are popular in Tin Can Bay, but every colour works and has its day.
It pays to have a handful of bright colours and a few darker ones in the lure wrap though.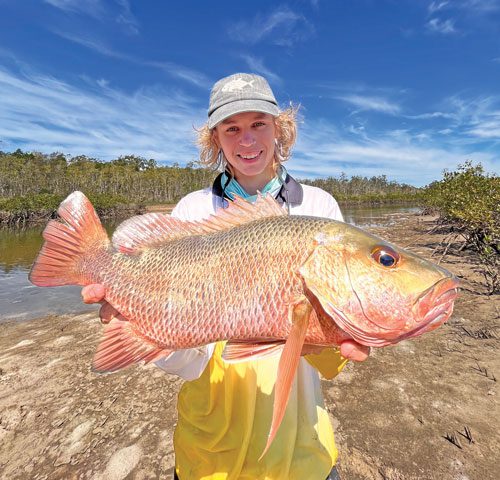 While squid fishing, it's a good idea to have the winter whiting rod rigged too, as where there are squid in the bay, you'll normally find whiting.
With most of the first half of April's weather playing the game, plenty of fishos managed to get offshore.
After the closure ended, spanish mackerel were a hot target for many.
Trolled lures such as the Halco Laser Pro and the Samaki Pacemaker in 140mm and 160mm were working well.
Slow-trolled bait such as garfish and small bonito also worked well.
It's worth having one rigged heavy and one rigged weightless to cover the water column.