The E695HT is the most advanced Cruise Craft built to date.
This versatile and reliable vessel is designed to provide the ultimate fishing experience for anglers of all levels, styles and techniques.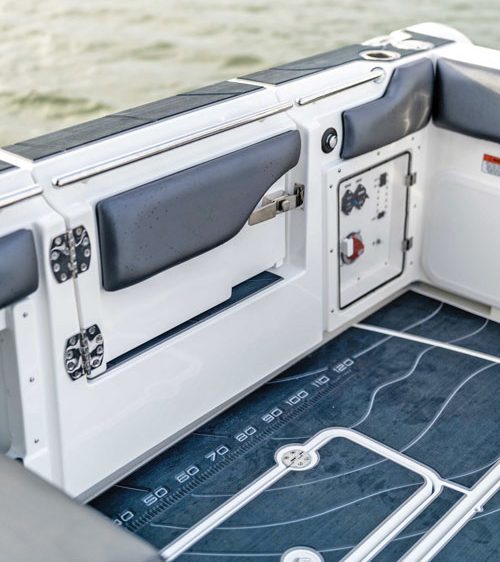 The spacious deck provides ample room for fishing, while the comfortable seating and large cabin area make for a convenient, spacious and relaxed angling or spectating environment.

This model boasts a stack of new features, including the CCB PanaView windscreen, fibreglass moulded side dive door, dual fuel fillers, central 45-litre live bait tank and many more, plus the newest generation of Cruise Craft hull design.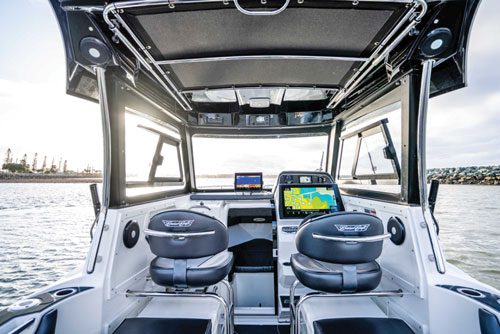 Specifications:
Hull length – 6.95m
Maximum beam – 2.48m
Weight BMT – 2950kg
Maximum number of people – 7
Maximum fuel capacity – 350 litres
Maximum horsepower – 250hp
Trailer Options
Standard – Easytow Galvanised Trailer (SF6.5-3000TRR) ATM: 3100kg – CCB CUSTOM
Upgrade – Easytow Aluminium Trailer (SA6.5-3000TS) ATM:3100kg – CCB CUSTOM
Upgrade – Easytow Aluminium Trailer (SA6.5-3300TS) ATM:3400kg – CCB CUSTOM
Outboard Options
Yamaha F200XCA – Grey
Yamaha F250XSB – Grey
Yamaha F200XCA2 – White
Yamaha F250XSB2 – White
Fishing
Centre Bait Tank – 45Ltr
GARMIN EchoMap Ultra 105sv & GT56UHD-TM Transducer (Plank Mounted)
Hardtop Rocket Launcher – Holds 10 Rods
Heavy Duty S/S Rod Holders with Drains x5
Side Pocket Rod/Gaff Racks – Port Side
Under Floor Fuel Tank – 250Ltr (Optional 350Ltr)
Under Floor Dual Kill Tanks 80Ltr Each – Cockpit
Contact Cruise Craft on 07 3390 4877 or via cruisecraft.com.au