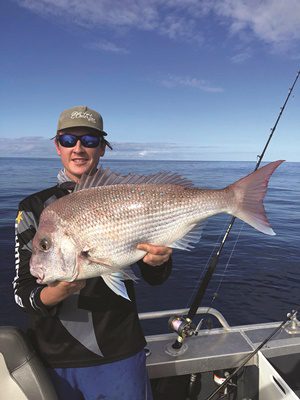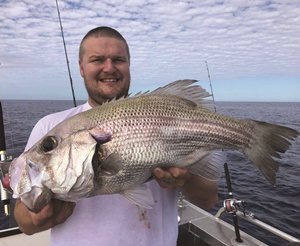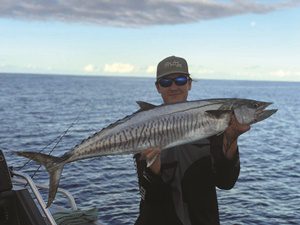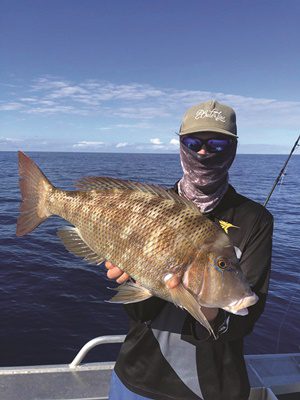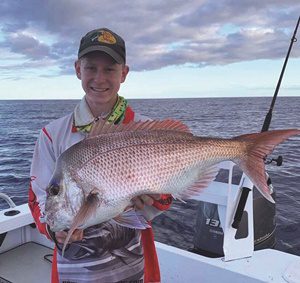 THERE is nothing quite like the feeling of your alarm going off at some stupid hour of the morning (like 1-2am).
For most people, they would grunt and groan at the thought of getting out of a nice warm bed at such a time, but for fishos, especially the ones like me, excitement gets the better of us. When I have a trip wide of Double Island Point planned, there is not a minute of hesitation, no "five more minutes". All I can think about is getting on the road because the sooner I can get going, the quicker I will be at Double Island targeting the elusive red emperor. From the anticipation during the three-hour drive up to the eagerness to get the boat in the drink, and then the moment you finally get over the Wide Bay Bar and out into the deep blue – there is nothing quite like it.
Recently I had an awesome day trip to DI with fellow BNB scribe Jordan Koschel. We are both still relatively new to the fishing the area has to offer, but with some help from a few mates, some marks from my old man Glen (who once upon a time did very well off Double Island) and persistence, we managed to get a really good box of quality fish. Grinner arrived at my place not long after 2am. We had the big Sea Jay Striker loaded and were on the road just before 2.30am.
Close family friend Jason and his two lads Liam and Patrick weren't far behind us, and I could tell by the excitement in Liam's voice over the phone that he was busting to get out there. It was the boys' first time fishing Double Island and I was really hoping we would be able to get them onto the fish. We arrived at the ramp just before 6am, and as the weather was supposed to be good, another 100 or so boats were queuing up to put in.
We only had to wait about five minutes, which gave us time to get the boats ready and gear set up. Before we knew it, we were hammering through the Great Sandy Straight on our way to the 'bar', which was flat as a tack. On our previous trip we were very limited by the weather and had to play in close to Rainbow Beach, but this time the water was glass, so I blasted out to some marks about 18km due east of the bar. I was hoping the spot would be loaded with livies so we could fill our tank and get out wide.
It was, and we spot locked the Minn Kota and deployed bait jigs. I couldn't help myself, so decided to float out a live yakka to see if any spanish mackerel were hanging around. It was in the water for about 30 seconds before being nailed by a longtail tuna. Not exactly the start I was after, but it was a fish. I shook the hooks out beside the boat and decided to deploy another yakka. This one got nailed too but was bitten off above the hook – grr! We kept donating tackle to bite-offs and pesky longtails, so instead I floated a bait to the bottom.
This was intercepted by a solid goldspotted cod that suffered from barotrauma on the way up, so it graced the Esky with its presence. We persisted for a while longer but kept catching longtail and mack tuna between getting a live bait tank full of yakkas, so out wide we went. This was the first time I had been out to these marks since I was about 10 years old. Back then, all I had to do was sit there and copy Dad. Gee, how times have changed.
We pulled up on the first mark, dubbed 'good show', and it did not disappoint. Grins and I had a double hook-up on big grass sweetlip straight away. It was a blur of action between the two boats, with both of us starting to put a few nice fish in the box. We kept picking away until the action slowed, so made a quick move to another mark just to the south.
Straight away we were on the fish again by dropping live and flesh baits. Grinner's livie got nailed and he was hooked up to a solid fish. This spot used to produce honking big pearlies, so I was quietly confident as to what it would be. Sure enough, a bucket-mouth beast surfaced and Grinner and I were squealing like little kids. It measured an incredible 74cm and we were stoked. A PB for Jordan and a PB for the boat. We released it safely into the Esky and had another drop.
Both boats pulled a few more fish off the mark before they went off the bite. We had another spot within 3km but I wanted to save it for the afternoon moon rise because I knew the fish there would bite well in those conditions. We wanted to stay wide, so moved around to a few marks I had never fished before, kindly gifted to me by mate Lochie Reed. However, we bombed out on those spots except for a couple of tuskies.
By this stage I was keen to get back up to the moon rise mark. Dad and I had enjoyed awesome results at this spot, so my hopes were high. I was not disappointed when we arrived, locating masses of bait with predators hanging everywhere from the middle of the water column. The big Humminbird Helix 12 wasn't lying, and the first few drops saw Grinner and I getting stuck into nice pearlies and squirey-snapper. Jordan really wanted to achieve a bag on snaps because he had no fish in the freezer at home, so he continued to float line baits, whereas I really wanted a trophy fish.
I started plastic fishing with the same techniques I use off South Passage Bar. It was a bit slow to start but I ended up catching a few squire and mixed reefies. I decided to try something completely new, which was offshore fishing with soft vibes. These lures have proven very successful in river and bay scenarios, so I thought 'stuff it, I'll have a crack!'
I tied on a 110mm Zerek Fish Trap vibe and sent it down. It was floating back with the rod in the holder when I noticed line flying off the spool, so I threw the bail arm over and let the Venom Spin rod load up. I called it for a snapper straight away, but when it came up I was surprised to see such a quality fish. It was safely in the net and on the deck, marking the first knobby caught on the Striker. Hopefully there will be many more to come.
I saw the quality of the fish we already had in the box and decided I needed some good karma. I grabbed the tag needle from the console and pinged it in the back of the snap, much to Jordan's horror. After a few pics I returned the fish to the drink and it bolted with no sign of barotrauma.
We continued to put fish in the boat, and Jason and his boys were also doing pretty well. We had three live baits left in the tank and Grinner said they were all mine. I sent the first one down with an 8 ball sinker and gang of two 7/0 Mustad Big Gun hooks, but unfortunately a dirty big longtail managed to get a hold of it before any other fish had the chance. I shook the hooks out boatside, grabbed another yakka and sent it down.
This time it got nailed on the drop by what felt like a decent fish. It had a big run and then dogged it down deep like a tuna. That was my call until I felt a very distinctive spanish mackerel head shake. I called it for a spanno, which was a big call because we were 40km offshore in 50m of water, not a typical mackerel area in my experience. Sure enough, colour down deep revealed it was in fact the deep sea racing zebra.
Grinner had no problems on the gaff and just like that it was safely in the box. I was rapt because spanish mackerel are my favourite fish to eat. After we sorted out the chaos in the boat I deployed another livie and this time it made it to the bottom. It wasn't there for long because a reef fish of some description smashed it to pieces. Unfortunately I wasn't quick enough on the rod and missed a really good bite.
I cut off the biggest mullet strip I could find and instead of using my 8 ball live bait rig went back to a gang of three Mustad 7766 6/0 hooks separated by swivels, similar to Tru-Turn hooks. I cannot stress how effective running gangs made up this way is – I will not use them any other way. Dropping back to a 5 ball sinker, I floated the bait down slowly. With no interest on the way down, I left it on the bottom with the overhead in free spool with ratchet engaged.
The second I turned my back, my favourite Venom buckled over with line disappearing at a rate of knots. I clicked the reel into gear and let the fish hook itself, which led me to believe the rod holders were the best anglers in the boat. Once I got the rod out of the holder, I realised the size of the fish. It was heavier than the earlier spanno but wasn't really doing much, mainly just a dead weight at first.
It then woke up and realised what was going on, taking a pretty decent run and ripping off all the line I had just gained. The fish was hammering back towards the bottom, which made me think I might have hooked a vermin fish like an amberjack. Mid-fight it managed to take enough line to entangle Liam, Jordan and I in a big circle of messy line. Things weren't looking good and I was extremely grateful when Grins sacrificed half a spool of braid for me, cutting his own line to free it from mine.
I was yelling at Liam in the other boat to go into free spool on his reel. Once again the fish began hauling back towards the bottom, and I was almost certain it was an amberjack. I told Grinner not to worry about the gaff and just be ready with the net, as if it was an AJ I had no interest in putting it in the Esky beside the likes of pearlies and spanish mackerel. Deep colour revealed something I was not expecting – it was a monster mackerel!
I was squealing for the gaff when I saw it was only just pinned, and after a few heart-in-mouth moments beside the boat Jordan swiftly ended the fish's days with a perfect head shot. I was thrilled. After untangling Liam's line from my reel, we decided that would be it for the day, focusing on taking some good photos of the mackerel and correctly bleeding and icing it. It didn't help that it was far too big for the Esky, but we did our best to jam it in there.
I peeked over at the other boat and saw Patrick was connected to a very solid fish. He fought it really well for a 10-year-old but unfortunately the razor teeth got the better of his 40lb leader and snipped him off. While he was occupied fighting a spanish, Liam managed to nail a 70cm snapper on a float line. He was pumped as it turned out to be a PB. Well done mate, you deserved it.
The sun was beginning to set and I made the call that we should head for the bar. I would've loved to stay out for a night bite but we had a three-hour drive ahead of us and two boats to clean. It was a magical afternoon and I hammered the big Sea Jay back at 30 knots. What an unreal day.
Even though we didn't land a legal red, we tagged multiple undersized models and found a few new little haunts I am very keen to get back to check out on our next trip to Double Island. I am sure it won't be long before we start putting the pieces of the puzzle together and nailing those elusive red fish. I think I may have an obsession.
Stay tuned for next month's article, as I have a trip to Turkey Beach planned in July as well as two weeks of holidays where we will hopefully be graced with more five-knot variable winds and can get out to land those offshore fish I hold dear.
Until next time, tight lines and sore arms.