With the sun shining, we continued our adventures north along the west coast of the Eyre Peninsula in South Australia.
This part of the country is very beautiful, with little beach camps splattered along the coastline.
Ideally, it would have been good to have a few weeks or even a month to explore these places, to immerse in the locals' way of life.
However, on a relatively tight schedule of six months, we ended up spot-hopping between many places and simply passing through if time wasn't on our side.
The overall length of your trip definitely dictates how long you can spend in each place, which became more evident after speaking with fellow travellers.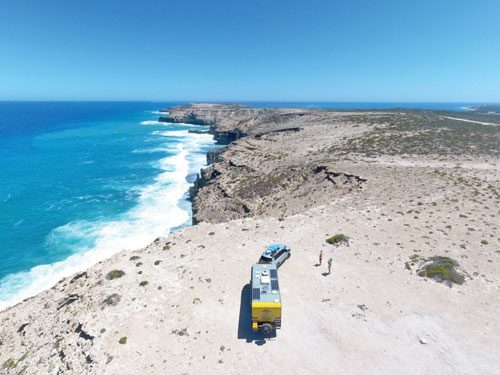 Some people we spoke to had grand plans with very small timeframes, while others seemed to have no real timetable in mind or even had up to two years to explore.
So, a real mix of approaches and time constraints for travellers out there, all with various timeframes and expectations from their adventures.
The route we planned was generic and we ticked off most of the big-ticket places from our travel wish list.
Because of this, you may start to bump into travellers who are on a similar timeframe to yourself more frequently, which is a good thing as you have fellow travellers to bounce ideas off.
While our plans were – and still are – to travel solo, it can be reassuring to know that someone else will be in the general vicinity at about the same time.
Not only is this good from a safety perspective – particularly if you have car or van issues – but if there are children in the family, the kids have something extra to look forward to and can continue to grow friendships.
Thankfully, we've been lucky enough to meet several like-minded travellers who we've kept in contact with via Messenger, text or Instagram.
Point Drummond
This isolated camp provided plenty of room for caravans, camper trailers and motorhomes, with the bulk of the sites situated high on the cliff edges and with uninterrupted views to the water and along the coastline.
You don't need a four-wheel-drive to get to this spot and access to the beach is via foot, which means that often you have the whole beach to yourself.
We were fortunate to see dolphins swimming and playing in the small surf break, putting the icing on the top of this place.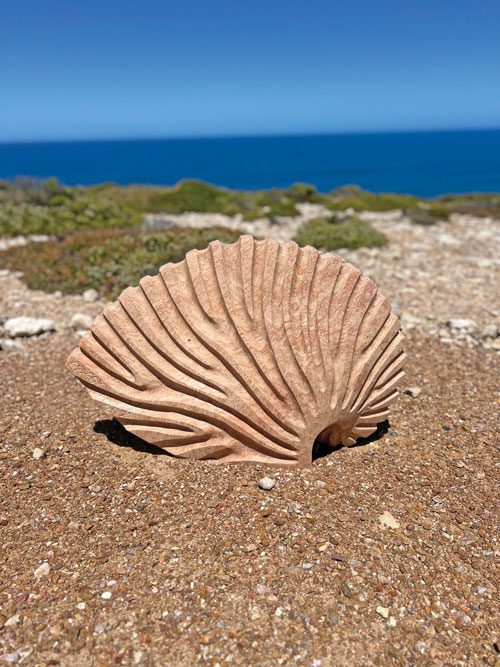 On the northern side of the rocky headland, you could also swim in a variety of rock pools – which were ideal for the kids to play in.
For mum and dad, it was a relaxing spot, but we were told it could get very busy on some weekends and during the holidays – I think we got lucky because there weren't too many people about during our visit.
This meant we basically had the place to ourselves and could watch the sun set over the blue-water horizon without interruption.
Elliston
Set on the shoreline of Waterloo Bay and surrounded by a dramatic rugged coastline and pristine beaches, Elliston is worth a visit.
Known for its beautiful sunsets, spectacular surfing, fantastic fishing, and sea lions and dolphins, it also makes an ideal base for exploring the Eyre Peninsula's west coast.
A definite must do is the sculpture trail along Anxious Bay's clifftop loop.
It was hard to determine a theme with the sculptures as they were all unique, but the drive along the cliffs with the ocean as a backdrop to the sculptures made it very enjoyable.
Another must do is the Elliston Jetty, which was erected in 1900.
The jetty was heritage listed due to its steel pylons that were screwed into the seabed by a horse-drawn winch.
In terms of length, it is around 427m.
It has also recently been upgraded to include barbecues, tables, chairs and a toilet.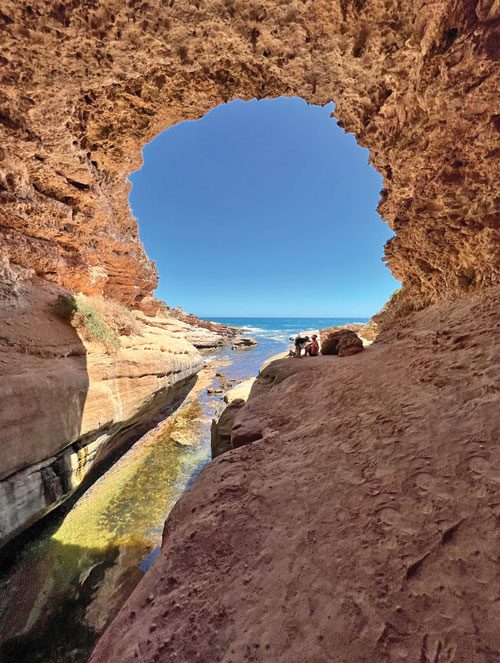 Streaky Bay and Smoky Bay
The western side of the Eyre Peninsula is littered with amazing beaches offering travellers a host of places to stay.
One of the more publicised beaches is Pelubie, which we were booked into but ended up not staying at because it didn't meet with our expectations.
Unfortunately, when we dropped in and towed the van to the beach, we weren't met with the picture-perfect view we had formed in our heads.
Instead, there was heaps of seaweed and the tide was way out – apparently on the neap cycle of the tide, so it wouldn't have been coming in very far.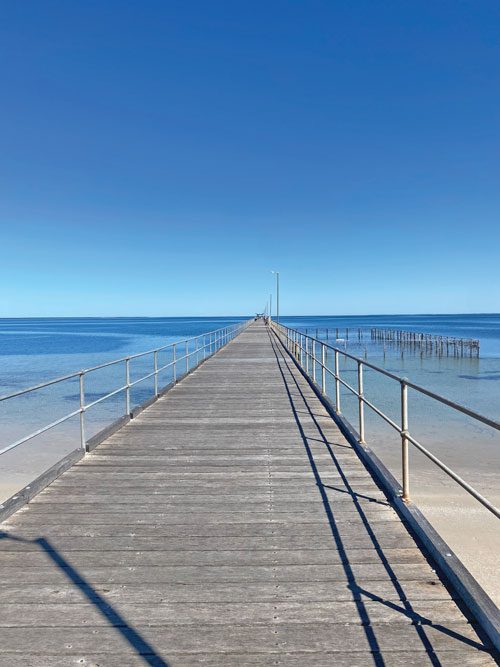 For a number of these coastal destinations, if you get the weather and other conditions aligned, they can be magic.
In saying that, I found the towns of Streaky Bay and Smoky Bay – located to the south and north respectively – much more enjoyable.
Not that they were bustling towns, quite the opposite, however they had beautiful foreshores, nice jetties and some shops to grab a morning coffee or have fish and chips for lunch.
Plus, the atmosphere of these little towns felt much more welcoming as we settled in for a few days exploring and catching up on some rest and relaxation.
Next month, we depart the Eyre Peninsula and start to head west, with the Nullarbor and southern Western Australian our next ports of call.
To keep up to date on our travels and to see more photos, follow us on @bushnbeachadventures