WHILE I thought last month was hard to line work up with the weather, this month has been absolutely atrocious for me – I haven't managed even one day of work with a weather window. Throw a flood and the bottom part of the bay resembling a chocolate milkshake, and things are going take a while to tidy up unfortunately.
Moreton Bay threadfin
However, I've been doing this for a long time and have been here before. Eventually the water will start to clear and after everything settles down we could be in for great fishing over coming months. So, what are we going to talk about if I haven't been out with customers this month? Well, just because I haven't been out for work doesn't mean I haven't snuck out for a little bit of fishing myself.
Poor weather conditions gave me a bit of spare time to target a fish I don't chase on my charters, simply because they're tricky to catch. I'm talking about king threadfin salmon, or as most people call them… threadies. The other thing I wanted to do was to catch one of these on a lure in southern Moreton Bay. It's not as though these fish haven't been caught in this area before, and there're plenty of local people who have landed threadies here. Moreton Bay threadfin
I've caught small ones up to about 50cm on bait and I've had customers hook a couple over the years only to lose them close to the boat. So, over the past 12 months I've got a little more serious about trying to catch threadies and have accumulated as much knowledge as I could. Information such as the type of ground and area this fish prefers, the best tide to go out on and the best moon phase to target threadies are all important pieces of knowledge. Other things that have to be taken into account are the techniques and gear to use for this species.  Moreton Bay threadfin
Another thing apparent to me when targeting threadfin on lures was the importance of knowing what you're looking at on your sounder and where the fish are in relation to the boat. This is imperative because this information will indicate which direction to cast for them. I've spoken to anglers who have caught threadfin and any information they give me I take, as it's taken them a while to work threadies out, so these anglers hold their cards very close to their chests. Moreton Bay threadfin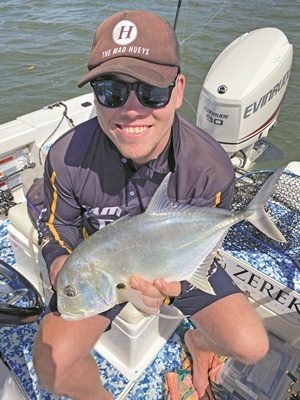 When speaking to these experienced people, it's far better to just listen and pick up small amounts of information if you can. After that, it's a lot of trial and error to find out what works and what doesn't – to me that's the fun bit. It can be frustrating but when you finally land the species you've been targeting, it's definitely worth it. With the bad weather this month, I had more time to target them. So, I picked a day when the wind was down, rang a couple of fellow fishos from the Gold Coast and asked if they wanted to go for a fish.
As always, they were keen. I picked a day I thought had the right sized tide to target threadies and though there was more wind than I would have preferred, it would keep casting netters chasing prawns away from the area we were going to fish. These fish were there simply because they too were after prawns. The right sized tide change coincided with the sun coming up and therefore created an early morning bite period – this was my theory anyway.
I told the fishers to be at my place at 4.45am, as the sun was to rise at 5.30am, however after a wrong turn they arrived at my place at 5.15am. Anyway, with the boat already loaded they jumped in and we headed to the boat ramp. Luckily no one was around, and we had the boat in the water nice and quickly. It was about a 10-minute run to the spot, so we left the creek and shot down to the area where I thought the threadfin might be.
As I had set the rods up with Zerek Fish Trap lures beforehand, it was just a matter of sounding around and seeing if we could find fish. It didn't take long before five big shapes appeared on the side scan of the Lowrance. At first, we thought they were small sharks but with the detail of the new unit, we could make out the tails – they were definitely threadfin getting into a school of prawns. So, we put the spot-lock on and started casting around the vessel.
Now, you have to remember I was super excited, as I hadn't caught a thready on a lure in the southern bay before, and the information I'd gathered over the past 12 months was all coming together. After casting for about 10 minutes, my rod loaded to a fish directly under the boat. At first it didn't do much, then suddenly I got a few cranks on it and the fish jumped clean out of the water behind the boat – we saw it was our target species.
You can also check out the Sean Conlon's Fishing Charters and Tuition Facebook page.