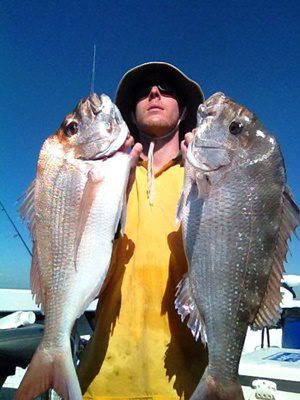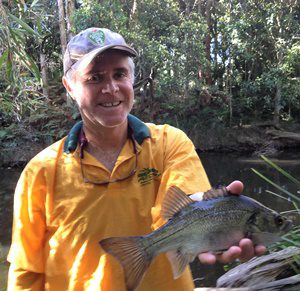 G'day all,
It's looking like the next week or so will be a write off with 40+ knot winds, big seas and plenty of rain heading our way. Last week the region was fishing consistent with good tides and calm mornings allowing plenty of boats to get out and catch a few fish.
Diver whiting and some nice squid were taken throughout the rouse with the area to the North of the Chain Banks producing good catches. Better quality fish were taken from the 5-7 meters areas with bloodworm and fresh squid being the pick of the baits. There were a few reports of schoolie mackerel taking whiting on the way in so it could be worth targeting these in the same areas once the nasty weather has passed. There have been plenty of snapper getting around in the southern bay however size has been an issue, with anglers reportedly throwing back dozens of undersize fish between each keeper. If you're getting plagued by small fish, try floating large baits high in the water column. Theses often last a bit longer which gives the better-quality fish a chance to find your bait.
Despite the swell, a few adventurous anglers managed to get offshore early in the week. They were rewarded with quality spanish from the shallows; good numbers of dolphin fish from the Waverider Buoy and current lines east of point lookout as well as some nice snapper taken on the 35's. Quite often we seem to experience great fishing in the lead up to nasty weather. I even managed to sneak out to the 80m line on Tuesday morning to find the current low and fish on the chew. South Passage Bar was quite ugly with my usual path through the Amity Channel breaking heavily in close. Fortunately, there is a nice deep passage located further to the north on the outside of a sand island which provides a short run to deep water. It will be interesting to see how much the bar changes following the 6m+ ESE swell predicted to arrive in the next day or so.
A few bass have been getting caught in the far upper reaches of our local creeks by those willing to hike in. You might be surprised at how smaller water body can hold decent populations of these fish which are often eager to take a lure. Small insect imitations such as Timeco Soft Shell Cicadas, Megabass Sigletts and Zman 2.75" Finesse Frogs rigged weedless are all good options for creek bass. If you haven't tried it before, flicking lures in small creeks can be a lot of fun and can produce some great unexpected captures in addition to the bass being targeted.
Hopefully by the time this weather system passes the creeks will have had a good flush out and the fish will be on the bite.  As always, have a great weekend and if you do manage to get out for a fish best of luck.
Nick
Wellington Point Marine
3207 2235