I am a bit late with the report for the Fitzroy River Barra Bash, but as the old saying goes, better late than never.
Way back in mid-October, the Frenchville Sports Club Fitzroy River Barra Bash was run and won. The biggest talking point about the competition in 2022 was the rain.
The rain we had out west kept opening and closing the gates on the barrage, which meant the fishing in the Fitzroy River was going to be tough. The forecast for the competition wasn't looking fabulous either.
Showers and storms for the first two days, followed by constant rain for the third.
In the month leading up to the event, I would have spent about eight days on the water.
With all the freshwater in the Fitzroy and if we were to figure something out, I needed as much time out as possible.
All our competition fishing had been done in the Fitzroy, so we would have been starting fairly fresh if we were to look at fishing another area.
At the end of the eight days, we weren't that much better off.
Eight days on the water and only one barramundi hit the deck.
Most of the time was spent scanning with the sounder or sitting in various places and watching what came past the transducer.
There are so many aspects as to why the Barra Bash is such a great competition.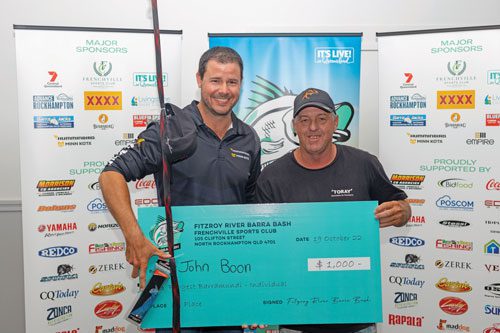 The atmosphere would have to be number one, with so many top anglers all under the one roof.
The banter and friendship are on full display. And it is always great to have one of the crew as Master of Ceremonies for the event.
Steve Lill would have to be the best MC I have ever seen at a comp. He has a wealth of knowledge and his humour is next level – he always keeps the crowd in stitches.
The Frenchville Sports Club administration team are highly motivated, continue to improve the event and are a top group of people – very helpful, no matter what the issue is.
They make sure the comp is run at the highest level and are very professional.
Additionally, there are the cash and prizes. This event would be up there with Australia's richest barramundi competition.
There are so many wonderful sponsors who make this event what it is today, so a big thank you to all of them.
Right, let's get into the details.
As mentioned, the weather and conditions were predicted to be unkind. I visited the crew at Rockhampton BCF a few days prior and bought full wet-weather gear.
Day one didn't start well for us.
We chatted before kick-off and knew we had to make everything count.