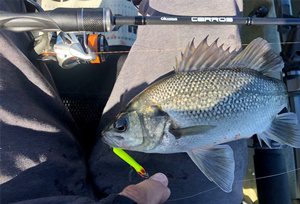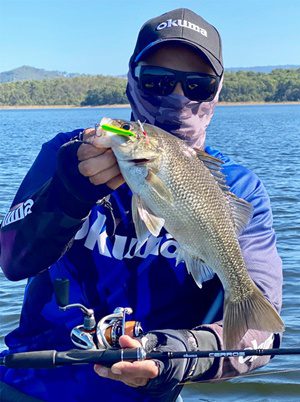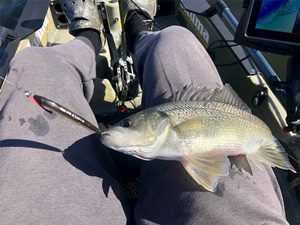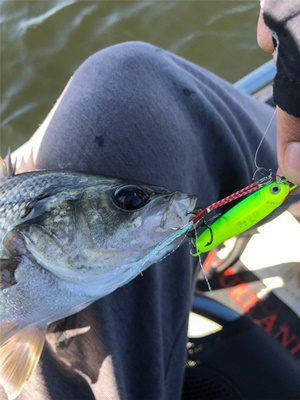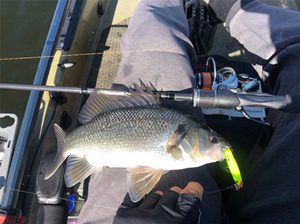 I'M FINALLY back in the kayak, back on the dams, back into fishing and with five tips for targeting deep-schooled bass.
Sounder
Most of the southeast Queensland impoundments I fish are massive. With copious arms and bays to explore, my number one piece of equipment is a good quality fishfinder. This will assist with reading the bottom of the impoundments, so you will be able to identify the structure where bass often – but not always – prefer to hang out. Ledges of old creek beds, flats and points are prime starting points.
Combos
My number two tip revolves around rods and reels. You want something that allows you to fish for a prolonged period of time, so select something light and strong. I suggest a rod around 7′, with plenty of power in the blank but a soft and sensitive tip designed to feel the tricky, tiny bites bass can sometimes have. For your reel, you want to use a size that will match and balance your rod, with a good line capacity and plenty stopping power.
My favourite combo and the one I always carry with me is the Okuma Cerros medium light spinning rod CER-S-701ML 7′ 2-4kg, paired with an Okuma Helios SX 30 reel. I use this to throw big lures such as heavy plastics and slugs. For light lures such as soft plastics and blades, I choose an Okuma Cerros light rod CER-S-701L 7′ 1-3kg, paired with an Okuma Helios SX 20 reel.
Both combos are my go-to for bass fishing. They are strong, reliable and light enough to fish a 10-hour session and not be at all bothered by the weight. They both have plenty of power to fight bass, while having sensitive tips that allow me to feel every bite and have full control of the lure.
Scent up
This is one to do when the fish is stubborn. You can see them on the sounder but they won't bite no matter what you throw at them. Pro-Cure Bait Scents are made from real bait and are enhanced with amino acids and bite stimulants. There have been plenty of times when scent has helped me catch the shutdown bass. All you need is to add a little of it, spread it on your lure of choice and give it a go – especially if you're struggling to get the bite.
Take the lead
Number four comes down to your leader. When targeting deep-schooled bass, it's rare that structure will be down there, which means the chances of running your leader through something that could snap you off is minimal.
For that reason I choose to use a small diameter leader. The Platypus Stealth FC fluorocarbon is a great one for that situation – starting at 2lb and going all the way to 50lb. My favourite leaders in the range are the 6lb, 8lb and 10lb, for the days I find bigger fish.
Heavy metal
Now this tip has been a secret of mine for some time, however I have decided to share it with you. It's no secret deep-schooled bass love metal lures such as spoons and jigs, but those lures – particularly the main ones on the market – have been used repeatedly and somehow bass have picked up on that and learnt. Some days you may find yourself throwing those lures all day for not many bites, if any.
This is where TT Lures Hard Core Metal lures come into play, and they have served me well. Developed for salmon, tailor, tuna and similar, they have been killing it in dams recently – especially the 20g size. Due to their shape, you can cast them a long way, which is very important when fishing deep-schooled bass. They also have a very particular swimming action and bass love them.
In fact, I have had several sessions where no other spoon was working and it was a matter of changing lures for almost a fish a cast. Basically all you have to do is cast as far as you can, let it sink to the bottom and work it back towards you. Use a slow roll with a stop every so often, then a fast burn and stop for a few seconds, repeat and hang on!
So, those are my five tips for targeting deep-schooled bass through winter. As we gain more access and less restricted travel over coming months, get yourself out there and get among our iconic Australian bass. Have a great one.
Felippe Gapski