Hi everyone, hope you are all having a good week and had a nice Anzac long weekend. It has been yet another wet week on the Gold and Tweed coasts – at least the wind eased up a bit. At the time of writing the report, it looks as though we'll see more rain on the weekend, but at least the wind is tipped to drop off on Saturday, which is a bonus if you're keen to get out on the water for a fish. If you are looking to get out and enjoy some outside time over the Labour Day long weekend, let's have a look at what's been on the bite this week. Gold Coast Coomera
As we head towards May, the water and air temperatures have started to cool down, in turn we are seeing plenty of bait fish and small prawns around. Flathead should start to show up in better numbers throughout the Tweed and Gold Coast waterways over the next few months. Try looking around the tops of sandbanks on a high tide and when the tide turns and starts to run out, try targeting the edges of the sandbanks and the weed beds with soft plastics or hard-body lures, also casting lightly weighted yabbies should work well too. As the tide drops, you should find flathead lying in wait for bait moving off the sandbank. Another great spot to look for action is any small creek entrances leading into a main waterway, or gutters and drains leading off a sandbank. These are perfect ambush areas and will usually attract flathead, which tend to lay in wait to catch an easy feed swimming past. Soft vibes and metal blades will work a treat in deeper water and drifting dead bait are all great options to entice a bite. Try your luck in the Tweed River, Currumbin and Tallebudgera creeks, the Coomera and Nerang rivers, Wave Break and Brown islands, the Pimpama River, Jacobs Well, Crusoe Island, Kalinga Bank, Tiger Mullet Channel and the Logan River for a flathead. Gold Coast Coomera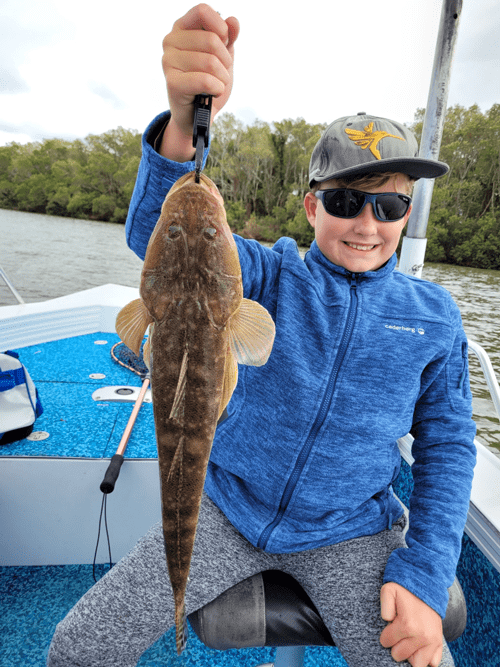 Bream have been caught in good numbers during April – they tend to fire up well after a good freshwater flush out. As we head towards winter, it looks like a good season on the way for bream fishos around Jumpinpin area, Gold Coast and the Tweed. Some good spots to try around the Pin are the Huts along Short Island, Kalinga Bank, Tiger Mullet Channel, Crusoe Island, Whalley's Gutter, the Power Lines and the Logan River. In the Broadwater, try the Gold Coast Seaway walls, Wave Break Island, the Nerang River, Paradise Point bridges, Seaworld channel, Lands End and Marine Parade Labrador rock walls – a great land-based spot to fish. The Tweed River has plenty of structure to fish either land-based or on the boat, including plenty of rock walls, jetties and bridges. When targeting bream, I recommend a light to medium estuary outfit spooled with 9lb mono, and 8-10lb fluorocarbon trace – as they will tend to fight dirty and try to get back to their snag once hooked – matched with a size 2 or 4 bait-holder hook. Berley is a must, don't feed them too much, only a bit at a time to keep them in the area and interested. Berley pellets or cubed Western Australian pilchard will do the job. Bream are not usually too fussy when it comes to eating and will have a crack at most bait presented to them. Best bait are mullet gut, mullet fillet, silver biddies, herring, prawns, white pilchard, pieces of WA pilchard, squid, yabbies or bonito fillet. Gold Coast Coomera
Whiting have been on the chew this week with some nice catches of quality fish coming in. Try looking around the Bedrooms, Pandanis Island, Millionaires Row, Tiger Mullet Channel, Wave Break Island, the Nerang River, Crab Island, the Coomera and Pimpama rivers and the Logan River. Whiting will be active on both an incoming and outgoing tide, because as the water flows, it disturbs the bottom and helps them with feeding. They will go off the bite when the tide slows down to change and will usually start feeding again when the run in the water returns. Best outfit is a light rod and reel combo with a rod length 7-9', 2000-2500 size reel spooled with 6-9lb mono, a long 6lb fluorocarbon trace, 4 ball sinker to keep the bait on the bottom and a size 6 bait-holder hook. Best bait are live bloodworms, beachworms and yabbies.
Brad from Brad Smith Fishing Charters reports it was once again another big week on the water with some mild weather and a heap of fish caught on lures. Even though we caught big numbers and a variety of species, we did not catch anything large. But at the end of the day, it is always good to see a consistent bend in the rods. The species caught were a heap of bream as well as flathead, whiting, grunter, moses perch, estuary cod, flounder, trevally, school jewfish, grunter and tailor. The numbers of tailor we caught show that the water temperature is starting to drop, and it won't be long before the big tailor start moving into the river to spawn. The fun thing for my clients was to cast MMD Splash Prawns at tailor and watch them hit the surface lures. Gold Coast Coomera
Clint from Brad Smith Fishing Charters reports a tougher week with some rain, wind and neap tides, and fish down in size. It was still a fun week though, with lots of variety in the Nerang River and Broadwater. There were some nice whiting and flathead on the yabby flats, and flathead, flounder, tailor, squire, winter whiting, sand whiting, tarwhine and big bream in the main channels near the Seaway. With so much bait around, the deeper holes and canals in the Nerang River have been producing school jew, flathead, grunter, bream, sand whiting. As always Samaki Vibelicious and Ecogear ZX40 blades have been the best lures in the channels, and Pro Lure ST 42s are good for casting on the flats. The new moon is on Sunday May 1, so the action will pick up noticeably in fish quality and quantity. We should see lots of fun fishing when the wind and rain ease this week too. And I'm hoping arrow squid will start this week.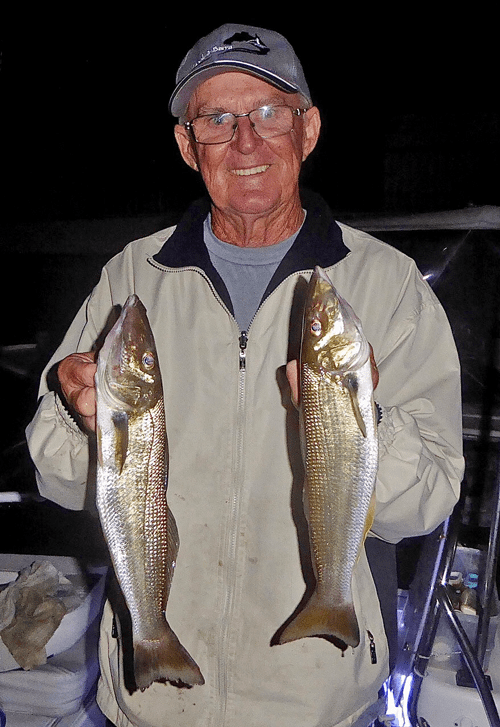 If you have any great catches or photos you would like to share, please email us and let us know how you went, brett@coomerahouseboats.com.au or brett@fishotackle.com.au
Stay up to date with all fishing regulations in Queensland https://www.daf.qld.gov.au/business-priorities/fisheries
Fisho Tackle and Coomera Houseboat Holidays now have Hire Tinnies follow the link to view https://www.coomerahouseboats.com.au/our-fleet-type/hire-tinnies/
Seabreeze is a great website to access a local forecast http://www.seabreeze.com.au/graphs/
Click here for more Gold Coast fishing reports!!
Good luck with the fishing.
Brett