Hi everyone, hope you have all had a good week. It's been a bit hard with the wind and rain hanging around to get out much this week, but hopefully you managed to sneak out for a fish. As I am writing the report it looks as though we will see some heavy rainfall to finish off the working week, but fingers crossed the sunshine and blue skies are forecast to return in time for the weekend, which is great news. Depending on how much rain we have, a big flush out will affect the fishing in the rivers, so try targeting the tide lines and ocean entrances where the fresh meets the salt – good places to start looking for a fish. Let's have a look at a few fishing options to try. Gold Coast Coomera fishing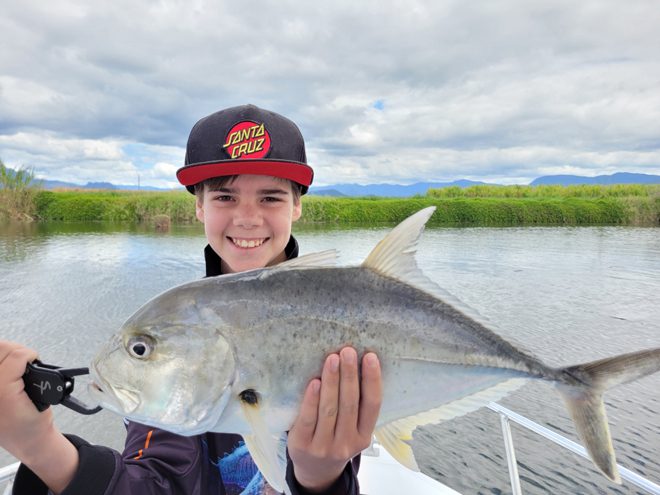 Last weekend the weather was much better than predicted resulting in quite a few boats heading out offshore early to try their luck at chasing a feed. Local fisho Ben White was one of these anglers and he did well coming up trumps with a nice big jewfish for his efforts. The 18 and 24-fathoms reefs off the Gold Coast have continued to produce some great quality fish for those keen to put in the effort. An early start is important as first light can often produce some top-quality fish such as trophy-sized snapper, getting an early start can also see a lot less boat traffic putting pressure on the fish. Make sure you have a good sound around and look for any signs of bait and fish archers before choosing a spot to fish, if you are anchoring up, a berley trail will help to fire up fish around your boat to feed. When fishing the shallower reefs, a light set up is best – you will still be able to catch some extremely big fish on the gear, but the lighter you go the better chance you have of getting a bite from a quality fish. I recommend using a 5-10kg outfit spooled with either 15lb or 20lb braid, and a 20lb mono leader will make your bait present much more naturally, in turn resulting in a much better catch rate. On the above outfit we have landed some very big fish and the fight is great fun. Fishos have been landing a good mixed bag of snapper, moses perch, maori cod, teraglin, spangled emperor, big jewfish, tuskfish and the odd legal pearl perch. Quality bait is also a must – try using IQF Western Australia pilchard, large squid, bonito fillet, mullet fillet, tailor fillet and also live or butterflied yakkas. Gold Coast Coomera fishing
Fishos report that good numbers of quality whiting have been landed this week, with bigger tides around the Gold Coast seeing the popular Nerang River producing quality feeds. The best bait have been bloodworms, beachworms and yabbies. If you are keen to target whiting, you will find that the majority of the sandbanks around Jumpinpin and the Broadwater – which are good for pumping yabbies – will usually be holding schools of whiting feeding during different stages of the tide. Most whiting anglers will agree with the old saying 'no run no fun' for whiting – if the water is flowing, keep moving around until you can locate better numbers of fish to target. Other popular spots are that regularly hold good quality whiting are Wave Break Island, Crab Island, Paradise Point, the Coomera River, the Pimpama River, Jacobs Well Shoals, Bedrooms, the Tiger Mullet Channel and the Logan River. Fishing at night during the summer months is the prime time to target the bigger fish as they tend to feed better after dark. Fishing ultralight is the secret – a long 6lb fluorocarbon leader, size 6 baitkeeper hook, and a 4 or 5 ball sinker is a pretty standard rig for worms, just upsize your hook a bit of you are using yabbies for bait. Bream are a common by-catch when targeting whiting and you may find if we have heaps of rain leading up to the weekend that bream will be around the same areas in big numbers also. Gold Coast Coomera fishing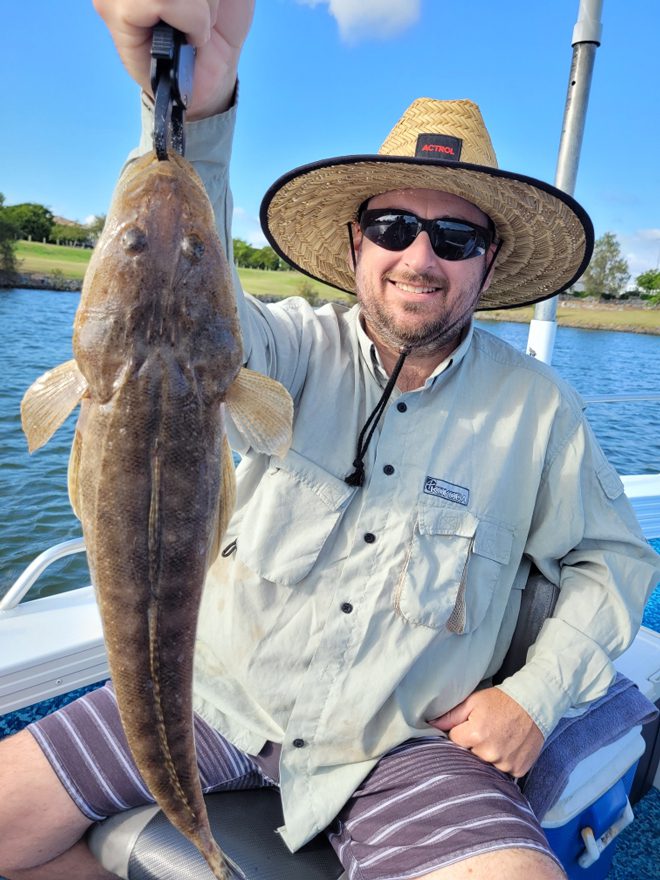 Clint from Brad Smith Fishing Charters reports – this week I mixed up the tactics with some shallow flats fishing for flathead and whiting, and some days fishing the channels and catching tuskfish, flathead, flounder, squid and whiting. Ecogear Marukyu Isome worms in red and extra-large size have been working exceptionally well on my charters. Cut each worm in half and use like bait on a size 4 baitholder hook. New moon was last Friday and there are some big day tides. This means strong flow around the mouths. So, unless you're targeting the tide changes, try to find areas outside the main current. These areas include upstream sections of the rivers, the Broadwater between the Spit and Sundale Bridge, canals, lakes and areas protected by points and islands. Water temperature in the Broadwater is still around 22C and 24C around Isle of Capri. The water is very clear on the run-in tide, so try natural and neutral coloured lures, unless cloudy, low light or choppy conditions.
Brad from Brad Smith Fishing Charters reports – I have had a fairly big week of guiding and spent the first part of the week fishing the middle reaches of the Broadwater. The Broadwater once again produced a mixed bag of species on lures, which included flathead, bream, tarwhine, flounder, tuskfish, whiting and even the occasional end of season squid. The best lures were Ecogear ZX 40s and Samaki Vibelicious in the channels in 4-5m of water. I also had the opportunity to do two trips back on my beloved Tweed River after a long spell due to the COVID border closures. It was great to get back to the mangroves and cane fields with no boat traffic, and the fishing was great. Deep water jigging with Samaki Vibelicious lures in the middle reaches of the river produced some quality flatties, giant trevally and a couple of school jewfish and of course the ever-reliable bream.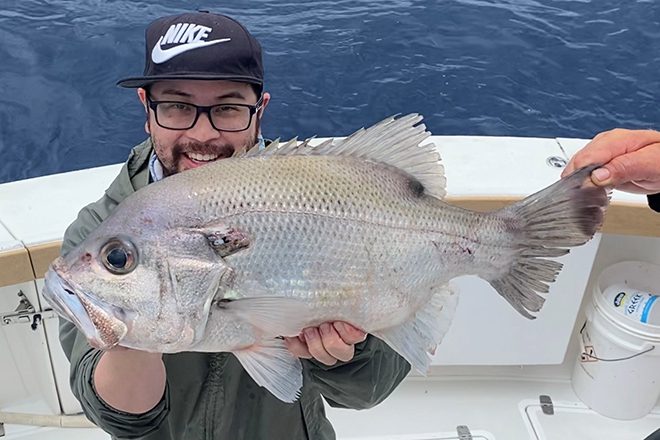 Gavin from Sea Probe Fishing Charters reports – the 50-fathom line was a bit hit and miss this week with the currents strong one day and very light the next. But with light current pearl perch were chewing well, and there were plenty of teraglin, tuskfish, snapper, moses perch and bluespotted flathead on the 36s.
If you have any great catches or photos you would like to share, please email us and let us know how you went. brett@coomerahouseboats.com.au or brett@fishotackle.com.au
Stay up to date with all fishing regulations in Queensland https://www.daf.qld.gov.au/business-priorities/fisheries
Fisho Tackle and Coomera Houseboat Holidays now have Hire Tinnies follow the link to view http://www.coomerahouseboats.com.au/our-fleet-type/hire-tinnies/
Seabreeze is a great website to access a local forecast http://www.seabreeze.com.au/graphs/
Good luck with the Fishing.
Brett