Thinking of new ways to improve the boat is something we all enjoy doing.
Over the cooler months, I noticed that the side combings of my Bar Crusher were a little hard and cold on the legs when leaning on them fighting fish.
After being on other people's boats, I had several ideas in mind – including having upholstered pads made or even gluing carpet to the sides.
These were not my perfect choice because pads and carpet get dirty, hooks get caught in them and eventually they start to fall apart and look daggy over time.
Coincidentally, I came across the team at H2O Flooring while walking around the recent Sanctuary Cove International Boat Show. After having a bit of a chat about their products, I realised it wasn't only flooring they could do.
I took down their details and on my way home, decided to sketch up a design that would suit my boat. It didn't take long to come up with a drawing, so once done, I went down to visit them on Brisbane Rd at Arundel.
I left my sketch design with them and, after a couple of days, they had digitised a layout and emailed it through to me to get my thoughts. It looked great and, with a few tweaks, the design was perfect.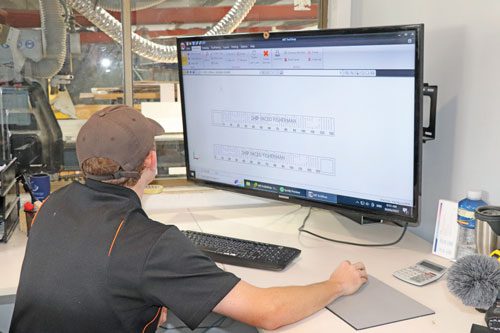 With such a large selection of colours to choose from, I was able to match the colours of my boat perfectly.
After agreeing on the final render, I met up with them on the day of production and watched as the digital information was fed into the CNC routing machine. It started to do its thing and was very interesting to watch.
This was stage one of the process. Most flooring manufacturers use only a router, which allows for a great finish but does not allow for fine detail.
After the routing process was complete, the EVA panels took shape and looked great.
In terrific detail, it had routed out all the major sections of my design, and at this stage the routing process was finished.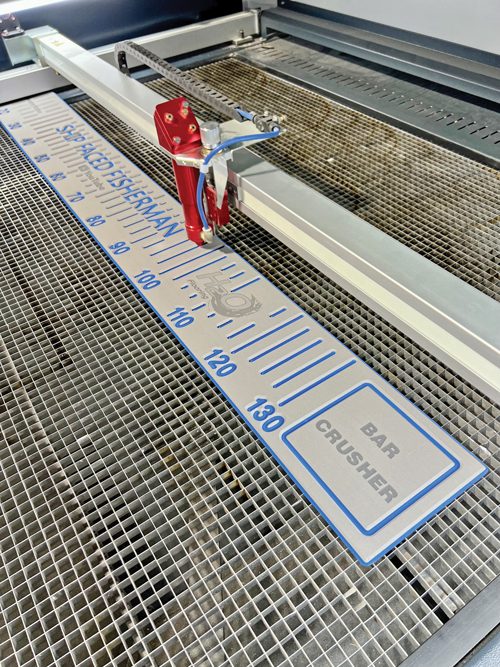 For most manufacturers, this is where the process stops, however the team at H2O Flooring also invested in a laser machine.
This allows for drawings to be transferred to the EVA top layer in very fine detail, which means you can have your logo or pictures drawn directly onto the job.
Stage two was mounting the EVA sections into the laser machine. It went to work drawing up my logo for Instagram and those for YouTube and Bar Crusher, and the team also added their H2O Flooring logo in as well, which looks brilliant.
The whole process from start to finish took a few hours and the results are amazing.
Now I have two full-length combing pads, in the design I wanted. Installing them in the boat was simple. H2O Flooring had a particular glue that allowed easy adjustment to the placement of the EVA panels and didn't completely stick until the position was right – after applying heavy pressure, it became permanent.
If applied correctly, they guarantee their products won't peel off. I was able to complete this process myself at home.
Now the boat looks great, with the addition and install of these very functional and hard-wearing panels.
If you have any ideas for your boat, give the team at H2O Flooring a call or contact them on the details below.
I thank them for an awesome job!
H2O Flooring can be contacted by emailing team@h2oflooring.com.au or calling 0412 975 876 or visiting them at 7/328 Brisbane Rd, Arundel Queensland 4214.