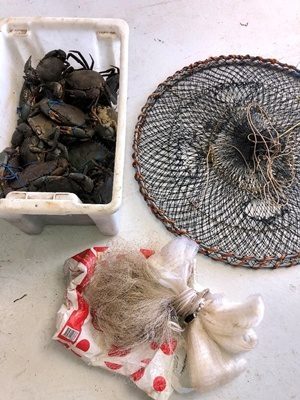 Three men have lost their boat, and the haul of Mud crabs they allegedly stole from recreational and commercial traps following an operation by NSW DPI fisheries officers and NSW Police Marine Area Command at Tweed Heads.
The boat contained 43 live Mud crabs weighing a total of 26kg, one cast net – which is illegal to use and possess in NSW – as well as one unmarked crab trap, found not to belong to any of the men. All of the Mud crab catch was returned alive to the water.
The bag limit for Mud crab in NSW is five per person and the minimum size limit is 8.5cm carapace length. All recreational fishers must comply with NSW bag and size limits.
Two of the men have since been issued penalty notices totalling $2200 and the remaining man is expected to be issued court attendance notices to face multiple charges.
Fishers must not interfere with commercial or recreational fishing apparatus including crab traps that are marked and identified as belonging to another fisher and stealing from another person's crab traps is illegal.
Members of the public are urged to report suspected illegal fishing activity by calling the NSW DPI Fishers Watch service on 1800 043 536 or report it online at:
https://fal.cn/3f9QW