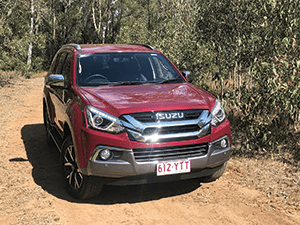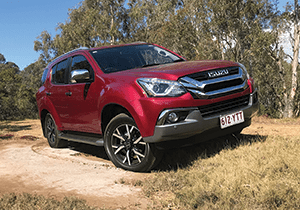 AFTER testing the new Isuzu D-MAX several months ago, an opportunity arose to try out the top-of-the-range Isuzu MU-X LS-T 4X4, so I jumped at it.
The MU-X comes in three models starting with the base LS-M, moving up to the LS-U and finally the top-spec LS-T, all of which are powered by the ever-reliable three-litre turbo-diesel engine, which is the same powerplant as in the D-Max. This engine is well and truly proven and while Isuzu has only been in the passenger vehicle game in Australia for about 11 years, the company is over 100 years old and is one of the world's largest manufacturers of trucks and diesel engines.
The three-litre engine produces a massive 430nm of torque delivered to the ground via a six-speed automatic transmission.
This combination of gearbox and engine means the MU-X is at home both driving around the city using minimal fuel and hooked up to a large van or boat.
In terms of towing capacity, all MU-Xs have a solid three tonnes of pulling power, which I put to the test towing a couple of different boats including the new Cruise Craft Explorer 720. Obviously when towing this weight you need an electronic brake controller, which the test vehicle was fitted with, so it was time to hit the open road and see how it went.
I was actually very impressed with how easily the MU-X pulled the large Cruise Craft. In fact, I found it very easy and nimble to drive, especially around roundabouts, more so than the larger vehicle I currently drive. On the open road, it had enough power if you needed to pass or power up a hill, but the MU-X was also perfectly happy just rolling along at the speed limit, which is where it produced its best fuel figures, which can be seen live via the on board computer.
Having the ability to see your fuel usage at any given point is awesome, especially if you are on an extended trip or towing because you can modify your driving style to be more efficient. In terms of performance, this little number gets a big tick of approval. Though the word 'little' is a bit tongue in cheek because while on first impressions the MU-X doesn't look that big, there is plenty of room to seat seven people, which probably makes it the ideal passenger car for many families.
I'm also not the smallest person in the world but the electric driver's seat easily adjusts to find a very comfortable driving position, and while I didn't sit in the very rear seats, I did sit in the middle row and was impressed with the room. And while a bit of an oxymoron, it was a big little seven-seat family car. Interestingly enough, I got my mother-in-law (who is about 5' tall) to take it for a spin because she will soon be in the market for a new car.
While bigger than the car she currently drives, she too also found it very easy to drive. As for safety, the MU-X has more acronyms than you can poke a stick at, with ESC, TSC, EBD, TCS and the list goes on. Just to summarise, this is one very safe passenger car, which is supported by its five-star ANCAP safety rating across the range.
If you are curious to learn more about these safety features, you can check them out on isuzuute.com.au Combine this high level of safety with all the luxury features like leather-accented seats, touchscreen audio, passive entry and start, DVD player, 18" alloy wheels, multiple storage compartments, satellite navigation and reversing camera and you have a very well-appointed vehicle.
Overall, the MU-X is going to suit several people and I'd highly recommend adding it to your list, especially if you are after a seven-seat diesel that has great fuel economy and towing power. In terms of fuel economy, the website quotes 7.9 litres per 100km as a combined figure, and I'd believe it because I actually got a bit better than that when cruising down the highway.
Best of all, you can drive away in the 4X4 LS-M for $45,990 with $1000 of free accessories, a six-year warranty and roadside assist and seven years capped-price servicing. If you want to go for the top-spec LS-T like the vehicle pictured, it will set you back $53,990 with the same inclusions.
Unfortunately, I didn't get to do any serious off-road driving but the little bit of dirt I hit and the mix of towing performed gave me enough insight to give the MU-X the tick of approval. For more information on any of the models in the MU-X range, check them out online at isuzuute.com.au or drop into your local dealer and take one for a drive.
I think you will be pleasantly surprised and very impressed.